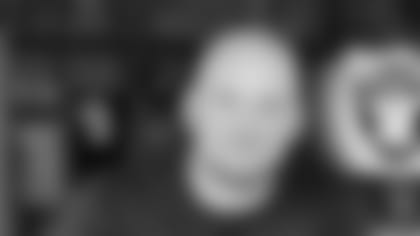 New Raiders defensive end Dave Tollefson.
Photo by Tony Gonzales
Q: What have the Raiders told you about how you're going to be used out here?
Dave Tollefson: I think as just a jack of all trades, a lot of things to kind of hang my hat on. They haven't promised me anything, which is what I want. I don't want to be promised anything. That is not the style of player that I am. There's an opportunity to play, whether that's starting or in the backup, a rush guy or a guy that can play the edge in the run. So I think it's going to be a little bit of everything, which is what I love to do.
Q: What's it mean to be coming sort of back home for you?
Dave Tollefson: Oh it's awesome. I grew up here and I lived here for 22 years. To come back home, my mom, my step dad are out here, and my sister, my brother, a lot of my childhood friends. My phone was blowing up as soon as this thing went public so it's definitely exciting for me and my family.
Q: How hard was it to leave the Raiders five years ago?
Dave Tollefson: It was definitely tough. The opportunity that the Raiders gave me to continue my career in the NFL by sending me to Europe and to put me on the practice squad, there's a debt there that I never felt like I got to repay after leaving, so it's kind of funny how life works. You get opportunities to come back some place like this and really show them that you appreciate the opportunity that they gave you.
Q: How much has it helped you as a player to be able to play under guys like Osi [Umenyiora], [Justin] Tuck, [Michael] Strahan and them?
Dave Tollefson: It's huge. To be the best, you've got to be around the best. You've got to be surrounded by people that are successful in order for yourself to be successful, so being with those groups of guys for that period of time was really special. I just got here today, I got my first workout in today, but there's a group of guys here that can play ball up front too, which is exciting to see. I'm not quite an old wily vet yet. I've got a few good years left in me, but I think I've seen quite a bit in this league, and they've got a group of guys here that could do some big things also. So, I look back fondly on my time with those guys, it was special for sure, but you can't dwell on the past. You've got to keep moving forward and make the future.
Q: What lessons do you think you can bring to this unit because Richard Seymour has won a Super Bowl, but a lot of the other guys have not? What do you think you can bring experience wise that can lend a hand?
Dave Tollefson: I don't know much, but there are a few things that I do know, and one of them is get in the tournament. You've got to have a chance. If you're not in the tournament, which I mean playoffs when I say that, you don't have a chance. So I always like to quote my favorite movie, Dumb and Dumber, when he was asking what are the chances that a girl like me and a guy like you could be together and she says, 'One in a million,' and Jim Carrey says, 'So you're saying there's a chance?' To just have the opportunity to play for a title and get in the playoffs, that's all you need. And then you take it one game at a time, and the next thing you know you're hoisting up the Lombardi Trophy. There's no secret to winning championships. It's just a matter of doing the work, and when it comes playoff time, taking advantage of opportunities.
Q: What role do you think you'll be playing with the Raiders? How do you think you fit in with their defensive scheme?
Dave Tollefson: I think it's the multiplicity of different things I can do as a player. I played a lot of snaps inside. Will I do that here? I'm not quite sure. We've got a great group of D-tackles that can do a really good job inside. So who knows? I think that's what intrigued the Raiders about me, was just the ability to kind of do anything. That's something you have to do with a guy that hasn't necessarily started in this league, I've started a couple of games, but you've kind of got to be good at everything, because you really don't know when that opportunity is going to come for you to contribute to the team winning the game. So, I think that's what, hopefully, they're going to use me for. Hey, whatever you need me to do. I can even mow the grass if you want me to.
Q: Did you establish any relationships when you were here that still endure to this day, from when you were here the first time?
Dave Tollefson: It was great to see the equipment guys again. When you're a practice squad guy you tend to get close to those guys like that, and it was good to see them. A lot of the front office guys I remember, but when I left here it was kind of like I felt like it was a secret mission. I left in the middle of the night. It was such a quick stop here. There is a mutual amount of respect throughout the league amongst players, so there is a bunch of guys that I do know that I've played against that I have a lot of respect for. So that comes into play.
Q: What would you say was your main deciding factor in coming back here, on why you chose Oakland over the other teams that were looking at you?
Dave Tollefson: Obviously I have that relationship with Reggie McKenzie, being drafted by Green Bay. So there was a level of comfort coming here, knowing that this organization is headed in the right direction with the guys they brought in to run it. Coach Allen, I got to meet him on my visit here, and the energy that he brings, and it's exciting. Obviously, I'm from here. I grew up a Raiders fan. My mom is a Raiders fan. Obviously, she's a fan of her son, but if you're going to ask her who her favorite team is, she's going to say the Raiders. There's something special about playing for the team that you grew up watching and where you grew up. It means a lot to me that they believe in me, that's a big part of it. Again, I just go back to the excitement here. Guys are excited to play football, talk football, and get ready.
Q: There's been difficulty here stopping the run for several years now. What, to you, is the key to the defense stopping the run?
Dave Tollefson: You've got to be physical. I think that sometimes run defense can be overshadowed by the want to get sacks because those are such big, game changing plays, but I've always believed you've got to earn the right to rush the passer and the way you do that is by stopping the run. That's going to be a focus of mine no matter what, and I think it will be the guys up front. You've got to do it up front. Obviously the linebackers are named linebackers because they back the line, and if the guys up front aren't getting the job done, it doesn't matter who you have behind you. So, it's definitely going to be a focus of ours, stop the run, because if you can't stop the run you better not even start thinking about getting sacks because they'll just run the ball all day on you.