The Oakland Raiders travel to Denver to take on the Broncos in a divisional match-up at Sports Authority Field at Mile High on ESPN's Monday Night Football. The two teams will meet for their 17th Monday Night Football match-up with the Broncos leading the series 8-7-1. The Raiders, however, have the better of the all-time match-up 59-44-2.
"It's a tremendous rivalry. Obviously, these two teams, the history of these two teams goes way back," said Head Coach Dennis Allen. "It's always a heated battle. There's always a lot of excitement that goes along with this game and it's a fun game to be a part of, to be a part of the history, the tradition, of this rivalry. We're looking forward to continuing it."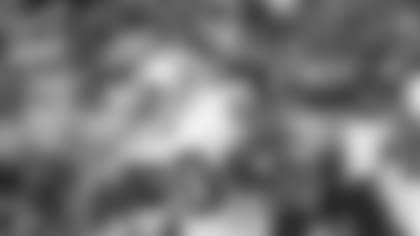 RB Darren McFadden versus the Broncos in 2012.Photo by Tony Gonzales
The Raiders are fired up to face the 2-0 Broncos. "I think they're focused. I think they're ready and excited about the challenge," said Coach Allen.
The Raiders No. 1 ranked rushing offense will face the Broncos No. 1 ranked rushing defense. And the Broncos No. 3 ranked passing offense will face the Raiders No. 5 ranked passing defense. The game will feature a veteran Hall of Fame-caliber quarterback in Peyton Manning versus a quarterback making his fourth-career start in Terrelle Pryor.
Coach Allen will return to Denver where he was defensive coordinator in 2011. He knows the talent the Raiders will be facing. "There's no question about it that this is a really good football team that we're playing. They're solid in all areas," said Coach Allen. "They're exceptional on offense. They play very good defense, very tough defense. They run around to the football. They're really good in special teams, both in the return unit and in the coverage unit. It's a great challenge for us and we're looking forward to the opportunity."
Although the Broncos will be a tough challenge, everyone is up for the challenge, including Raiders General Manager Reggie McKenzie. "We're going to compete," said McKenzie. "We're not going to lay down and say, 'Okay Peyton, here, have at it.' We know what kind of quarterback he is. He's a first-ballot Hall of Famer. But, we're going to show up and we feel good about our chances of competing with those guys. I'm excited to get on that plane and get there."
The Broncos have scored over 40 points in each of their first two match-ups, including a seven-touchdown-pass performance by Manning in Week 1.  Defensive Coordinator Jason Tarver welcomes the challenge.
"This is the ultimate. To be the best you have to beat the best. This is what you want. This is why you play the game. Monday Night Football against them doing something nobody thinks you can do? There's nothing better than that," said Coach Tarver.
The combination of Manning and WR Wes Welker, as well as WR Demaryius Thomas, poses multiple threats on the offensive side of the ball. "They've got three exceptional receivers that they play primarily, and the tight end, Julius Thomas, has come in as a receiving threat," said Coach Allen. "If you do too much to load up and stop the pass, they're able to run the football. They've got a lot of weapons on offense." ](http://www.pntrs.com/t/R0BKSkdFREBKTERGSEBISEtERw)

DE Jason Hunter played for the Broncos for three seasons, and although some of the personnel has changed, he worked against the Denver offense in practice everyday. "They have a lot of good receivers that can catch the ball. They run some good routes.  They'll be all over the field," explained Hunter. "They have backs that can catch the ball out of the backfield. They have a quarterback that manages the offense, so they are able to move the ball. We know they're going to make their plays, but we just have to stay focused in doing what we do and execute our game plan and everybody play hard and play violent."
Rookie CB DJ Hayden will be tasked with covering the Broncos talented receiver corps. "They're real good players and me, being in my first year, going against them is going to be a challenge for me, but I'm open to it," said Hayden. "I'm ready to go out there and compete and lock them down."
Hayden was not even eight years old when the Broncos current quarterback was drafted. Now, he will face Manning in a Monday night showdown. "It's a pretty big challenge. He's probably going to be a Hall of Fame quarterback so I think any time you go against a great quarterback like that, it's always going to be a tough challenge," said Hayden. "I'm ready to come out here and just make plays, compete."
The Raiders defense knows that in order to have success, they'll need to affect Manning. "We need to make sure that the pocket is the way we want it; not the way they want it," explained Coach Tarver. "That's another one that's hard to do against this team because they're outstanding at what they do. Those need to be right to affect him. We need to affect this quarterback so that he doesn't have the easy lanes to throw those completions—make it as hard as we can. He still finds ways to throw the ball complete, but we need to do those thing—our looks, our pocket mechanics, our angles of departure and our activations. When we're activated we need to be on our right lines and go from there."
Hunter and his defensive teammates have notched 9.0 sacks in two games, tied for first in the NFL. They want to continue that success when they face the 16-year veteran QB on the Broncos.
"Playing against him, you have to be focused. He knows what to do. He's a professional Hall of Fame player, so you definitely have to be on your 'A' game, real diligent, real detailed in our work," said Hunter. "We just have to make sure we know what he's going to do and we have to execute our game plan."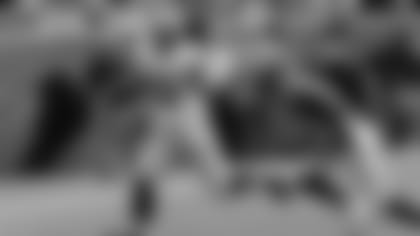 FB Marcel Reece gets the stiff arm ready to keep the Broncos defender away in 2012. Photo by Tony Gonzales
Hunter believes the defensive line has been successful thus far by giving it everything they have on each play. "Just guys flying around, being relentless. Guys are playing with a lot of passion, guys are excited," said Hunter. "Whenever you have guys doing that, we're going to have those opportunities to get to the quarterback and have big plays."
Coach Allen understands that Manning will make plays regardless of what the defense brings to the table; the key is limiting the number of plays.
"I think the thing that Peyton does is he knows where to go with the football and he takes what the defense gives him," said Coach Allen. "We're going to have to be sound in coverage and sound in our assignments and making sure we're doing the things we're supposed to do. He's going to get some completions. He's going to get some yards. They key is we're going to have to eliminate points as much as we can."
The Raiders offense will face a Broncos defense that ranks at the top of the NFL in several categories. "They're a well-rounded football team all over and they're well-rounded on defense. They do a good job against the run. They do a good job against the pass. They're at the top of the league in third down. They're at the top of the league in red zone defense. It's going to be a great challenge for us," said Coach Allen.
Pryor and his offense have spent the week studying film to be prepared. "The Denver Broncos defense, especially when you get in a situation like nickel or something like that, they bring a lot of different packages and are a sound, tough team," said Pryor. "And I think our offensive line is studying very hard, and I think they're going to give me a lot of time to sit back there. But obviously if it doesn't happen, I may need to react and understand the situation and make bright decisions in those moments."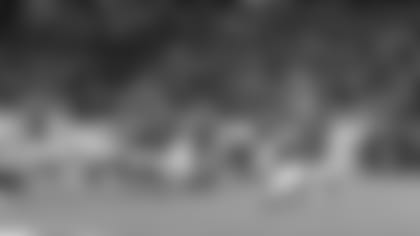 K Sebastian Janikowski boots an NFL record-tying 63-yard field goal in 2011. Photo by Tony Gonzales
The young quarterback will be faced with challenges from the defensive line as well as the veteran corners. "I'm glad 58 [Von Miller] isn't playing. These guys are very sharp; they're sound, the outside guys, [Dominique] Rodgers-Cromartie, they're tough corners, they have tough safeties out in back," said Pryor. "Their front four is pretty good. [Wesley] Woodyard can run and is a strong guy, so it's definitely a challenge; the number one rush-stop defense versus the number one rushing offense. We're going to be running the ball and throwing the ball, so let's see what we can get."
Rookie TE Mychal Rivera has been an effective target for Pryor through the first two games. "The coaches are just coming up with some awesome game plans and really my preparation in practice is helping me," said Rivera. "Every day I'm coming into it with a new mindset and working really hard. I'm just happy with the small success I've had so far. I'm just trying to build on that."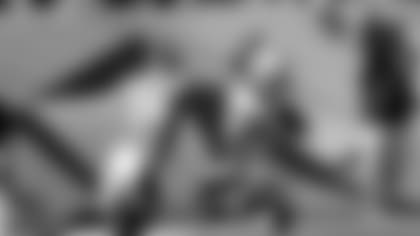 WR Denarius Moore makes a move around CB Champ Bailey.
Photo by Tony Gonzales
Rivera wants to build on his success on the line as well. "We have to be real physical. This is probably going to be the most physical game we've played yet," said Rivera. "We have to get all our communication, all our calls, right and just really know what we're doing out there, as well as the physicality."
The Broncos run defense has limited opposing offenses to only 40.5 yards per game. WR Brice Butler knows that means the wide receivers will have to be quick and ready on each play. "With those guys, they can get to the quarterback pretty quick so we have to protect up really good and get the ball out fast," said Butler. "Don't give those guys opportunities to gauge our tempo, gauge our speed of the game. If we go out there and focus on us and not them, I think we'll be okay."
Two solid special teams units will face each other as well, with Raiders K Sebastian Janikowski and Broncos K Matt Prater. "Special teams-wise, they do a great job in coverage," said Coach Allen. "Their specialists are really good. They've got a kicker that's got as strong a leg as anyone in the National Football League. Their punter does a great job. Trindon Holliday does a great job on returns."
LS Jon Condo remembers Janikowski's NFL record field goal of 63 yards in 2011, but he also recalls missed opportunities on the punt team over the past seasons. "The ball travels a little bit longer than it normally does. Last couple of years, Denver's gotten us. Two years ago they returned a punt, I think actually two punts, one in each game, so that's still sitting in the back of my head. And then last year they blocked a punt against us, so that's sitting right there," said Condo. "We have something to prove with them and they're a great, unbelievable team. There is so much can happen in the game, we just have to go out there and take each play at a time and to give ultimate effort as we go out there."
The players are excited for a rivalry game on Monday Night Football. The Broncos are ready to go. "That opponent this week on Monday night in front of all the players' peers, the coaches' peers and the whole nation is against the Oakland Raiders," said Broncos Head Coach John Fox. "It's a division opponent; our first one of the season. I don't think there's going to be any problems getting a team amped up for this one."
Manning is ready for the game, too. "You're playing the Raiders on Monday Night Football, it's a division opponent," said Manning. "It's the biggest game because it's this week's game but it's going into my 16th season or your second season, if you're not excited about the opportunity to play an NFL game then something's wrong with you."
The Raiders, veterans and rookies, are looking forward to the chance to play under the lights against a rival on national television. "It's going to be exciting. It's huge for us," said Hunter. "It gives us the opportunity for the world to see what the Oakland Raiders are about, see our passion, see how hungry we are, see how hard we're working during the week, trying to do things the right way. It's going to be great for the fans to see that, especially against a rivalry, it's great."