DT Richard Seymour (92) blocked two K Ryan Succop field goal attempts during the Raiders overtime win in Kansas City last season. Photo by Tony Gonzales.

THIS WEEK'S NOTABLE STORYLINES:
The Raiders travel to Kansas City for an AFC West contest against the Chiefs at Arrowhead Stadium on Sunday.
The Silver and Black has won five straight games at Kansas City dating back to the 2007 season, marking the longest road winning streak in the all-time series for the Raiders.
Both the Raiders and Chiefs will be looking for their first victory in an AFC West contest this sea­son. The Raiders are 0-2 against AFC West opponents, while the Chiefs fell to San Diego in their only AFC West contest so far this season.
TE Brandon Myers leads the Raiders with 28 receptions for 334 yards and is on pace for 75 catches, which would be the most for a Raider tight end since Todd Christensen had 95 grabs in 1986.
For the second straight week, the Raiders will be facing an opponent that is coming off of its bye week.
Each of the Raiders' last three victories have come as a result of game-winning field goals by K Sebastian Janikowski. The Raiders defeated the Steelers on a 43-yarder as time expired on Sept. 23, and defeated the Chiefs in overtime on Dec. 24, 2011, 16-13.
QB Carson Palmer has passed for at least 200 yards in 12 straight games, a Raiders franchise record.
RAIDERS TRAVEL FOR AFC WEST MATCHUP AT KANSAS CITY:The Raiders travel to face the Kansas City Chiefs on Sunday, marking the Silver and Black's third contest against an AFC West opponent this season. Oakland will be looking for consecutive wins for the first time since 2011 after defeating the Jacksonville Jaguars, 26-23, in overtime at O.co Coli­seum last week. The Chiefs enter Sunday's game with a 1-5 record and are coming off of a bye.
THE SERIES:The Raiders and Chiefs have one of the NFL's most storied rivalries, dating back to the formation of the American Football League (AFL) in 1960. The two teams have met 103 times in the regular season, with the Chiefs holding a 53-48-2 advantage in the series, and three times in the postseason. The series has been evenly matched over the past five seasons, with the Raiders holding a 6-4 advantage in the last 10 meetings.
ROAD STREAK:The Raiders enter Sunday's game at Kansas City having won the team's last five games at Arrowhead Stadium, the longest streak for the Silver and Black in series history.
JANIKOWSKI'S GAME-WINNERS:K Sebastian Janikowski kicked his 13th-career game-winning field goal on Sunday, booting a 40-yarder in overtime. It also marked his second game-winning field goal of the season, following a 43-yarder as time expired against Pittsburgh on Sept. 23. A complete list of Janikowski's game-winning field goals is on Page 11.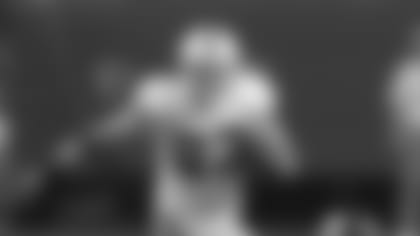 MYERS ON PACE: **TE Brandon Myers (pictured) enters this week's game as the Raiders' leading receiver with 28 catches for 334 yards (11.9 avg.). He is on pace this season for 75 receptions, which would be the most for a Raiders tight end since Todd Christensen had 95 catches in 1986. Myers is also on pace for 891 receiving yards, which would be the most for a Raider tight end since Christensen had 1,153 in 1986.
FOURTH-QUARTER GRABS:TE Brandon Myers hauled in three fourth-quarter receptions against Jacksonville on Sunday, increasing his total for catches in the fourth period to 15 on the season. Myers ranks third in the NFL in fourth-quarter receptions and ranks first among league tight ends.
THREE STRAIGHT "WALK-OFFS":The Raiders' O.co Coliseum co-occupants, baseball's Oakland A's, posted 15 "walk-off " wins in 2012. The Raiders themselves have posted three straight "walk-off" victories with K Sebastian Janikowski kicking game-winners on Sunday against Jackson­ville, Sept. 23 against Pittsburgh and on Dec. 24, 2011, at Kansas City.
PALMER THROUGH 16:Sunday's win over Jacksonville marked QB Carson Palmer's 16th game with the Silver and Black since arriving in Oakland via a mid-season trade with Cincinnati in 2011.
Palmer over 16 Raiders games:
Palmer played his 16th game in a Raiders uniform Sunday vs. Jackson­ville, his 15th start. Over the equivalent of a full season, he's thrown for 4,485 yards. His single-season career high is 4,131 yards in 2007.
Palmer didn't start his Raiders debut, one year ago this week, Oct. 23, 2011, vs. Kansas City, unexpectedly entering at halftime after his acquisi­tion five days earlier from Cincinnati, where he'd missed all of training camp and the first half of the season.
Over his 15 starts, Palmer has completed 339-of-548 passes (61.9 per­cent) for 4,369 yards, with 20 TD and 17 interceptions (86.1 rating).
D-MO TO 1,000:WR Denarius Moore needs just 59 receiving yards to reach 1,000 for his career. With 54 career receptions, Moore is averaging 17.4 yards per catch. Should he average 18.0 yards per reception when he eclipses 1,000 yards, Moore would rank fifth among active receivers in most yards per catch through their first 1,000 yards.
INDIVIDUAL HIGHLIGHTS vs. KANSAS CITY:T Khalif Barnes post­ed his first career touchdown reception on a 2-yard pass against Kansas City on Nov. 7, 2010...S Tyvon Branch recorded his first career intercep­tion at Kansas City on Sept. 14, 2008...Branch also recorded a career-high two passes defensed against Kansas City on Nov. 15, 2009, and notched a 12-yard sack against the Chiefs on Jan. 2, 2011...DT Desmond Bryant recorded his first career sack against the Chiefs on Nov. 7, 2010...WR Dar­rius Heyward-Bey recorded his first career reception, an 18-yard grab, at Kansas City on Sept. 20, 2009...DE Lamarr Houston posted his first career sack against the Chiefs on Nov. 7, 2010...DB Michael Huff picked off a career-high two passes and matched a career best with four passes de­fensed at Kansas City on Sept. 20, 2009...P Shane Lechler tied a career high with 11 punts against the Chiefs on Nov. 15, 2009...RB Darren McFadden rushed for 164 yards and a touchdown at Kansas City on Sept. 14, 2008, his second career game...S Mike Mitchell had a career-high seven tackles against the Chiefs on Nov. 7, 2010...WR Denarius Moore hauled in a 61- yard touchdown pass at Kansas City on Dec. 24, 2011...QB Terrelle Pryor made his NFL debut against the Chiefs on Oct. 23, 2011...DT Richard Sey­mour blocked two field-goal attempts at Kansas City on Dec. 24, 2011... DE Matt Shaughnessy recorded a sack against the Chiefs on Nov. 1, 2009.
NOTABLE CONNECTIONS:Raiders Head Coach Dennis Allen served as an assistant coach for the New Orleans Saints alongside current Kansas City linebackers coach Gary Gibbs (2006-08) and defensive assistant/assistant linebackers coach Adam Zimmer (2006-09)...Allen (2002-05) and offensive coordinator Greg Knapp (2004-06) were on staff with the Atlanta Falcons while Chiefs defensive backs coach Emmitt Thomas served as assistant head coach (2002-09)...Chiefs QB Matt Cassel served as a backup to both Raider QBs Carson Palmer and Matt Leinart at USC...DB Michael Huff played with Chiefs RB Jamaal Charles and LB Derrick Johnson at Texas...RB Darren McFadden shared the same backfield with Chiefs RB Peyton Hillis at Ar­kansas...TE Brandon Myers was college teammates with Chiefs C Bryan Mattison and TE Tony Moeaki at Iowa...LB Miles Burris and Chiefs WR Devon Wylie were teammates at Granite Bay High School...DT Richard Seymour played for the New England Patriots while Chiefs head coach Romeo Crennel was defensive coordinator (2001-04)...Chiefs CB Stan­ford Routt was the Raiders' second-round pick (38th overall) in the 2005 NFL Draft and played seven seasons with the Silver and Black, playing in 110 games with 53 starts and recording 10 interceptions...Chiefs TE Kevin Boss, recently placed on injured reserve, played for the Raiders in 2011...Special teams coordinator Steve Hoffman was the Chiefs' spe­cial teams coach from 2009-11...Hoffman was defensive quality control coach for the Dallas Cowboys from 2003-04, sharing the sideline with Chiefs assistant head coach Maurice Carthon, who was the offensive co­ordinator/running backs coach for the Cowboys...Senior offensive assis­tant Al Saunders spent 15 seasons as an assistant coach for the Chiefs, serving as assistant head coach/wide receivers from 1989-98 and assistant head coach/offensive coordinator from 2001-05...Tight ends coach Mark Hutson played at Oklahoma (1985-88) while Chiefs linebackers coach Gary Gibbs was defensive coordinator for the Sooners...Director-player engagement Lamonte Winston spent 17 years with the Chiefs organiza­tion, including 14 as executive director of player engagement...Football operations staffer Pete Caracciolo's brother, Tom, is a football operations assistant for the Chiefs.
LAST MEETING AT KANSAS CITY:Oak. 16, at KC 13 (OT) (Dec. 24, 2011); DT Richard Seymour blocked two field-goal attempts in a 16-13 overtime victory at Kansas City.