| | |
| --- | --- |
| | |
| Hokkaido Nippon-Ham Fighters staff and Raiders Director of Player Engagament Lamonte Winston. Photo by Tony Gonzales | |
The Oakland Raiders hosted front office staff from the Hokkaido Nippon-Ham Fighters Baseball Club in Japan. The group, from one of the 12 Japanese Professional Baseball Clubs, visited Raiders headquarters to learn about best practices for player development and player engagement.
Director of Player Engagement Lamonte Winston fulfilled a request for the Fighters Baseball Club to spend some time learning about the Raiders Player Engagement program. "They're on a best practices excursion here to the United States," explained Winston. "They really wanted to find out more about player development and player engagement. They seem to be a cutting-edge organization so they wanted to find out about what we do, how we do it in the national Football League as it pertains to providing care and resources and professional development for our players. It was an honor they chose us. We spent time with them and hopefully we were able to give them some information that will be quite helpful to them."
Winston spoke with the visitors, with translating help from Tomoya Suzuki, president of Trans Insight Corporation, the consulting firm for the Fighters, about the importance of providing their athletes with support and helping prepare the athletes for life after their professional careers. "We learned a lot," said Suzuki. "Lamonte [Winston] and the NFL have 20 years experience in sophisticated programs. We just started so we touched just a bit of 20 years experience, but that's huge for us."
The NFL Player Engagement Program has many different pillars designed to help the athletes best handle life before, during and after football. Winston touched on many of the important points of this program when speaking with the Hokkaido Nippon-Ham Fighters employees. "I wanted them to understand it's about the players. As much as we celebrate our players on the field and we have high expectations of them, which we should, we should also be willing to provide all the resources and help and care that they need," explained Winston. "They're people too. I wanted them to understand that whether you are in Japan playing baseball or playing basketball internationally or you're playing soccer, they're still athletes; they're still human beings and they still have needs that need to be met. I wanted them to understand that the best place to start to get that kind of help, and then those resources, is within their own club."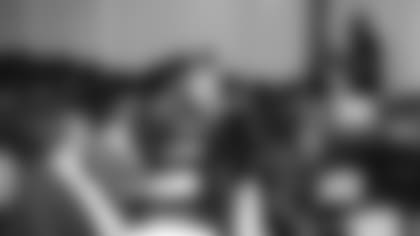 Lamonte Winston speaks to the visitors from Japan about player development and player engagement. Photo by Tony Gonzales
After learning from Winston and taking a tour of Raiders headquarters, the Fighters already have some new ideas to take back to their Club in Japan. "First thing will be, fortunately we have ex-players in the department, so we will use them as a catalyst to communicate with the players," said Suzuki. "Another thing is maybe [using the] championship ring. Fortunately, the Fighters have won four championships so maybe we are going to use photos of the rings in the locker room or somewhere else like [the Raiders do] for motivation."
The Raiders were excited to have international guests learn a little bit about the inner-workings of the Silver and Black. "I think it's extremely important, and it's an honor probably more than anything else, for any organization, and especially the Raiders," said Winston. "We do have a world-renowned, recognized brand, and so for them to see another side of the Raiders that's beyond the football field is extremely powerful and extremely important."
The Hokkaido Nippon-Ham Fighters left the Raiders headquarters with new ideas as well as some new gear to represent the Raiders in Japan.