The Raiders have hired Greg Olson as the team's new offensive coordinator.

The Oakland Raiders have named veteran NFL assistant coach Greg Olson offensive coordinator. Head Coach Dennis Allen made the announcement Saturday.
Drew Brees' quarterbacks coach at Purdue, Olson has spent six full years and part of another as an NFL offensive coordinator. His units have produced the best seasons in the careers of NFL playmakers Steven Jackson (2006) and Josh Freeman (2010). The common themes of his offense, which now will put Darren McFadden in a downhill, power scheme, have included:
Explosive ground games that ranked among the league's top 10 in rushing plays of 50-plus yards during four of his six years as an offensive coordinator;
High-octane elements that fueled two finishes in the NFL's top 10 in plays of 20-plus yards;
Three 1,000-yard rushers in six years as an OC, three 1,000-yard receivers, and two of the more impressive passing seasons by an NFL quarterback in the last decade (Marc Bulger in 2006 and Freeman in 2010);
Four Pro Bowl selections, all skills players;
A knack for punching in touchdowns in goal-to-go situations (two finishes in the top eight of league rankings);
A propensity for protecting the ball (finished among the NFL's top six in fewest giveaways on two occasions);
An ability to consistently find paydirt in the run game, something the Raiders lacked in 2012;
A noticeable lack of dropped passes and negative-yardage plays, especially negative runs.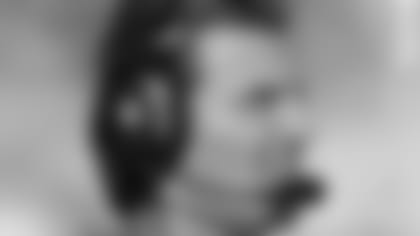 Olson, who has 26 years of coaching experience, including 11 as an NFL assistant and six as an offensive coordinator, was hired by Jon Gruden as quarterbacks coach prior to the 2008 season in Tampa Bay. He has tutored a notable group of signal-callers during his coaching career, including Freeman (2009-11), Marc Bulger (2006-07), Jeff Garcia (2001, 2008), Brees (1997-2000) and Jon Kitna (1992-93).
Olson becomes the Raiders' fourth offensive coordinator in as many years, following Greg Knapp (2012), Al Saunders (2011) and Hue Jackson (2010). The Raiders did not have an offensive coordinator in 2009, with Ted Tollner serving as passing game coordinator for the Silver and Black.
Olson served as assistant head coach/quarterbacks for the Jacksonville Jaguars in 2012, overseeing the quarterback duo of Blaine Gabbert, the 10th overall pick in the 2011 draft, and Chad Henne, a second-round selection in 2008. With an injury-depleted rushing attack, Gabbert and Henne combined to rank 11th in the NFL with both 586 pass attempts and an average of 36.6 attempts per game.
Prior to joining the Jaguars, Olson served four seasons with the Tampa Bay Buccaneers, including three as offensive coordinator. He was responsible for the development of Freeman, the 17th overall pick in the 2009 NFL Draft. Under Olson's guidance, Freeman threw for 8,898 yards and 51 touchdowns in his first three seasons as a starter. Olson helped give the Buccaneers one of their best offensive seasons in team history, setting franchise records for yards per play (5.61), average yards per rush (4.64), average yards per pass attempt (7.21), passer rating (96.2) and fewest interceptions (six). The Buccaneers also finished with the fourth-most points scored (341), third-most yards of total offense (5,362) and second-best third-down percentage (42.2) in team history.
Olson went to Tampa Bay after serving two seasons as offensive coordinator for the St. Louis Rams. Under Olson's direction, the 2006 Rams became just the fourth team in NFL history to produce a 4,000-yard passer (Bulger), a 1,500-yard rusher (Steven Jackson) and two 1,000-yard receivers (Isaac Bruce and Torry Holt). Jackson led the NFL in total offense that season, and joined Bulger and Holt as Pro Bowl selections.
Olson was also quarterbacks coach/offensive coordinator (2005) and quarterbacks coach (2004) for the Detroit Lions, and quarterbacks coach for the Chicago Bears (2003). He entered the NFL as quarterbacks coach with the San Francisco 49ers in 2001, helping Garcia post career highs with 32 touchdowns, a 94.8 passer rating and a 62.7 completion percentage.
From 1997-2000 as quarterbacks coach at Purdue, Olso played a key role in the development of future Pro Bowl and Super Bowl-winning quarterback Brees, who was a Heisman Trophy finalist in 1999 and 2000, and recipient of the Maxwell Award as the nation's most outstanding player in 2000.
Olson began his coaching career as a graduate assistant at Washington State (1987-89). He spent four seasons at Central Washington (1990-93), developing future NFL starter Kitna, and two years as an assistant at Idaho (1994-96).
A native of Richland, Wash., Olson played quarterback at Spokane Falls Junior College (1981-82) and Central Washington (1983-84).
Olson's wife, Lissa, was the first female to be named a head coach of a Division I men's track and field team, guiding Purdue's program from 2001-04. Olson and Lissa have twins, Kenneth and Grace.