Raiders offensive line coach Mike Tice instructs his group during a Week 5 practice. Photo by Tony Gonzales/Raiders.com.
When you first see Mike Tice the first thing you notice is his stature. He is a big man. Football playing experience is implied.
Tice has been a lot of things in his NFL career. He has been a tight end, a position coach and a head coach. He has also been a mentor, a teacher and a friend.
Whenever a new head coach is hired, his first order of business is to assemble a coaching staff. When Jack Del Rio was named head coach of the Oakland Raiders, one of the first things he did was hire Mike Tice as his offensive line coach.
"Mike is a guy that's been in this game a long time, has a wealth of experience and I think he's done a good job of coaching up the guys, and developing the guys and building their confidence," Head Coach Jack Del Rio said. "I know Mike. I know the quality of person he is. I know the quality of coach he is. I know that when he coaches a line, that line is going to be a tough line."
Tice says his long time friendship and working relationship with Coach Del Rio drew him to Oakland.
"It goes back to Minnesota when we played together under Denny Green, both of us were veteran players and got to know each other, got to win a lot of games," Tice said. "That relationship grew when I got released as the head coach of the Vikings, went down to Jacksonville with him. We're just friends. Our wives are friends. It's a very trusting relationship."
During the offseason, center Rodney Hudson was brought in from the Kansas City Chiefs in free agency. J'Marcus Webb, who played tackle his entire career won the job at right guard. Right tackle Menelik Watson went down with a torn Achilles and Austin Howard had to step in. The current starting offensive line may not look like the line that was expected to start the season.
"They're big and they're good students. Most of the guys are quick for big guys. Still not consistent in our technique which showed up last week in the run game," Tice said. "We need to continue to understand that as offensive linemen the mesh you have with the guy next to you, and the footwork and the hat placement and the hand placement really on every down on every Sunday is what it's all about. They're going to play hard."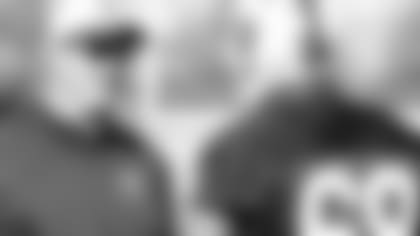 Although the running game has been inconsistent to start the season, pass protection has been excellent. Starting quarterback Derek Carr has only been sacked three times, one of those was a step out of bounds at the line of scrimmage. Only Cincinnati's Andy Dalton and the New York Jets Ryan Fitzpatrick have been sacked fewer times as starting quarterbacks. And despite that inconsistency running the ball, running back Latavius Murray is seventh in the NFL in rushing.
"They want to play well together, they like each other, they spend a lot of time talking football which is what I like," Coach Tice said. "For big guys they do have some agility. It's nice when you have five guys that are adequate pass protectors. Oftentimes you get a guy like, 'how are we protecting him this week?' When you have five guys that can recover, it really helps your pass protection. That's where we're at because they're good athletes."
Offensive coordinator Bill Musgrave appreciates Tice's ability to give the lineman what they need to be successful.
"He's very thorough, very thorough," Offensive Coordinator Bill Musgrave said. "Making a lot of tapes and film for our players. That's what coaching is a lot at this level, putting in the hours, being a resource for the players so they can be efficient with their time when they get to work and give them what they need to know and not give them the whole universe, so they can play fast."
Offensive lineman Khalif Barnes has known Tice since their days in Jacksonville together. Despite his demanding and sometimes blustery nature, Barnes has high praise for his position coach.
"He's a great line coach who played in the league a long time, been coaching for a long time," Barnes said. "I like the way he simplifies things, he has a lot of experience. All that helps. He seems smart in what he's doing, he flows through meetings, he doesn't get stumped easily, he has an answer for you. He's a pleasure to work with. Definitely demanding, you're going to get yelled at. He's going to yell at you first and then teach you. Some coaches just yell at you."
As demanding as Tice is, Barnes says his strength lies in his ability to teach.
Tice's familiarity with Coach Del Rio may have drawn him to Oakland, but he is no stranger to the AFC West and its associated rivalries.
"A lot of people don't realize I'm an old sucker that played against the Raiders twice a year when I was with Seattle for 10 years. We had quite a rivalry, quite a tradition of hard fought games when I played for Chuck Knox. To come back here and be part of this storied franchise it's pretty cool actually."
Mike Tice may have been and may be a lot of things. Now, he's a Raider.