Hall of Famer Willie Brown announces the Raiders fourth round draft choice Taiwan Jones at Radio City Music Hall in New York City.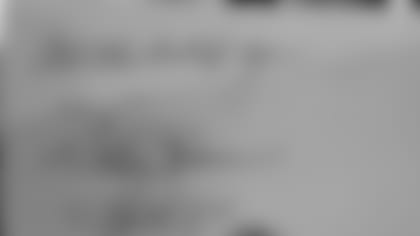 Hall of Famer Willie Brown wrote a message to Raiders fourth round pick RB Taiwan Jones on the back of the draft card.

The Oakland Raiders selected RB Taiwan Jones from Eastern Washington with their second pick of the fourth round (125th overall) of the 2011 NFL Draft.
CAREER: Jones enters his junior season in 2010 with the third-highest all-purpose yards average in school history (136.8 per game). His 2,600 all-purpose yards overall are just 882 from ranking 10th on EWU's all-time leaders list. Despite playing just one season as a running back, he has averaged a touchdown every 12.0 times he touches the ball (240 touches, 20 TD) and 10.8 yards per touch. He needs 787 rushing yards to become the 12th player in school history to go over the 2,000-yard mark. Jones also ranks eighth in school history in average per kickoff return (23.6) and 10th in total kickoff return yards (825). Jones has had 21 plays of at least 32 yards in his career (18 in 2009), and 10 of at least 50 (nine in 2009). As a running back in 2009, Jones averaged 6.1 yards per carry at home on the grass surface of Woodward Field, but that was boosted to 8.2 in EWU's other eight games on fields that featured seven artificial surfaces as well as one grass field at Sacramento State with excellent footing.
2010: In July, Jones was one of 20 players selected by the Sports Network to its "Watch List" for the 2010 Walter Payton Award, given annually to the top player in the NCAA Football Championship Subdivision. He was selected as a first team selection on the Phil Steele College Football Preview Magazine preseason FCS football All-America team and was selected as a preseason first team All-Big Sky selection by Phil Steele. A panel of media and sports information directors also selected him to its preseason All-BSC squad.He also received honorable mention on the Consensus Draft Services Preseason FCS Football All-American team. Listed as a starter at running back on EWU's preseason depth chart. Did not take part in any spring scrimmages after having surgery in December to repair a sports hernia. He also spent the time to fully recover from injuries to both shoulders and a hand during his debut as a running back in 2009.
2009: Jones scored on an 87-yard run on his first career carry, and went on to earn third team All-America honors from both Associated Press and the Sports Network. He was also a first team All-Big Sky Conference selection. He finished with 1,213 rushing yards in 2009 to rank as the sixth-most in school history. He ranked in the top 10 in FCS in rushing (ninth, 101.1 per game), scoring (sixth, 9.50 per game) and all-purpose yards per game (second, 195.4). His 2,345 all-purpose yards (rushing, receiving, returns) were the second-most in school history, and his 19 touchdowns and 114 total points both rank fourth. For the season, Jones averaged a lofty 7.4 yards per rush in an average of 13.5 carries per game. Including receiving and returns, he averaged 10.1 yards every time he touched the ball and averaged a touchdown every 12.2 touches. Jones battled a variety of ailments -- including hand, shoulder and hip flexor injuries -- but still played in all 12 games, starting nine. On the first offensive play of the game in his debut as a running back against Western Oregon (9/5/09), Jones scored on an 87-yard touchdown on his first carry in a game since his senior year in high school in 2006. At the time, it equaled the fifth-longest run in school history, and is currently sixth after his 96-yard run later in the year. Jones finished the Western Oregon game with 122 yards and two scores on 12 carries. Following his performance against Sacramento State (9/26/09) in a 56-30 win, Jones was Sports Network co-Offensive Player of the Week and earned the same honor from the Big Sky Conference as he shared the honor with two other players. Playing in just his fourth game as a collegiate running back, his yardage total was the 29th-most in school history, and the best by an Eagle in nearly five seasons. Coupled with 69 yards on three kickoff returns and a pass reception for 20 yards, Jones finished with 279 all-purpose yards. He averaged 12.7 yards per rush, and 14.7 yards the 19 times he touched the ball. One game earlier, Jones had 164 all-purpose yards versus Northern Colorado (9/19/09), including 95 yards rushing on 18 carries. His 52-yard kickoff return would have been an 85-yard touchdown, but a penalty shortened it. In 2008, Jones had a 93-yard return for a touchdown versus the Bears. That return helped convince the coaching staff to move him to running back in 2009 to help replace four departed seniors at that position. In EWU's 38-3 win at Idaho State (10/3/09), Jones had a school-record 96-yard touchdown run on his way to rushing for 168 yards (45th best all-time at Eastern) and three touchdowns on just 14 carries (12.0 per rush). It was the fourth-longest rush in Big Sky history and the longest in the league in nearly 20 years. His big play came on the first offensive play of the second half as he broke several tackles and simply out-ran several more as the Eagles took a 28-3 lead. He broke the previous record of 95 yards set by John Ditz against Lewis & Clark in 1954. In all, he had six 100-yard rushing performances, adding 145 yards versus Montana (10/17/09), 115 against Northern Arizona (11/21/09) and 118 versus Stephen F. Austin (11/28/09), scoring a TD in each game. He ended the season by catching 10 passes for 68 yards versus SFA. He also had 149 yards receiving on six catches against Montana State as he finished with 264 all-purpose yards. He had at least 200 all-purpose yards in six games, including his last three and five of his last six. He had 274 all-purpose yards in Eastern's playoff-clinching win against Northern Arizona (11/21/09), including 115 rushing, 82 receiving and 77 on kickoff returns. He scored once on a 71-yard run and another on an 80-yard reception which ranks as the 18th-longest pass play in school history. One game earlier, he had 77 rushing yards and a touchdown at Southern Utah (11/14/09), part of a 222-yard all-purpose yardage day that also included 75 yards and a TD on four receptions. In addition, he had 70 yards on two kickoff returns, including a 50-yarder on the game's opening kickoff to set-up EWU's first touchdown. Three times he was the team's offensive player of the week -- UNC, Sac State and MSU. Jones moved to running back from cornerback in the spring and had touchdown catches of 15 and 17 yards in the Red-White Spring Game, and also rushed for a scrimmage-high 33 yards. In four total spring scrimmages, he rushed for 134 yards on 16 carries (8.4 per carry) and scored five total touchdowns, including scoring runs of 41 and 39 yards.
2008: Started four games at field cornerback after missing much of the first part of the season with a broken fibula suffered in the first week of preseason practices. He made his much-anticipated collegiate debut against Portland State (10/4/08), but received more playing time than what was anticipated when starting cornerback Lonnie Hosley suffered a foot injury that kept him out of the final six games of the season. He had a career-high 15 tackles versus Sacramento State (11/1/08) and also had two blocked kicks over the course of the season. Was the team's special teams player of the week against Northern Colorado (9/19/09) when he returned a kickoff 93 yards for a touchdown and subsequently was one of three team co-captains the following week. He helped the Eagles finish 12th in FCS in kickoff returns (22.9 per return).
2007: Redshirted. He was offensive scout team player of the week twice.
HS: Graduated from Deer Valley HS in 2007. He was the Contra Costa Times Player of the Year and also earned first team San Francisco Chronicle All-Metro honors as a running back. Jones was MVP of the Bay Valley Athletic League and his team's MVP on offense. He set his school's single season record with 19 touchdowns as a two-way starter. He rushed for 1,466 yards (9.3 per carry) and 13 touchdowns, and also scored three receiving and two on punt returns. Three of his six catches were for touchdowns and a total of 191 yards. On defense, he had 37 tackles with a sack and three interceptions. One of his interceptions he returned for a score. He led the Wolverines to a 10-0 regular season record and their first league title. A fourth-quarter ankle injury in the playoffs contributed to the team's first loss of the season. The year before, Deer Valley finished just 4-6.
Personal: Born 7/26/88 in San Francisco, Calif. Interdisciplinary liberal arts major..