SSG Carter meets Owner Mark Davis and Raiders Legend Bo Jackson. Photo by Tony Gonzales
The Oakland Raiders hosted and recognized Medal of Honor recipient Army Staff Sergeant Ty Michael Carter during the match-up with the Titans in Week 12. SSG Carter's story is remarkable and it was only appropriate that the Raiders honor him during the Salute to Service game at O.co Coliseum.
The Medal of Honor is the nation's highest award for valor. SSG Carter was awarded the medal for his heroic acts in Afghanistan.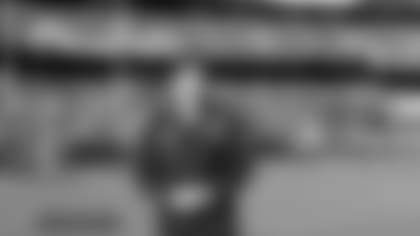 SSG Carter is introduced to Raider Nation.
Photo by Tony Gonzales
According to the Army's Medal of Honor profile on SSG Carter, "Specialist Ty M. Carter distinguished himself by acts of gallantry and intrepidity at the risk of his life above and beyond the call of duty while serving as a Scout with Bravo Troop, 3d Squadron, 61st Cavalry Regiment, 4th Brigade Combat Team, 4th Infantry Division, during combat operations against an armed enemy in Kamdesh District, Nuristan Province, Afghanistan on October 3, 2009."
SSG Carter woke up that morning in Afghanistan surrounded by the enemy. In the span of 12 hours, SSG Carter took up a battle position, ran through enemy fire twice to resupply ammunition, "placed accurate, deadly fire on the enemy, beating back the assault force and preventing the position from being overrun [and] with complete disregard for his own safety and in spite of his own wounds, he ran through a hail of enemy rocket propelled grenade and machine gun fire to rescue a critically wounded comrade who had been pinned down in an exposed position," the site explains.
The Medal of Honor recipient risked his own life to save others, while preventing the enemy from capturing the position. For those reasons, President Barack Obama presented SSG Carter with the nation's highest military honor on Aug. 26, 2013.
"I want to not only thank Ty, but once again thank his extraordinary family, thank his unit, and thank all of you for us being able to acknowledge the extraordinary sacrifices that our men and women in uniform make every single day," said President Obama during the ceremony. "And Ty is representative of exactly the kind of people and the quality of people who are serving us. We are grateful to them."
The Raiders took pride in recognizing the country's most recent Medal of Honor recipient. SSG Carter enjoyed pre-game on the sideline and had the opportunity to meet Raiders Legend Bo Jackson, Owner Mark Davis and other current and former players and staff. "The stadium is beautiful, the sun is out, this is excellent. It's almost a perfect day," said Carter.
SSG Carter grew up in Antioch, Calif., so he was able to experience the day with his family. "My family is here," said Carter. "So this is definitely a hometown kind of game for me and it's going to be great."
SSG Carter was introduced to Raider Nation during the game and received loud cheers from the crowd.
Although it was Carter who was recognized by the fans and the President of the United States, he will not take full credit for the acts that earned him the Medal of Honor. "The Medal of Honor, I don't really think it's completely mine," said Carter. "I wouldn't be here if it wasn't for the soldiers that fought next to me that day. In a way, wearing the Medal is kind of like wearing a shield or umbrella and the people that are behind it are the Gold Star family members who lost their brothers, their husbands, their sons that day and also of course the spouses of the families of the service members out there. So in the end, it's a huge responsibility and I'm hoping I can live up to the task."
SSG Carter is humble and grateful and wants people to understand the collective importance of service members and their families all over the world. "If it wasn't for the coordinated effort of everybody working together, we wouldn't be here right now," said Carter. "The veterans from the past to the future, everybody is one big team. If it wasn't for all the veterans and all the American people working together, we couldn't come to a game and have all this beautiful open grass and field and stadium. If you do see a veteran, thank them because if it wasn't for them, we couldn't enjoy a day like this."
So the Raiders say thank you to SSG Carter and all the men and women who have served and continue to serve our country.