WR Jacoby Ford, QB Jason Campbell, and Raiderettes Jennifer and Itza stand with Staff Sergeant Christopher West and other military volunteers at the Toys for Tots event.Photo by Tony Gonzales.
The Oakland Raiders teamed up with the United States Marines Corps for a Toys for Tots event at the Southland Mall Raider Image store in Hayward, Calif. QB Jason Campbell and WR Jacoby Ford signed autographs in exchange for new, unwrapped toys.
The Toys for Tots campaign's mission is to collect toys as Christmas gifts for children in need. Alameda Toys for Tots takes all of the toys donated locally and gives them back to organizations in Alameda County. According to Staff Sergeant Christopher West, the assistant Toys for Tots coordinator in Alameda, the program gathered over 95,000 toys last year.
The Alameda Toys for Tots program works with the "Alameda Red Cross, Alameda County Social Services, and Alameda County Sheriff's Department," said West. "All these non-profit organizations give thousands of toys so they request from us and that's where the bulk of our toys go. We do help a few individual families. This year we're going to have a toy giveaway on December 19th at the Oakland Airport Museum. So 50 families will come in, the Marines will be there, Santa is going to be there and we're going to get to hand out toys to kids."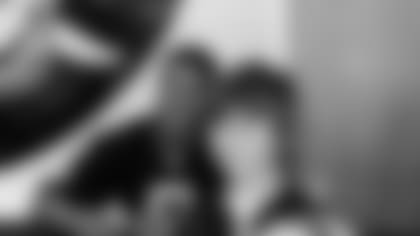 QB Jason Campbell smiles for a photo with a young fan. Photo by Tony Gonzales.
QB Jason Campbell was happy to participate in the event. He signed autographs for hundreds of fans in exchange for a toy donation. "It's a great cause," said Campbell. "You're giving to the people that are in need and giving back is always something great. It also brings the community closer and closer together. When the players and the community can unite and do something together in a function like this it goes a long ways."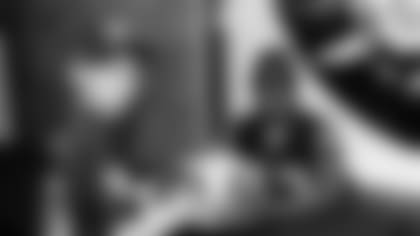 WR Jacoby Ford autographs a helmet for a young fan. Photo by Tony Gonzales.
Campbell was joined by rookie WR Jacoby Ford. "It's definitely a lot of inspiration to come out here and just try to make some kid's Christmas and these fans' Christmas too," said Ford. "To be out here interacting with the fans is really great."
Both players appreciated the opportunity to give back during the holiday season. "I feel like we've been blessed in so many different ways to play a game we grew up watching as kids," said Campbell. "To be in the position to help others out and put a smile on their faces during this time of year, it just means the most. For me it's not about accepting gifts it's about giving gifts. Christmas is always a time of giving."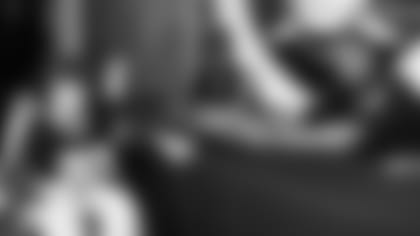 WR Jacoby Ford and QB Jason Campbell autograph a football for the young man. Photo by Tony Gonzales.
"I always think it's good to be able to give back during the holiday season because growing up every kid, they just want an autograph or to have any type of inspiration in life. If I can be an inspiration in somebody's life and give them joy on Christmas day that's always a blessing towards me," said Ford.
Raiderettes Itza and Jennifer were also excited to be a part of the event and interact with fans. "This is a chance for us to actually go one by one and meet everybody, find out how long they've been waiting in line to meet us and take pictures with us, and how far did they come," said Itza. "I think the first people in line were here at 5:30 in the morning, which speaks volumes about the Raider Nation and how devoted and committed they are not only to the players and the organization, but how supportive they are to the Raiderettes. This is Christmas for me to meet all the fans in this way."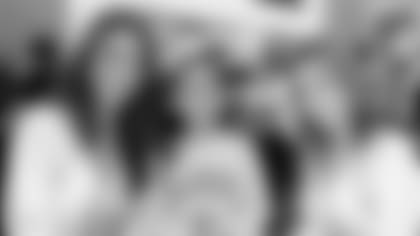 Raiderettes Jennifer and Itza joined the fans for the Toys for Tots event. Photo by Tony Gonzales.
Raiderette Jennifer could feel the holiday spirit from all of the Raider fans in attendance. "Everyone is so excited to meet us, want our autographs and take photos with us and saying Merry Christmas, Happy Holidays," said Jennifer. "Everybody is in a really great mood and doing something for a great cause so it's wonderful to be out here tonight."
Fans lined up around the mall for the opportunity to meet the Raiders and the Raiderettes. One fan flew from Mississippi with his wife to have a Raiders-filled week to celebrate his birthday. "My birthday is December 19th and we wanted some events to come to," said Delano Greer. "We looked on the website on the calendar and saw the Toys for Tots and said, 'yeah, we need to go to that.' We can give to people and also get an autograph from players."
The Toys for Tots program hit home for Greer. "I remember when I used to not be able to afford anything, but I started working and now me and my wife have been blessed," said Greer. "God has been blessing us and we are able to give back to other people that are not as fortunate."
For Raider fan Brian Foster, the Toys for Tots event was his chance to give back in more ways than one. "This is like giving back in two ways because I'm having the Raiders sign a gift for my niece," said Foster. "It's giving back to my niece and it's giving back to the kids with the toy both at the same time."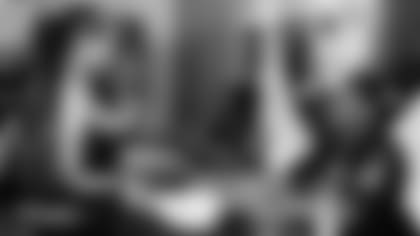 WR Jacoby Ford and QB Jason Campbell sign for toys. Photo by Tony Gonzales.
The Marines were thrilled with the fan turnout. "We love it. Look at how many people are here. We couldn't ask for anything more," said West. "Last year we raised, I want to say, over $10,000 just at the gates just collecting money. We couldn't believe how much money and toys the Raiders generated." According to West, more than 1,100 toys were collected at this event.
Marines will be on hand to collect donations at the next home game, Sunday, December 19th. In addition to new, unwrapped toys, monetary donations will be accepted. "All the money that we raise goes directly to our campaign here in Alameda so we rent U-Haul trucks when we can't use the government vehicles to support," said West. "Everything else goes to toys. We're doing a big $12,000 purchase on the 15th and so any toys that are donated, churches, non-profit organizations, request the toys and anything that we're short (normally infant 0-3, or the teens 12-16 girls) we'll go to Walmart or Toys R Us and actually buy the toys that we're short in."
Marines will be stationed at the West Side Plaza, near the BART entrance, and Gates A, B, C, and D, before and after the game against the Denver Broncos.