The Oakland Raiders wrapped up the 2015 regular season Sunday afternoon at Arrowhead Stadium, falling to the Kansas City Chiefs 23-17.
In his first year at the helm, Head Coach Jack Del Rio steered the team to an overall record of 7-9, and while they did not meet their goal of winning the division, the seven wins do mark a four-win improvement compared to the 2014 campaign.
Next up for the Silver and Black will be a dive into free agency, but before we begin to shift our attention to postseason evaluation, let's look back at the loss to the Chiefs and see who played, and for how many snaps.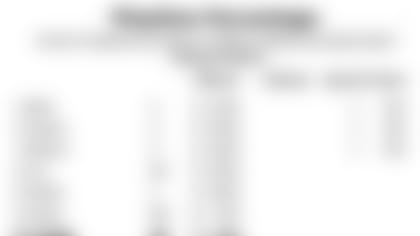 Derek Carr Finishes 2015 Under Center– Carr's sophomore campaign in Silver and Black officially came to an end Sunday afternoon in Kansas City, as he played all 57 offensive snaps for the Raiders. In the loss, Carr completed 21 of 33 passes for 194 yards and one touchdown. He also threw one interception and was sacked six times by the Kansas City defense.
Walford Paces Raiders Receivers– The rookie tight end quietly enjoyed a solid day in Kansas City, playing 25 snaps (44%), hauling in all four passes he was targeted on, finishing the game with 46 receiving yards to pace the Raiders. Walford put together a quality rookie campaign, coming on strong in the latter half of the season, and finished his first year in Silver and Black with 28 receptions for 329 yards and three touchdowns.
Crabtree Finds The End Zone, Again– 2015 served as a resurgent year for wide receiver Michael Crabtree, as he tied his career high with nine receiving touchdowns. Crabtree played 52 snaps (91%) Sunday against the Chiefs, finishing the day with three catches for 34 yards and one touchdown – his ninth of the year.
Mack Comes Up Just A Bit Short– Defensive end Khalil Mack played all of the Raiders' 65 defensive snaps Sunday and delivered another impressive performance, finishing the game with 10 total tackles, two tackles for loss and one quarterback hit. However, he did not record any sacks, and as a result, he finished the year with 15 – two-and-a-half sacks behind Houston Texans defensive end J.J. Watt's 17.5
Amerson Impresses Yet Again **– Cornerback David Amerson turned in another impressive effort Sunday afternoon at Arrowhead Stadium. He, like Mack and several others, played all 65 snaps, recording two tackles, two passes defensed and one pick-six—the second of his career.
Shelby Harris Provides A Spark– Harris played 18 defensive snaps (28%) in Sunday's loss to the Chiefs, but he made the most of his time on the field, recording three total tackles, one tackle for loss, one quarterback hit, and one sack, the Raiders only sack on the afternoon.