The Oakland Raiders traveled to Colorado this weekend to open AFC west play, eventually falling to the Denver Broncos 16-10 Sunday afternoon at Sports Authority Field at Mile High.
With the loss, Head Coach Jack Del Rio's team falls to 2-2 overall, and 0-1 within the division, but the Silver and Black will have to regroup quickly as they host the Baltimore Ravens this weekend at the Oakland-Alameda County Coliseum.
Monday is the team's allotted off day, so they'll return to work Tuesday, but with Sunday's game still fresh, let's review the playtime percentages from the clash with the Broncos, and see what we can learn from looking at the numbers.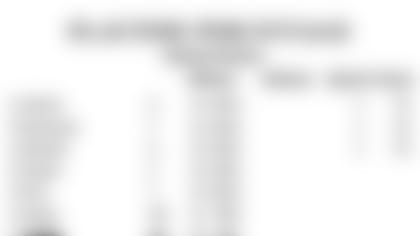 EJ Manuel steps in for Carr– After a tough tackle forced Derek Carr to leave the game late in the third quarter, Manuel stepped in for No. 4, finishing out the Week 4 game for the Silver and Black. At game's end, Manuel played 20 snaps (37%), finishing his debut outing as a Raider 11 of 17 for 106 yards and one interception. While his fourth quarter interception did ultimately end the game, it's also important to note that he also got the team in position to have a chance to win in the final two minutes.
Johnny Holton makes reservations for six– With veteran wide receiver Michael Crabtree inactive for Sunday's game, the other Raiders wideouts had to step up in his stead, and Johnny Holton did just that. Although Holton played just 12 offensive snaps (22%), he made the most of those opportunities, providing the Silver and Black a spark when they were in desperate need of one. His second quarter touchdown reception from Carr – the first of his career – brought the Raiders within a field goal, and served as the only touchdown the Silver and Black scored against the Broncos.
Seth Roberts gets the start– Like we mentioned above, Michael Crabtree wasn't able to go Sunday, leaving a spot open in the Raiders starting offense. Seth Roberts took that spot for the afternoon, playing 50 offensive snaps (93%) against the Broncos. In total, Roberts hauled in four passes for 49 yards.
Cory James paces the defense– James was one of four Raiders defenders – TJ Carrie, Karl Joseph, and Reggie Nelson being the others – to play all 64 defensive snaps against the Broncos. James continued his strong start to his sophomore campaign, tallying a team-high 10 tackles, including two tackles for loss. The Raiders linebacking corps as a whole is a young group in 2017, but James in particular has enjoyed a solid first quarter of 2017.
Khalil Mack makes his presence felt– The reigning AP Defensive Player of the Year certainly made his presence felt at Sports Authority Field Sunday afternoon. Mack played 53 defensive snaps (83%) against the Broncos and finished with the game with seven tackles, two sacks, three tackles for loss, and four quarterback hits. Not a bad day at the office for No. 52.
Mario Edwards Jr. keeps rolling– Very quietly, the versatile defensive end has enjoyed an outstanding start to his third season as a Raider. Edwards not only recorded his third sack of the young season – which tied a career high – he also made three tackles, one tackle for loss, and recorded one quarterback hit in his 44 defensive snaps (69%).