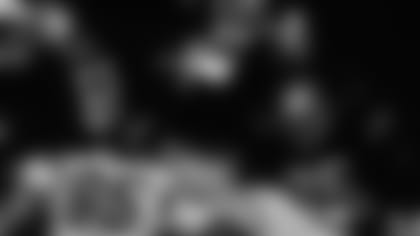 Special teams reaches up to try to block a kick.
Tradition, continuity, a sense of history - these are meaningful things to owner Al Davis and the Raiders organization. Building their great record, first in Oakland, then in Los Angeles, and finally back in Oakland, the Raiders have utilized the rock-solid foundation of past glories as a roadway for the future.
Pro football fans had become aware of the Raiders come-from-behind tradition primarily through televised games featuring the Silver and Black as they dominated pro football.
On Monday night, November 22, 1982, the Raiders took the field against long-time division rival San Diego.
The Raiders were the undisputed "Kings of Monday Night Football," with an incredible record of 18 wins and one tie against only two losses in the 21 games they had played in this prime-time national television series. But one of those two Monday night losses had come the year before at the hands of the Chargers, 23-10, in San Diego.
The wide-open Chargers offense, tutored by head coach Don Coryell and led by talented QB Dan Fouts, got on the board first - and often - in the opening half.
San Diego went in front 3-0 on a field goal by one-time Raiders draft choice Rolf Benirschke. Later in the first period, the Chargers stretched their lead to 10-0 on a 29-yard scoring pass from Fouts to WR Dwight Scales.
The Chargers scored twice more in the second stanza on short runs by Chuck Muncie. The crowd grew restless as the Raiders now trailed 24-0 and had never previously overcome a 24-point deficit. Just before the half, however, the Raiders offense came to life, as did the Coliseum crowd.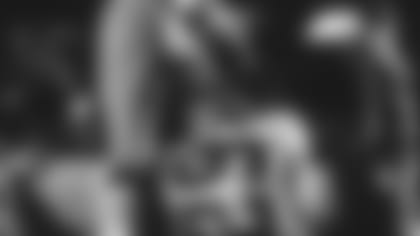 The Raiders defense swarms the Chargers offense.
After a missed field goal by Chris Bahr, the Raider defense quickly got the ball back for the offense when future Pro Football Hall of Fame LB Ted Hendricks recovered a Chargers fumble on the San Diego 17-yard line with only 1:19 left to play in the first half. QB Jim Plunkett passed to rookie running back Marcus Allen for 11 yards. Allen fumbled the pitchout on the very next play, but made the recovery, losing six yards. Plunkett passed to Allen again for 11 yards. Finally, with 42 seconds left, Plunkett scrambled free from a San Diego rush and popped a short pass to TE Todd Christensen from one yard out, to bring the Raiders within 17 points at halftime. Chargers 24-Raiders 7.
Head Coach Tom Flores - himself a veteran of Raiders comebacks as a player, assistant coach and head coach - rallied his squad at halftime.
"Among other things, I reminded them that this was Monday Night Football with the eyes of an entire nation on us," recalled Coach Flores. "Monday Night magic--I don't know what it is about it. We're very proud of our Monday Night record. Monday Night Football brings out the best in us."
Early in the third quarter, a sack of Fouts by Hendricks shut down a San Diego series. After the punt, the Raiders took over on their own 36. Plunkett found Christensen open over the middle on consecutive gains for 11 and 12 yards. Kenny King then carried four times for 24 yards, setting up a Marcus Allen three-yard burst inside for the touchdown to cut the San Diego lead to 10 points, 24-14.
Fouts came back firing, but Odis McKinney, playing as the fifth defensive back in the Raiders "Pirate" coverage, forced a fumble by San Diego TE Kellen Winslow on a screen pass, with defensive lineman Ruben Vaughan gaining possession for the Silver and Black. King and Allen shared the rushing duties as the huge Raiders front line of C Dave Dalby, G Mickey Marvin and G Curt Marsh and T Henry Lawrence and T Bruce Davis began to dominate the line of scrimmage. A middle trap sprung King for 21 yards, followed by Allen's six-yard touchdown with 2:23 left in the third quarter. The Chargers now led by only three, 24-21.
Booming punts by Ray Guy kept San Diego at bay, as did the play of the alert secondary of C Lester Hayes, C Ted Watts, S Mike Davis, S Burgess Owens and extra DBs McKinney, James Davis and Vann McElroy. A sack by Vaughan snuffed out a San Diego threat. Then a missed field goal gave the Raiders the ball on their own 20 with 9:55 left to play.
Plunkett marched his forces down the field, beginning with a 14-yard completion to Cliff Branch, followed by receptions by Christensen for 24 and 13 yards. An end-around by super-swift WR Malcolm Barnwell netted 14 yards. Two plays later FB Frank Hawkins slanted over from the one to put the Raiders ahead - finally - 28-24. But there were still nearly six minutes remaining.
An interception by rookie McElroy with 1:56 showing on the clock shut San Diego down again. A series of runs by King and Allen took time off the clock. San Diego got one final play, but Hayes batted down Fouts' last effort to get the ball to Charlie Joiner in the end zone. The frenzied Coliseum crowd roared approval as their Raiders had come from 24 points down to score a 28-24 victory.
"We've gained some fans who have now learned not to leave before the end," said G Mickey Marvin in the noisy, crowded dressing room after the game. "With us it often goes down to the wire. The Raiders have been doing this for a long time, since before I came in 1977."
Kenny King summed up the win by saying, "I definitely think we won ourselves some fans in our new home. I saw some of the other NFL games that were on TV yesterday, and I don't think they compared at all to the game we gave the fans out here tonight. I think this was one of the better Monday night games they've ever had on."