Raiderettes Marcy and Natalie pose for a photo with a young guest.

Realizing Our Youth As Leaders Inc. (ROYAL) hosted a benefit concert to raise money for their cause. Raiderettes Natalie and Marcy, along with Raiders representatives, were on hand to support ROYAL and greet the guests. The benefit concert included musical performances by the Gladiators of Rock, Bay Area Latin Rock All-Stars and The Unauthorized Rolling Stones.
According to royalinc.org, the "ROYAL mission is prepare disadvantaged and/or at risk youth, age five to 18, for success in life by providing Therapeutic Mentoring and Enrichment services, growth opportunities that lead to personal empowerment, and training in community leadership." Servicing three to five kids at a time in six-week programs, the organization serves as a last stop for many of the children.
"What we're trying to do is to help instill in them that there's a sense of a wider horizon for them and they can make other decisions that will have positive consequences for them," said Kentyah Fraser, a counselor with ROYAL. "It turns into a situation where we have to plant seeds often, but I have seen a number of kids where those seeds have blossomed very quickly."
Struggling to keep the organization alive, ROYAL's CEO Maggie De Vera turned to the Raiders fundraising program last year to help raise the money necessary to keep the program running. ROYAL has continued with the Raiders this year. "We have received a lot of support through the fundraising program through the Raiders and definitely benefitted," said De Vera. "ROYAL is very grateful to the Raiders for the opportunity to receive support and funding through their fundraising program and also have their presence that supported us at the ROYAL Unity Concert."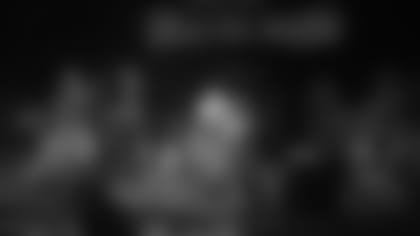 Gladiators of Rock perform for the guests at the ROYAL Unity Benefit Concert.
The funds raised through the concert, the Raiders fundraising program, and through various other sources help ROYAL provide much needed services to children in the Bay Area. "We have worked with the kids that no one else wants to work with, they've been judged, they've been shunned, they've been thrown away," said De Vera. "But the reality is that these kids have been severely abused, neglected, they've seen the worst things, which causes them to act that way. So we try to swoop in and allow them to taste something else where they feel that people can believe in them. We're strict, but we love them and we believe in them."
In a note to the concert guests, De Vera explained the purpose of the benefit concert. "We unite to celebrate and acknowledge ROYAL's passion and dedication to serve some of the most disadvantaged. We unite in taking part to raise funds in order to provide an opportunity to society's 'throw-away' and 'misunderstood children,' an opportunity to give them a chance to learn and implement life and leadership skills to their success."
In a night filled with music and food, Raiderettes Natalie and Marcy added an extra spark to the event. Guests took photos and interacted with Football's Fabulous Females throughout the evening. "The Raiderettes Natalie and Marcy were just so pleasant, so sweet, and even helped with the programs and with the raffle tickets," said De Vera. "It was such wonderful support to have."
Richard Cravalho, a member of the Bay Area Latin Rock All-Stars as well as a Raiders season-ticket holder, was honored to be a part of the Unity Benefit Concert. "We're with the band En Vivo, but we're here playing with the Latin Rock All-Stars for this wonderful event for ROYAL Unity, which is for the children, realizing our youth as leaders of the future," said Cravalho. "I was born in Oakland and it's great to have people come together for an event of this sort for the benefit of the children, which is really important at this time. To have the Raiders involved in the support of this organization is very much a pleasure and we really appreciate it."
ROYAL Inc. continues to fight to stay alive and serve the Bay Area youth. The Raiders and Raiderettes were happy to lend their support to ROYAL at the Unity Concert and throughout the year.