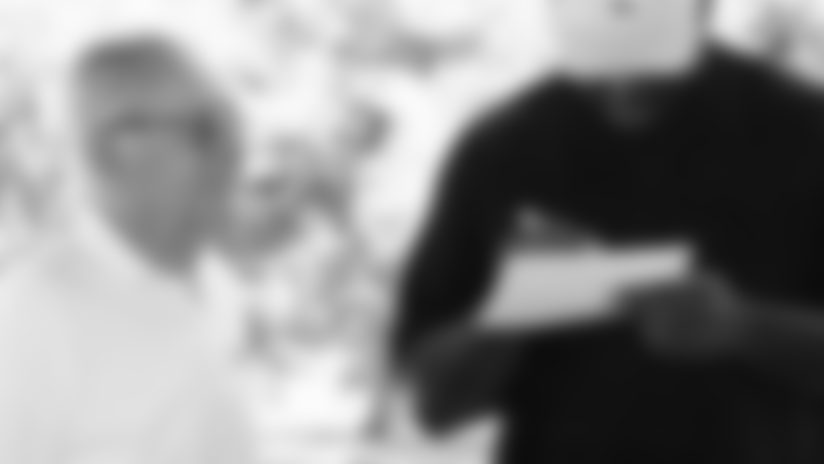 DE Derrick Gray signs an autograph at the Veterans Home in Yountville.Tony Gonzales

While on their day off from the toils of training camp, a group of Raiders paid a visit to the Yountville Veterans Home.  The Veterans Home in Yountville houses over 1,000 veterans of all American wars and has the largest concentration of World War II vets in the state.  The facility offers veterans medical aid as well as psychiatric care in the beautiful Napa Valley landscape.
Fresh off of playing in the 2009 preseason opener against the Dallas Cowboys in Oakland, tight end John Paul Foschi, offensive tackle Erik Pears and defensive tackle Derrick Gray made their way to the Veteran's home in the town of Yountville, which is located about five miles from the Raiders' training camp complex.
The trio of players was greeted by a crowd of eager fans, many of whom were dressed in Raider garb, from t-shirts to caps to jerseys, as they arrived at the main dining hall on the facility.  The players were able to greet and sign autographs for veterans of wars varying from Iraq all the way back to WWII.
The crowd slowly grew as rumor of the Raiders arrival spread throughout the facility.  Darryl Baker, a veteran of the U.S. Army, wore his trusted and weathered Raiders cap to show his lifelong loyalty to the Silver and Black.  "I think it's really cool that the Raiders come out here like this," Baker said after meeting the group of Raider players.
T Erik Pears signs an autograph at the Veterans Home in Yountville.Tony Gonzales

After signing autographs and taking pictures out on the dining hall lawn, the players moved into one of the hospital wings to visit those veterans who were unable to join the group outside.  Here the players were able to meet and thank the veterans who served their country as well as the hospital staff that provides the care these heroes require.
The players had the honor of meeting one gentleman who had been in Japan during WWII and for his service was presented with the Congressional Medal of Honor.  Most recently he was invited to attend the inauguration of United States President Barrack Obama.
"A trip like that puts you in your place real quick when you see those guys," said Erik Pears, who was thrilled to be in the company of these men and women who served in the United States military. "It makes you realize how small you are and how there are such big things going on out there."