The Oakland Raiders begin their voluntary off-season workout program today. For several weeks, the Raiders will spend time in the weight room preparing for Organized Team Activities (OTAs) and mini camps. Strength and conditioning coach Al Miller and assistant strength and conditioning coach John Grieco have spent the last few months preparing for their athletes to return.
Many of the players have been working out on their own in their hometowns or at workout facilities around the country since the season ended. Meanwhile, Miller and Grieco have been working hard to be ready for the players to arrive at Raiders headquarters. "Our job is to see where they are," said Coach Miller. "Seeing what position they play, what their body fat is, seeing all of those things. Then the research that we do, it never ends. You never know everything and you always try to sharpen the pencil a little bit, so we're always looking for a bigger and better mousetrap as far as the players are concerned. We do those things. We look at them every way we possibly can."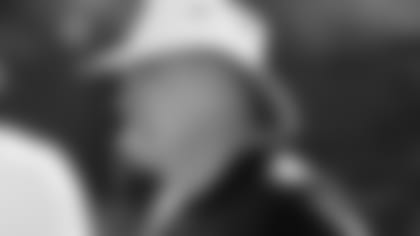 Al Miller is in his second season as the Raiders strength and conditioning coach. Photo by Tony Gonzales.
The coaches want to utilize the time they have with their players in the most efficient manner possible. For the strength and conditioning staff, that time begins Monday. "First thing is to get the base laid," explained Coach Miller. "What we've got to be able to do is what we call work-capacity phase. So if we get that done with everybody, then that's the first big step that we've got to do. Hopefully they should have done that already in the programs we've given them to start doing, but if not, that is the first step that we've got to do – see exactly where we are. Hopefully we'll get that done the first of this next week. We'll ascertain exactly what they have been doing and go from there."
In order to determine where they are physically, the strength and conditioning coaches focus on two main things in the workouts. "We basically test them on the two ingredients that are going to make up the whole big nut of exactly of what we do and that's going to be a complex exercise, or six exercises they do in succession with a percentage of their body weight," said Coach Miller. "That'll tell us their strength levels and any joint impediments they may have and any deficiencies they may have and the ability to be able to have a work capacity. The other thing is the running and we just run tempo runs. They're just 100 yards, pretty much the same of what we've done at other times. Seeing where they are because turn around real quick and what, five, six, seven weeks, somewhere like that, and we're starting OTAs."
The quick pace of the off-season means Coach Miller and Coach Grieco have to work efficiently. The things they can do with players who have been on the Raiders in the past and the new acquisitions differ initially. "The ones that have been here, it'll be more with them," said Coach Miller. "They'll be ahead so to speak."
It is imperative for Coach Miller and his staff to protect their players. "The one thing you never do is play with safety," said Coach Miller. "Our responsibility is to make them better, not to get them in there and get them hurt. So that is the one thing that we're going to do is find out where they are and then we can go from there. Not going to put a kid in any position that he gets himself with too much weight on there or running too fast too quick. Those are the things that we look for that we have control over as coaches."
"Anybody that knows anything about this business knows it doesn't take too long at all before your body starts going down," said Coach Miller. "And then you take subsequent years that people have been in the league for awhile then it gets quicker and quicker. And the older you get, the more and more you go down, that's just the way life is. [The program] will make a difference. Is it going to put them in a place or position where nothing can happen? No, nobody can do that, but it sure raises the odds in your favor greatly, yes it does."
The voluntary off-season workouts are the first opportunity for the players to come together, work together, and push each other. Coach Miller is excited to get the guys back. "It's always been that way," said Coach Miller on his excitement for the start of the workouts. "Here I am, been in this thing since 1970, and it's still Christmas to a kid. It's still exciting. I enjoy the [players]. I enjoy the work, the camaraderie between the [players] and watching what they can do. And just seeing the different personalities that we have in there and watching them get a little better, watching them try hard and knowing full well what it's going to bring forth if they do it right and do what we ask."
As excited as he is, Coach Miller understands that he can only do so much for the players. It is up to the guys on the roster to put in the effort and take advantage of the opportunity. "We've got to get everybody on the same page," Coach Miller said. "It's no different than any of the top businesses anywhere, everybody is on the same page, pushing the wagon the same way. [The] wagon is going to go and you're going to get to the top. That's what it is. Football is the same."
The voluntary off-season program kicks into gear today. Check Raiders.com for behind-the-scenes coverage, player profiles, and more.