A note for Preseason Live subscribers: This nationally televised game is not available live due to broadcast restrictions. The archive of this game will be available 24 hours after the conclusion of the game broadcast.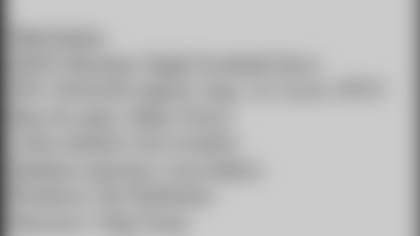 A NEW ERA OF EXCELLENCE: The Raiders enter the 2012 season under new leadership for the first time in nearly fi ve decades. Owner Mark Davis named Reggie McKenzie the team's General Manager on Jan. 10, making McKenzie the first person to hold the GM title since Al Davis was named Head Coach and General Manager in 1963. McKenzie named Denver defensive coordinator Dennis Allen head coach on Jan. 30.
TRAINING CAMP 2012: The Raiders checked into training camp at the Napa Valley Marriott on July 29. Th is marks the organization's 17th year of training in the Napa Valley. Th e team will conduct all of its day-to-day football operations in Napa until the team returns to its permanent Alameda facility aft er the third preseason game.
FAMILIAR FOE: Raiders and Cowboys have squared off only 10 times in the regular season, but the two teams have played 27 times in the preseason, with the Silver and Black holding an 18-9 all-time advantage in a series that dates back to 1972. This week's matchup marks the third time in four seasons that the two teams have met in the preseason and the first time in Oakland since a 31-10 Raider victory in the 2009 preseason opener. The Raiders lead the all-time regular season series, 6-4, with the teams last squaring off on Thanksgiving Day 2009 in Dallas, a 24-7 Cowboys victory.
EXTENDING THE SERIES: Th e Raiders and Cowboys have squared off 27 times in the preseason, making Dallas the second-most common preseason opponent for Oakland. The Silver and Black's most familiar opponent is the San Francisco 49ers, with the two teams having played 39 times in the preseason. The Raiders and Cowboys played a preseason contest in Oakland in 2009, ending a five-year hiatus, and most recently faced off in Dallas in 2010.
OXNARD TIES: The Cowboys are no stranger to California during the summer months, as Dallas hosted training camp in Thousand Oaks from 1963-89. Th e Cowboys returned to Southern California in 2001, training in Oxnard, Calif. The Raiders' training camp site was also in Oxnard from 1985-95 aft er moving from the El Rancho Tropicana Hotel in Santa Rosa,
Calif. The Raiders moved training camp to Napa, Calif., in 1996, a year after the franchise returned to Oakland.
NOTABLE CONNECTIONS: RB Darren McFadden and Cowboys RB Felix Jones occupied the same backfield at the University of Arkansas...CB Bryan McCann played for the Cowboys from 2010-11 before signing with the Raiders...S Michael Huff is from Irving, Texas...Cowboys' recently-signed OL Dan Loper played for the Raiders in 2010...RB Lonyae Miller played four games for the Cowboys in 2010...LS Jon Condo played for Dallas in 2005...Special teams coordinator Steve Hoff man spent 16 seasons (1989-04) as kicking coach with Dallas...Cowboys defensive coordinator Rob Ryan served as defensive coordinator for the Raiders from 2004-08...Cowboys' offensive coordinator/offensive line coach Bill Callahan was an assistant coach for the Silver and Black from 1998-01 and served as head coach from 2002-03...Cowboys running backs coach Skip Peete was an assistant coach for the Raiders from 1998-06...Former Raiders QB Wade Wilson is the Cowboys' quarterbacks coach...Tight ends coach Mark Hutson was a Cowboys' third-round draft pick in 1988.
• at Oak. 19, Dal. 13 (Oct. 2, 2005): The Raiders posted the organization's third straight win in the regular season series against the Cowboys in front of 62,400 fans in Oakland. K Sebastian Janikowski kicked four field goals, including two from 40-plus yards, and RB LaMont Jordan rushed for 126 yards and one touchdown to lead the Raiders.
• Oak. 13, at Dal. 12 (Sept. 27, 1998): QB Jeff George and WR James Jett connected on a 75-yard touchdown strike and the Raiders held off a late charge to edge the Cowboys by one point. A fourth-quarter Cowboy touchdown brought Dallas within three points, and Oakland P Leo Araguz ran out of the back of the end zone to give Dallas a safety but preserve a one-point lead that would ultimately hold up.
• at Oak. 27, Dal. 23 (Dec. 14, 1974): QBs Ken Stabler and George Blanda combined to throw three touchdown passes and the Raiders posted a 27-23 victory in the fi rst meeting between the two teams. The win capped a 12-2 regular season for the Raiders that culminated in an AFC Championship-game appearance.
WINNING WAYS: The Raiders and Cowboys are among the elite teams in the NFL, with both ranking among the top-four since 1963 in winning percentage. The Cowboys top the chart with a .591 regular season winning percentage, while the Raiders rank fourth with a .567 percentage since Al Davis was named head coach and general manager in 1963.
HEYWARD-BEY REPLAY: WR Darrius Heyward-Bey recorded his first career TD reception the last time the Raiders faced the Cowboys in a regular-season tilt. On Thanksgiving Day 2009 at Cowboys Stadium, the rookie hauled in a 4-yard pass from Bruce Gradkowski, the Raiders' only score.
PLAYOFF PEDIGREE: The Raiders' 2012 training camp rosters includes 15 players that have earned postseason experience during their respective careers. Seven players have combined to be a part of 10 Super Bowl squads and have claimed seven championships.
GLOBAL PRESENCE: The Raiders have always had global appeal, highlighted by websites in six different languages. This year's roster features a number of players that come from international and multi-cultural backgrounds.
Below is a list of notable players and coaches with those ties:
K Eddy Carmona: Born in Monterrey, Mexico...Attended high school in Arkansas.
DE Jack Crawford: Born in London, England...Moved to New Jersey as a high school sophomore to play basketball.
DT Christo Bilukidi: Born in Angola...Spent time in France, Brazil and Canada before attending college in United States.
T Ed Wang: Parents were Chinese Olympians, competing at the 1984 Olympic Games...Became first Chinese-American draft ed by an NFL team in 2010.
Al Saunders: Senior offensive assistant born in London, England.