When Khalil Mack takes the field, "soft" is probably the last word that comes to mind for most, but for him, it's the first.
Mack first heard that critique at 11-years old from his cousin; he has not forgotten it.
As the middle child of three boys, Mack's competitive nature developed early. He was in constant competition with his brothers, from household chores to sports and everything in between.
"I'm probably one of the most competitive people," Mack said. "I'm a fighter. Growing up with two other brothers in the house, being the middle child, I wanted to be the best at everything, whether it was raking the leaves in the backyard or anything. We could be doing anything and I wanted to make sure that I would be the best. Even though I didn't win all the time, having my older brother there, he helped me in a lot of ways to stay motivated to be better than him at a lot of things."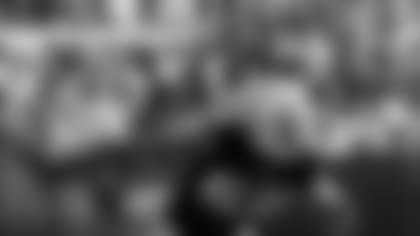 Photo by Tony Gonzales
Growing up in Fort Pierce, Fla., Mack's first exposure to football came in backyard pickup games and Pop Warner. He enjoyed playing, but in high school he turned his attention to his first love, basketball. Looking for an opportunity to play collegiately, Mack's plans never came to fruition. It was actually his competitiveness that led to an injury and halted that dream.
He injured his knee his sophomore year while playing a pickup game, trying to dunk on a 12-foot basketball rim. After his injury, he accepted that he would probably never play basketball or any other sport and focused instead on rehabbing his knee and excelling in school. In a strange turn of events, as he was sitting in his sixth period chemistry class, his high school's football coach walked in and presented him with an opportunity that his competitive nature wouldn't let him turn away from.
"He came to my class and asked me was I going to come and try out for the football team. I let him know, 'I don't really know if I want to do that. I don't really know if I want to play football anymore,'" Mack said. "But, I've never been one to back down from a challenge. I just let him know, if he wanted me to play, he had to talk to my father. So, that same night he came to my house and talked to my father about playing football. He let him know that if I played I may be able to get a scholarship to college."
His high school coach was right. Mack went on to play collegiately at Buffalo, where he received his first, and only, scholarship offer. Though he received only one offer, he refused to let it slow him down. Instead, he took the offer that he and his high school coach knew he had earned and ran with it.
"I knew the situation," he said. "I only played one year, everybody was worried about that, on top of the fact that I was coming off of an injury, but everybody wanted me to try. They wanted me to walk on. It was those type of deals, but my coach let them know that I was a scholarship athlete and he made it clear to all of the colleges."
After redshirting his freshman year at Buffalo, Mack was looking forward to becoming a starter. Shortly before the season began, EA Sports released its new NCAA video game. The players looked up their ratings and Mack was surprised to discover he had been given a 46 overall. He knew this rating was too low and decided to draw even more motivation from the experience, keeping his redshirt jersey number, 46, as a constant reminder.
"I already had 46 my redshirt year, I didn't play. So, I was going to change it going into my redshirt freshman year when I was a starter. I was going to change it to 32, but the NCAA game had come out that year and everybody was looking at their ratings and how fast they were and stuff like that. I looked at my rating and it was a 46 overall, so I kind of took that as my motivation and a sign to keep the number 46."
Mack knew that he would have to prove his worth, and he made sure that he did just that. Perhaps the best example of this can be seen if you take a quick look at game tape from his senior year against Ohio State. Leading up to the game, his coach told him that people were calling him "just another guy." Mack set out to show the Buckeyes why he wasn't just another guy and why giving him one-on-one match-ups on the field was a big mistake. He would finish the game with an impressive nine tackles, 2.5 tackles for loss, 2.5 sacks and an interception returned for a touchdown.
"I feel like they really didn't respect me as a player, based on the way that they played throughout the game," Mack said. "I had one-on-one matchups with their tackles. I just had a feel for the game and I was ready and I prepared myself that way. It just so happens that I had the game that I had against them because they didn't account for me in a lot of different aspects of the game. I showed them why they should have."
That showing created a buzz, making a strong case for him to be a top draft pick. Mack entered the draft process focused on being himself and letting game tapes like that one speak for him. He knew what kind of player he was and all that he could bring to a NFL team.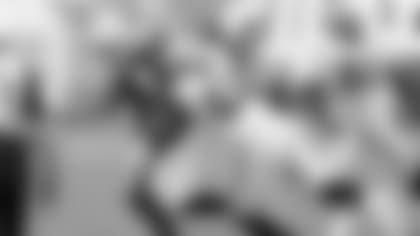 Mack records his first NFL sack against the Chargers in San Diego. Photo by Tony Gonzales
"One thing about that process, it doesn't really test your heart," Mack said. "What you see on the film is what you get from the process. Just letting my film speak for itself and being myself was the whole deal. That whole process was pretty much me being myself."
The Raiders took notice and liked what they saw out of Mack, drafting him in the first round, fifth overall. He became the first player out of Buffalo to be taken in the first round of the NFL Draft.
Mack picked his number in Oakland, and this time, it had nothing to do with negative criticisms, but everything to do with positive motivation. Before the draft, Mack got the chance to talk with Ray Lewis, who provided words of encouragement for the young star. After that moment, Mack knew he wanted to wear the 52 jersey.
"That's another part of my motivation. I had the chance to talk to one of the best linebackers ever to play the game before the draft, and he let me know how proud he was of me. It's symbolic to that moment. That was my man, Ray Lewis. It's motivation to try to be one of the best."
As a first-round draft pick with a new team and a new number, it would be easy to stop there. But, Khalil Mack isn't done yet. He continues to draw motivation from those who have encouraged him, as well as all of the naysayers along the way.
"There are a lot of things I use as motivation," Mack said. "My family, even then, knowing that situation when he called me soft. I use all of that and I use some things I'm going through now to keep me pushing and keep me motivated and keep reminding myself where I want to get to playing this great game."
Like any competitive individual and professional athlete, Mack strives to be the best. He has a promising career ahead of him, but right now, he just wants to win.
He said, "I believe everybody wants to see that they're the best once they leave the game. I just want to be the best to help this team win. That's kind of my focus right now, just doing my job and trying to make plays to affect the game so that we can win games."
While the team hasn't been able to notch the wins, Mack is proving himself on the field on a weekly basis. He has been a dominant run defender and the rookie is tied for fourth in the NFL with 12 tackles for loss. Last Sunday, he recorded his first career sack. Despite his team's 0-10 record, Mack is putting himself in the discussion for Rookie Defensive Player of the Year.