The Oakland Raiders players are starting Phase 3 of the offseason program – Organized Team Activities and a mandatory mini-camp – with the right attitude. They believe in themselves and the potential of their roster. And they believe General Manager Reggie McKenzie and Head Coach Dennis Allen have brought in the right pieces to bring the Silver and Black back to their winning ways.
"I said this was a playoff team," said DE LaMarr Woodley. "And I think anybody that plays this sport, that should be their main objective. If you come in here and just say I just want to be 8-8, I wouldn't want you part of my team. Anybody on this team, the objective, and any sport and anything you play, should always be the top and say, 'man, I want to win the Super Bowl.' Anything  less, I wouldn't want you on my team."
Woodley was clear when he told the media after the first OTA session that believing you are a winner is an important component of becoming a winner. "I think we're a playoff team," said Woodley. "That's the winning attitude. That's the attitude you need to have. And that's the winning attitude I think each guy has on this team and that should be the attitude you have. If not, I wouldn't want to play with you."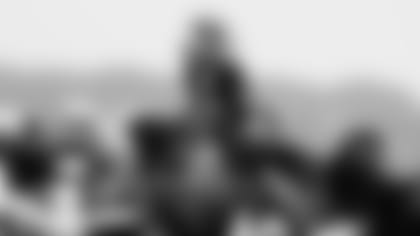 The guys firmly believe they are better than the 4-12 record from the 2013 season. "I feel like not only me, not only do I have something to prove, but I feel like we all have something to prove," said CB DJ Hayden. "Because with our season last year, we have to do way better now. We're way better than that and I just can't wait to get this season going."
The new leader of the offense, QB Matt Schaub, sees great potential on his side of the ball. "With the offensive staff and the scheme that we have, along with some additions in free agency, there's just a ton of firepower on offense and I'm very excited about the weapons we have at every position," said Schaub.
Those weapons will allow Schaub more opportunities to make plays. "The weapons looking around our receiving room, our tight end room, our backs, we have six or seven No. 1 guys," said Schaub. "I look at it as we have a stable of guys that we can distribute the football to and we can spread it around. We don't have to have the focus on one guy. We can beat you with four or five or six different guys, get the football and distribute it."
The Raiders kept a majority of games close last year, but were unable to finish and bring home the wins. Woodley believes the new additions with winning backgrounds can help the Raiders. "I felt like during this offseason, they went and brought guys that went out there and know how to finish games," said Woodley. "You bring that in here with the attitude that a lot of these players have and this team has, and I think you go to the next level."
There is a lot of work still to be done in order to accomplish the team's goals, but the mindset is right.