Thirteen-year-old Jason Tarver sat in his seventh grade classroom in Pleasanton, Calif., pondering over a homework assignment. The question was, "What do you want to be when you grow up?"
His answer: "I want to coach the Oakland Raiders."
Twenty-five years later, Tarver walks across the field of the Raiders practice facility in Alameda, Calif., just half an hour from where he grew up. Entering his second season as the Oakland Raiders' defensive coordinator, the biochemistry major traded in his science textbooks and white lab coat for a coach's playbook and white Raiders visor that he sports at practice daily.
It seems as if Jason Tarver was destined for a coaching position in Oakland, but it didn't always look like his childhood dreams would follow him into adulthood.
"In college—and this is what I tell everybody because when you're a coach, you're a teacher—you do as good as you can so you can do whatever the heck you want to do," says the 39-year-old Tarver.
Tarver delicately and masterfully juggled a double life in college. He played football at West Valley Junior College from 1993-94 and coached at the school from 1996-97. At the same time he attended classes at Santa Clara University, earning a degree in biochemistry in 1997. When his undergraduate years were behind him, Tarver wasn't ready to choose between pursuing his dreams in football and following the path to becoming an orthopedic surgeon.
"My senior year in college, I coached. I fell in love with it, so I decided to go to UCLA and try to do both," Tarver said. "I went to UCLA for biochemistry, taught classes, coached football and was still on the track to go to medical school. I still can if I ever want to. I just tried to do it all so that way I can make a choice."
After coaching as a graduate assistant at UCLA from 1998-2000 and earning his master's degree in biochemistry and molecular biology—an accomplishment that earned him the nickname "Mad Scientist"—the NFL finally came calling.
In 2001, the Mad Scientist entered the first of 10 seasons he would spend with the San Francisco 49ers. Among the various roles Tarver played in his decade with the 49ers, six years were spent coaching San Francisco's outside linebackers.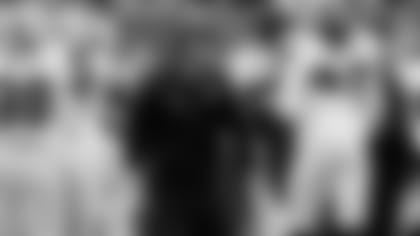 With Tarver at the helm in 2009, San Francisco's outside linebacking corps recorded 15 takeaways, 17.5 sacks and nine forced fumbles. The 49ers defense finished the season tied for third in the NFL in sacks (44), tied first for forced fumbles (21) and ranked fourth in points allowed per game (17.6).
In 2011, Jason Tarver returned to college football as co-defensive coordinator and inside linebackers coach for Stanford University. Under Tarver, the Cardinal's defensive unit terrorized offenses in the Pac-12, ranking first or second in six defensive categories.
With Tarver's success at Stanford, it's no surprise that the young coach continued to quickly ascend the ranks. In 2012, the Oakland Raiders offered him the job of defensive coordinator.
"Jason Tarver is an extremely bright young coach," said Raiders Head Coach Dennis Allen. "When I interviewed him there was no doubt in my mind that this was a guy that had answers for everything."
The coaching chemistry between Tarver and Allen seemed to be there from the start.
"We can communicate very quickly for not having been together for a long period of time," says Tarver of his relationship with Allen. "That's exciting because that doesn't happen all the time in any profession, much less football."
Those communication skills seemed to pay off in 2012. In Tarver's first season in Oakland, three Raiders defenders recorded 100 or more tackles for the first time since 2006. With Tarver leading the way, the defensive unit was ranked second in the NFL in total defense and forth in scoring defense over the last four weeks of the season.
"He knows football. He's been around the game for quite a while, and he knows what it takes to design a defensive scheme to stop any type of offense," said Raiders defensive end Lamarr Houston, who recorded a career high 77 tackles last season under Tarver's guidance. "That's what I see in JT. He's really good at having well thought out plans for our defense no matter who we're playing."
This year, Jason Tarver has been facing a whole new set of challenges in Oakland, as he works with a unit that in Week 10 has only one returning starter from a year ago. Luckily, the players brought in this year are making a strong impact.
Among those players is veteran DB Charles Woodson, a Raiders great who has brought veteran leadership and a swagger to the young defensive unit. It's a position that the elder statesman of the defense seems prepared to fill.
"The role is a 'lead by example' type of role," says Woodson about his place in the Raiders' re-vamped defense. "I'm going to show the guys what kind of player I am and work hard every day. I'm going to get to the football and try to make plays when I do get to the football, and show them after the amount of time that I've played in this league, that I'm a guy who still loves being around the game and still loves to play."
In addition to the handful of seasoned veterans added to Tarver's arsenal, the Raiders defense acquired some talented and hungry rookies in this year's draft. Rising stars come in the form of DJ Hayden and Sio Moore. Both rookies are already making an impact—Hayden as an athletic cornerback with great speed and the ability to play both off and press coverage, and Moore as an explosive linebacker with pass rush potential and a knack for setting the edge.
Coach Tarver used the success he achieved at the end of last season to show his new group what he wanted out of this year's defense. His basic strategy is three-pronged—control what you can, use your rules, and get the guy with the football.
"Our group this year, what's nice is they have some good plays to watch. This is how you do it, so we can pick up further ahead of where we were last year, and make things happen sooner," says Tarver. "We have to control what we can control. Our job is to stop the offense as fast as possible. Period. That's our job. How do we get that job done? We have our rules, and we need to apply our rules using our hands and our violence to get the ball down because it is a violent football game."
Under Tarver's leadership, along with the help of the rest of the coaching staff, the Raiders find themselves among the top 10 in rush defense and forced fumbles, and top half in sacks. As for the Mad Scientist himself, it looks as if his innate ability to stop even the top NFL offenses will keep him around the league for quite some time—but if he ever decides to retire from football, there's always medical school.