Tim Brown and his presenter, his brother Donald Kelly, unveil Brown's bust for the first time. AP Photo.
This past Saturday night, in a high school football stadium in the small town of Canton, Ohio, eight men were enshrined into the adjacent Pro Football Hall of Fame. Thousands of football fans, including a large contingent representing the Raider Nation, witnessed history.
The Raiders drafted Tim Brown with the 6th overall pick in the 1988 NFL Draft after a Heisman Trophy-winning college career at Notre Dame. Twenty-seven years, 267 games with 20 different quarterbacks, 1,094 catches and 105 touchdowns later, Brown took his rightful place in the Pro Football Hall of Fame.
Brown appeared ready to take the NFL by storm his rookie season as he returned a kickoff 97 yards for a touchdown the first time he touched the ball as a professional. But, Brown was injured at the beginning of his second season. This injury forced Brown to hone his craft and become the receiver we all remember and for whom we cheered.
"I knew if I kept working that maybe I couldn't be a guy that was 4.3 [40-yard dash] anymore and had all these great moves, but at the same time I felt I could play the game and be helpful to a football team," Brown said.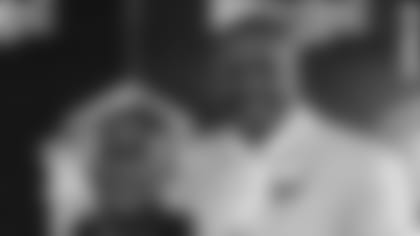 Just over 24 hours before Brown would take the stage with his brother and presenter Donald Kelly and more than 100 living members of the Pro Football Hall of Fame, Brown thought ahead to how he would likely feel at that moment.
"It's going to be an extremely special moment no doubt about it, seeing the bust for the first time in it's finished form is going to be amazing," Brown said. "I have to try to control my emotions and not let it go. I'm really looking forward to that moment."
Hall of Fame cornerback Mike Haynes routinely matched up with Brown in practice. Certainly, Haynes' abilities forced Brown to work hard and develop his skills. Haynes said that Brown learned the hard way by going against some of the top defensive backs in practice when he first entered the NFL.
"When the game was on the line, or they need a big play, a first down, he'd come up with those catches," Haynes said. "Kudos to him, I'm glad to have him on my team again. I did match-up, only in practice, best thing that could have happen to him was being drafted to the Raiders to go up against Lester [Hayes] and me. We had a lot of other guys, Terry McDaniel, Lionel Washington, other guys who could cover, loved to cover. He really had to work hard."
Brown credits Hall of Fame wide receiver James Lofton for helping him transition to the pros.
"Literally, James Lofton taught me how to be a receiver," Brown said. "Coming in the way I came in in the NFL I needed someone like that, and for this guy to literally take me under his arm and teach me how to play this game was incredible."
Lofton says that Brown had certain qualities as a player that made him unique.
"Tim was unique in that he caught a lot of passes between the numbers, where some guys didn't want to the dirty work, he didn't mind doing the dirty work, he got yards after the catch, he had a little wiggle that was pretty special, but he had great hands. He had superior speed," Lofton said. "One of the things that really separated Tim from a lot of players is that he was smart. Anybody who has ever been around him for any length of time, knows he is an intelligent guy off the field, but he was super smart on the field."
Brown was the consummate professional on the field and a role model in the community. From youth camp to his 9-1-1 for Kids program, Brown gave of his time and of himself. You never read about Tim Brown stepping sideways in his career. He prides himself having lived his life and playing the game the right way.
"It's great for me, if not for no other reason, I have kids. If I had to explain all this stuff to my kids at this particular point, why daddy did this, why daddy did that, it would be tough. In this world of social media, it would be tougher on them probably than it is on me," Brown explained. "I'm very happy that we were able to let's say not get caught sometimes, it's not I was perfect. I think from that standpoint, it definitely makes me feel good to know that we did things the right way."
Former Raiders player personnel executive Ron Wolf, who is also part of the Class of 2015, drafted Brown in 1988.
"It's a great tribute to his work ethic and his ability," Wolf said. "I'm glad he's here."
In 2002, Brown became the third player to record 1,000 catches. It was the first time his mother ever watched him play in person.
"I didn't know she was there, I didn't know until they brought [my family] out," Brown said. "It was extremely special to see them come out on the field and be there."
Brown left the Raiders after 16 seasons, and played one more with the Tampa Bay Buccaneers. He finished his illustrious career as the Raiders all-time leading receiver. In Silver and Black, he caught 1,070 passes for 14,734 yards and 99 touchdowns. He returned 320 punts for 3,272 yards and 3 TDs. Brown also returned 49 kickoffs for 1,235 yards and a score. He is the only player in Raiders history to score on a rush, reception, kick return and a punt return. Brown ranks as the 5th leading scorer in team history with 626 points. He scored more points in Raiders franchise history than any other position player.
Brown never won a championship but he did play in 12 playoff games and caught 45 passes for 581 yards and 3 touchdowns. He did get a chance to play for that elusive championship, Super Bowl XXXVII after the 2002 season.
"I played 27 years and I only had one shot at the championship, but I'm thankful and grateful that I did have that shot," Brown said. "When you get 34, 35, 36 in the league, you stop saying you want to win a championship, and start saying, Lord, let me play in a championship game.  And I did have that opportunity.  It wasn't an experience I was looking for, but at the same time I'm certainly glad that I had that experience."
Brown also said he enjoyed a special relationship with the fans during his career.
"I don't know of anybody else who could say they had that kind of relationship with the fan base," Brown said. "When I am around them, I'm around people who love me, not just because of what I did on the field, but because how I treated them off the field."
During his enshrinement speech Brown thanked countless people, family, friends, teammates, coaches, mentors…