Opening Statement: **"I thought it was a good, competitive practice. I think guys were out here flying around. We're getting better as a football team and I'm excited about that. There's obviously still a lot of things that we've got to work on. We've got a ton of getting better to do, but I like the way our guys are out here working in all phases of the game. We just got to keep coming out and competing on a day-in and day-out basis, and we'll continue to get better as a football team."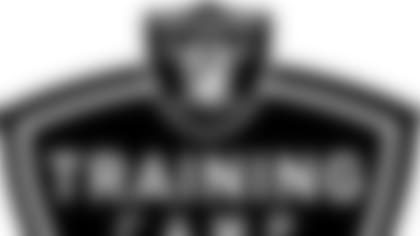 ](http://www.raiders.com/news/training-camp.html)Q: Why did Kaluka Maiava and Tarell Brown miss practice today?
Coach Allen:"Yeah, Kaluka had a hamstring right at the end of practice yesterday, and Tarell Brown was sick today."
Q: When you brought Carlos Rogers in, did you tell him you might need you outside or inside depending on what the situation dictates?
Coach Allen:"Yeah, what we told him is that we were bringing him in here knowing that he can go in and play in the slot for us in our sub defenses. But we also told him we were going to give him the opportunity to compete as the starting corner on the outside, so he's taken to that. He's done a real good job at that. We'll let it play out as training camp goes on, but I expect there to be a lot of competition at the back end of our defense."
Q: Yesterday, you talked about how you structured practice and how it's conducive to learning. What are some of the influences on your coaching career and how did you learn to structure a practice?
Coach Allen:"Well, I've been fortunate to work with or work for a lot of great guys. When I look at our practice schedule, you always learn something and you change stuff up as you go, but I think the majority of what we do from a practice standpoint comes from my days in New Orleans and my days in Denver. But we've adjusted and we've changed some things as we've gone along, too. I think it's a good schedule. I think it's conducive to learning and I also think it's conducive for recovery time for players. We've got 22 hours or something like that before we're back out on the field again."
Q: What do you think of the progress of Gabe Jackson so far?
Coach Allen:"I've been pleased with where Gabe is. He's still a young player. He's still got to continue to improve. The thing I like about Gabe Jackson is he's a very strong, powerful player. I think the biggest thing that he's got to be able to do is be able to learn and adjust when things begin to move on him. That's one of the biggest things. It's easy when you're sitting in the meeting and your looking up on the board and you see a lot of X's and O's, but once you come out here on the football field, those X's and O's begin to move and you've got to be able to adjust and make quick decisions. That's where he's at on the learning curve. I feel good about where he's at and I'm looking forward to him. I think he's going to progress and I think he'll be a guy that can help us this year."
Q: Do you see him starting this year?
Coach Allen:"Well, you know, we'll see. I've said from the beginning, we're going to let the best five guys go out there and play. If he proves to be one of those guys, then he'll get that opportunity. If not, then he'll be one of the guys that I think can come in and potentially help us at some point during the season." ](http://www.pntra.com/t/R0BKRkpMSEBKTERGSEBISEtERw)Q: How much has coach Tony Sparano meant since he joined the team?**
Coach Allen:"He's been instrumental in what we're doing not only on offense, but as a team. He's a guy that was a head coach in this league. He was 11-5, went to the playoffs one year. He's got a lot of experience as a head coach, not only at the professional level but also at the college level. So he's a guy I lean on heavily as far as making decisions on things that we want to do with our football team.
Q: What has James Jones brought to the team?
Coach Allen:"Well, he's a guy that's been there and done that. He's been there and done that and done it on the biggest stage, so he's certainly a guy that brings some leadership ability to the room, but he's also a guy that has that veteran presence and a guy that can get open and make plays for us."
Q: With Kaluka Maiava's hamstring injury, there's the possibility that he misses some time? Who do you think can step into his place?
Coach Allen:"Well, I think we're looking at that as we move forward. I think we've worked Marshall McFadden in there. We've worked Bojay [Filimoeatu] in there. Both those guys have done well not only these first few days of training camp, but they had a nice spring. So again, that's one of the things that I was excited about coming into camp, is that we do have some depth at the linebacker position. I think those guys will come in and fill in nicely, and hopefully, we'll get Kaluka out here sooner rather than later."
Q: How similar are David Ausberry and Mychal Rivera? Are they both primarily pass-catching tight ends rather than blocking tight ends?
Coach Allen:"I think they're different players. I think David's a little bit bigger, probably has a little bit more straight-line speed. Mychal probably has a little bit more savviness as far as the route running is concerned. But both of those guys are talented players and talented pass catchers."
Q: Who has the edge blocking-wise?
Coach Allen: "Well, I think they both kind of do a little bit different –we ask those guys to do a little bit different things. We use Mychal a little bit more in the move type of situation. He's doing a little bit more blocking from a movement off the ball perspective. David's a little bit more on the end line. So that's a hard comparison to make because we kind of ask them to do different things."
Q: Darren McFadden has had a lot of lower-body injuries. Is there any way from a coaching staff's point of view that you can help him, whether it be decreasing his workload or practice-load?
Coach Allen:"Yeah, we've done some things from a weight room, training room standpoint to try to help him in that regard. He's done a nice job of trying to put his body in the best shape. I mean, it's unfortunate, but injuries are a part of this game. It's really not something that we spend a lot of times focusing on. We try to educate all our players as far as the best way to take care of their bodies and then we just go out and play the game. We have to deal with whatever happens." ](http://www.pntra.com/t/R0BKSkdFREBKTERGSEBISEtERw)Q: Do you still see that same burst and slashing ability that McFadden has?
Coach Allen:"Yeah, when you look at our run game, I thought today our backs had a good day. I thought they ran the ball well. I thought they saw the holes, they made the cuts, and then from all the backs, there was a lot of burst and acceleration into the second level of the defense. I was pleased with where we were from a run game standpoint and the way the backs look today."
Q: Do you think that when McFadden is healthy he can be as dynamic as he's been?
Coach Allen: "Yeah, I don't have any doubts about that at all. I think that's obviously one of the reasons that we brought him back, because he does have dynamic ability."
Q: The first day of pads is tomorrow. What are you looking to see?
Coach Allen: "Tomorrow's the first day we really play football. I think everybody gets excited about the first day in pads. But what we've got to … We've just got to maintain our focus, alright? We've just got to focus in on trying to get better every day and not worry about whether we're in pads, not pads. Just do our job and do it right every single time, and if we do that, we'll continue to get better as a football team." Q: You mentioned Darren McFadden earlier. Is there a different approach you're trying in the weight room?
Coach Allen:"We try to tailor our weight room exercises to the individual player and so, again, Darren has always worked hard and I think he understands that for him to have success he's got to be able to stay healthy and he's done everything he can to do that. We're not going to spend a lot of time worrying about it, I know that."
Q: Is there any sense of urgency to fill the open roster spot?
Coach Allen:"I don't think right now. We came into camp with significant depth at the linebacker position and so I don't really see a huge sense of urgency to try to fill that spot obviously. If we have any more injuries or if Kaluka is going to miss some sort of extended amount of time, we may look at that, but I don't see that as something that we're in a sense of urgency to try to fill it."
Q: Would you say you're waiting for the right player at any position if one comes available to fill that position?
Coach Allen:"Yeah, we're at 89 on our team right now and we've got the ability to have 90 at camp, so we've got an open roster spot and if and when we feel the need to try and fill that, the good news is we don't have to make any releases to be able to do that."
Q: How is the offensive line coming together?
Coach Allen:"Well, I like where we're at. I like the progress that we've made. I think it's still way too early to say where we're at as an offensive line group and really where we're at as a football team, but I do like the prospects. Again, it's another position I feel like we have some depth at, so I feel good about the offensive line position."
Q: How much improvement have you seen from Gabe Jackson from rookie mini-camp until now?
Coach Allen:"Listen, I've seen improvement, and as I stated earlier, he's a guy that as a young player you've got to continue to put him in situations, give him a lot of different looks and get a lot of different reps, and the way you get that in this league is through experience and through practice time. So, again, I like where he's at, but he's still got a lot of improvement to make."