WR Denarius Moore, FB Marcel Reece, and Raiderettes Meredith and Sarah pose for a photo with the Marines. Photo by Tony Gonzales

The Oakland Raiders teamed up with the United States Marine Corps for two Toys for Tots events at The Raider Image at Southland Mall in Hayward, Calif. WR Jacoby Ford and offensive linemen Jared Veldheer and Stefen Wisniewski signed autographs on December 12, and QB Carson Palmer, FB Marcel Reece, and WR Denarius Moore signed on December 19 in exchange for new, unwrapped toys and donations. Raiderettes Jennifer, Marcy, Kathleen, Ashley, Jessica, Meredith, Chanel, and Sarah were also on hand posing for photos and collecting toys. The toys will be donated to local organizations to give to children during the holiday season.
"We've been doing Toys for Tots since 1947," said Staff Sgt. Joseph Bowman. "Originally, when we started doing the Toys for Tots events, we collected somewhere upward to 5,000 toys. Now, we're bringing in something like 30 million a year, every year we do this." The Raiders also collaborated with the Marines to collect toys at O.co Coliseum prior to the game versus the Detroit Lions. Between the three events, the Marines collected nearly 4,000 toys and over $10,000 in donations.
The Marines organize Toys for Tots to give children something to look forward to on Christmas. "Not only is it fun for us to be out there and mingle with the community, we also have fun doing it as some children out there really don't have the opportunity to receive toys during Christmas," said Sgt. Marc Augustin."We are here to collaborate and pick up the toys so everyone can have a good holiday."
The Raiders were proud to collaborate with the Marines. "It's a great thing because to us they're the true heroes and we look up to them just like some of these fans look up to us," said Reece. "It's a great thing to be able to work side by side with them and have some fun."
Palmer echoed Reece's sentiments. "It's awesome," said QB Carson Palmer. "I've had a chance to meet quite a few people who have served our country and I'm excited to meet the guys that are here. Myself, Marcel and Denarius, we all really respect what they do for our country and fighting for our country."
The players were glad they were able to participate in events that provide toys for kids. "It's great to be able to make sure that every kid has a present come Christmas," said Veldheer. "A big part of it is being able to support them within the community and it's great to see all the toys pouring into the boxes."
The rookies - Wisniewski and Moore - enjoyed being a part of the annual holiday event. "It's an awesome experience," said Wisniewski. "Raiders fans really have a lot of love for the Raiders and it's a great thing to be able to use that to give back to some kids. Because of this, it looks like we'll have 100 or more kids that will have some toys on Christmas and we're really excited about that."
"It means a lot to give back to the less fortunate," said Moore. "Just to be out here to see how much support the Raiders really have, it's amazing seeing the joy in their eyes and seeing the smile on their faces."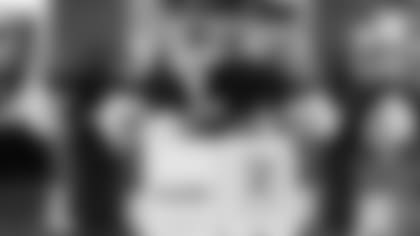 and Raiderettes Ashley, Kathleen, Jennifer and Marcy pose for a photo with the Marines.* *Photo by Tony Gonzales
Fans lined up to donate their toys and meet the players. "I'm looking forward to meeting them," said Pete Cervantez. "I've been to pretty much all the events that they've had for this and it's always good to meet the players and let them meet the fans that are cheering behind them. I was in the Marine Corps so I know how it is and the kids that don't have anything, they should have something. I know times are rough for a lot of people that don't have jobs and this is a chance for them to get something with the parents not working."
David Romero, a Raiders fan since the 1970s, is a big supporter of Toys for Tots. "Made it out here for the kids," said Romero. "Toys for Tots is the best thing of the year so it's always for a good cause."
Ford likes to participate in Toys for Tots because it's something he wished he had growing up. "It means a lot, probably because I was never really able to do it," said Ford. "Just to have the opportunity to go out and do it for other kids, I definitely think it's a blessing and I definitely think it's something that is appreciated too."
Palmer understood the importance of participating in a community event like Toys for Tots. "Being professional athletes, you have a chance to bring people in," said Palmer. "There's a lot of people here, we have a lot of great Raiders fans here, and we have a chance to raise money and [collect toys] for a good cause."
The Raiderettes were also part of the event, posing for photos and helping the Marines collect the toys. "We are here doing a Toys for Tots drive and the great thing is people who bring toys here get autographs from some of our players," said Raiderette Jennifer. "So a lot of people came out tonight. We have a ton of really great toys; everyone is being so generous. We're here for a really good cause."
Jennifer understood the importance of participating in an event like Toys for Tots. "We're definitely a community – we're the Raider Nation, so we all need to be here," Jennifer said. "We all need to support the cause. We're all here for each other and we're all a family so I think it's really important that we're all here all supporting Toys for Tots and working on this together."
Raiders fans brought a variety of toys for the kids in order to receive autographs.  "We collected some really cool toys," said Raiderette Marcy. "We got some Raiders Connect-Four and some Raiders Battleship so it's really cool to see all the Raiders spirit in addition to the Christmas spirit."
The Raiderettes, Raiders and the Marines were grateful for the turnout and the high number of donations." It's such a blessing right now because you know that you're going make these kids happy," said Raiderette Jessica. "Just watching all these people coming in and giving these gifts, it's amazing."
The Raiders also appreciated being able to interact with the fans in addition to giving back to the community. "It's awesome to get a chance to interact with the fans and be able to be with them during the holidays and see all their support," said Veldheer. "It's excellent."
Wisniewski agreed with his fellow offensive lineman. "The fans are awesome," said Wisniewski. "All these little kids are so cute wearing their little Raiders gear. Raider fans just give tons of support. It's a really great fan base."
The Marines filled their trucks with the toys donated by Raider Nation and appreciated the time given by Ford, Moore, Palmer, Reece, Veldheer, and Wisniewski. "Definitely just shows a lot of character on their part because I know they have a lot of things going on with the season so it's a good thing," said Bowman.