The Oakland Raiders hit a soggy field at their Alameda, Calif., facility for Day 2 of a three-day mandatory mini-camp. The wet weather gave all of the units the opportunity to work with wet, heavy footballs.
---
If you throw the ball up, rookie WR Amari Cooper will get it. Cooper made a nice adjustment on a pass down the left sideline and reached out at the last second to make a fingertip grab.
---
Here are today's observations:
The defensive line worked on a tip drill where the ball would be batted in the air at the line of scrimmage and the linemen would attempt to intercept the tipped pass. A couple of NBA centers might lose a few jump balls to these giants.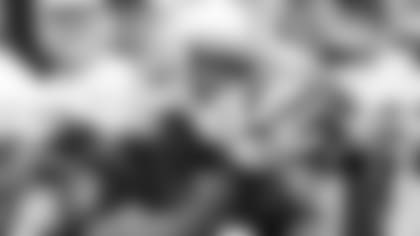 Punters Marquette King and Steven Clark got the chance to catch and hold wet footballs in rainy conditions. A rare opportunity due to the drought here in California.
WR Kenbrell Thompkins, still rocking the game pants, made a great over the shoulder catch along the right sideline on a deep pass that was perfectly thrown to his outside shoulder.
Safety Nate Allen and RB George Atkinson III did not participate and RB WR Brice Butler and CB TJ Carrie were limited in practice today.
All of the defensive players spent a great deal of time working on footwork, technique, angles, leading with the proper shoulder, etc.
Defensive Coordinator Ken Norton alluded to it in his press conference yesterday, but when you pay close attention, the defensive backs are BIG, and there are a lot of them.
Head Coach Jack Del Rio sidled over to the sideline and joked about media relations and digital media staff and the assembled media toughing out the weather without umbrellas.
The defense emphasized getting turnovers and turning those turnovers into points in several drills and periods. From scooping up rolling fumbles, to defenders turning into blockers for interceptors, the focus was scoring off turnovers.
Safety Brandian Ross picked off two deflected passes.
Second-year LB Khalil Mack continues to impress with his speed, quickness, power and work ethic.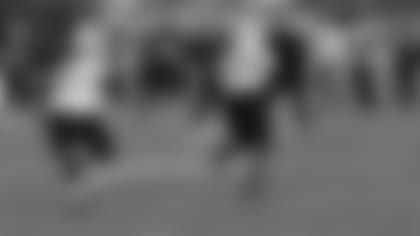 Safety Brandian Ross (29) returns one of his two interceptions. Photo by Tony Gonzales/Raiders.com