T Menelik Watson is entering his second year in the NFL. Photo by Tony Gonzales.
Q: You just took your big media tour in London; that must have been fun.
Watson: "Yeah it was good. I got to take a look at Wembley Stadium, which I hadn't done before. I got to interact with some fans a little bit out there and just see how much American football has grown in England. It's fun to see. When I was growing up I don't remember it being that big so it's fun to see where it's at now and how excited the people are about the NFL being out there."
Q: Are you going to have a lot of friends and family at the game?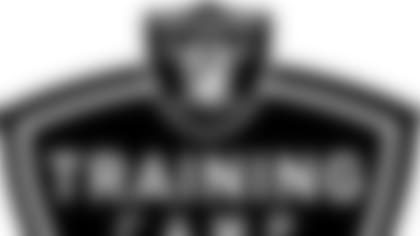 ](http://www.raiders.com/news/training-camp.html)Q: How many tickets are you going to need to get for this?
Watson:"I don't know, it's probably going to be a bus though. A bus of people from Manchester."
Q: You had a chance to go home too, right?
Watson:"Yeah, I got a chance to go back to Manchester. I was able to spend like a day and a half, which was good. It's always good to go home and see the family and get reminded of what you do this for.  Especially coming out to camp, it's nice to get a little refresher because sometimes you can get lost being over here, and then you go home and still see the conditions that everyone is living in; it gets your mind right coming back out here and get ready to work"
Q: Is Wembley a pretty special place?
Watson:"It was huge. I can't imagine when it's game day; it's going to be mental. There are a lot of Raiders fans out there too. There are a couple of Miami fans but there are going to be a lot of Raiders fans, so it's going to be a crazy atmosphere. I can't imagine what it's going to be like on game day, running out there with that flag."
Q: It seems like Raiders fans have been waiting for this game for a long time.
Watson:"Yeah they have. I've been getting a lot of fans on twitter and Instagram who are just excited about going over there. They've been telling me how they already have their tickets booked and everything and they're going to be flying over. It's crazy man, even when I'm back in Manchester, I see a lot of people wearing Raiders hats, especially in my neighborhood where I'm from. Guys will come up to me in their Raiders hats and tell me how proud of me they are and stuff like that. It should be a great atmosphere."
Q: Last year in camp you were so frustrated with the injury situation, what do you think you learned by going through that experience?
Watson:"I'm a powerful man and I have to control my temper a little bit. It was frustrating last year; I wish that on nobody, especially as a new guy coming in. I learned a lot. Just taking care of my body, I have a bunch of equipment in my room that I use every night, a lot of prevention stuff. I'm 100 percent healthy, but I just do a lot of prevention stuff, just doing everything that's possible to avoid being in that situation again. Getting in here early and making sure I'm getting treatment when I need it. Making sure I'm stretching. Making sure I'm eating right. Making sure I'm hydrated, all those little things. In college and junior college, it flew by so fast; I wasn't really thinking about my body, I was just thinking about learning the game. But now, obviously, when you're a professional this is your job; you need this body. Just learning that and begin grateful, honestly. Every day I come out here I just thank God for every day that he's given me to play this game. I love this game and it hurt a lot to have it taken away last year. This is a new year, and last year is behind me and that's where it's going to stay." ](http://www.pntra.com/t/R0BKRkpMSEBKTERGSEBISEtERw)Q: It seems like it's been a pretty solid offseason for you, do you feel like it's been a pretty good offseason?
Watson:"Yeah, it's always positive. Last year when I got here I made a lot of strides too. I was the starting left tackle week one which was a great achievement, because a lot of guys I came in with, Luke Joeckel and everybody like that; they were all playing right tackle. Here's me, this guy who hasn't been playing longer than they have, but I'm the starting left tackle for the Oakland Raiders. Ever since after the season was over and that last game, I had a mission in mind, which was to get my body back to where it needs to be. It's just the beginning. I guess that's part of the reason why I've been quiet with the media, because it's just really been about action. It's not about talking anymore or I'm going to be this or I'm going to be that. Coming up, nobody knew who I was, and back then it was all about action. I'm just trying to get back to that, working and not talking, and just getting it done, because we have a lot to do this year and it's going to be a special year if we keep our minds to it."
Q: You talk about learning the game, were you able to do a lot of that last year?
Watson:"Yeah. I got a lot of mental reps, especially with what we were going through last year with everyone rotating in and out, you get to learn how to deal with things when things aren't going your way. The couple of snaps that I had last year, sometimes I would get a little frustrated when I was out there and I had to deal with that, learning how to get over a play, learn how to move on. I took a lot from last year, just from watching the vets and what they were going through and everything like that. It wasn't a wasted year. It was from a physical standpoint, a play and production standpoint, but it definitely wasn't wasted."
Q: The coaches have said they want a real physical offensive line, does that suit your style?
Watson:"Oh yeah. There's nothing like that. You need that. As an offensive line you need to be feared. Teams need to put on film and see a group of guys, all together. I was talking to some people back in England, just kind of explaining the dynamics of an offensive line and what a lot of people don't understand is that the team that makes the Super Bowl is the team with the strongest offensive line.  If you look at every year, it's the teams with the group of guys up front who protect that quarterback, that open up the run game, because everyone has a great defense. Everyone has a great defense, but it's the offensive linemen who can band together and protect that quarterback and make sure they have the running lanes open, and they're just in sync. That's what I was trying to explain to people. We have that. We have a bunch of guys now, we brought in Donald Penn, we brought in Austin Howard, and we brought in Kevin Boothe, a lot of experience. Kevin has his Super Bowls under his belt. Donald has the Pro Bowls under his belt. Austin is a big physical guy who I think will be able to make the Pro Bowl this year. We just have a group of guys, and even the rest of the guys in the room; it's a different feeling than last year. I know they say your rookie year is different, but excluding the fact that you're a rookie, it's a totally different feel. We have a group of guys that I know if something's going down, we're all jumping in. You don't feel like you're out there as an individual, you feel like you're out there as a group. It's definitely a different feel out there."
Q: At Florida State the last couple of years they seem to have a renewed emphasis on the running game, do you see that here with the power running game?
Watson:"Oh yeah. Even when I got to Florida State, I got there as an older guy so when I got there I wanted to make sure we were physical, we were dominating. Our defensive line was always the backbone, but I wanted us to have that and be the most physical team. Every day we went out to practice we wanted to compete against those guys and I wanted my guy to know that if he's getting into a fight, I have his back, and we all had that continuity, whereas before they didn't really have that. I think it's important as an offensive line to know that the guy next to you has your back, and once you have that, you really start gelling together and things start coming together as an offensive line and you start bonding and you have this comfort with each other. You can go into war with them."
Q: Looking forward to getting into pads tomorrow?
Watson:"Yeah. We've been getting after it with and without the pads, so I don't expect anything different. We just have the pads on now, so we're going to have to get after them the same way we've been doing."