It's my weekly look with three things creating buzz around the Raiders this week, four downs, a key to a Raiders win and one for the road, something you probably did not know which will impress people of all ages. THREE THINGS CREATING BUZZ AROUND THE RAIDERS THIS WEEK:
CHARLES WODSON WANTS TO COME BACK NEXT YEAR:
Every Thursday during the season the voice of the Raiders Greg Papa and I do our Radio show "The Wheelhouse," which you can hear weekdays noon to 3 p.m. on the Raiders flagship station 95.7 FM The Game, from Raiders headquarters. This opportunity allows us to speak face to face with players on the show. 
This week Raiders free safety and future Hall of Famer Charles Woodson dropped some news which made national headlines when we asked him about his future beyond this season.
"I'm thinking about playing again, my mind is pretty much made up," Woodson said.  "This is the only place I would play and I do plan on coming back and playing with the Raiders. If I'm wanted here, I'm coming back."
Woodson 37, is the Raiders third leading tackler this season with 76, but in addition to his on-field exploits, Woodson has been invaluable as a leader for a much improved defense in 2013. I have talked to every defensive player on the team at some point this season and rarely does Woodson's name not come up in conversation about how big of a difference he has made on and off the field.
Raiders Hall of Fame cornerback Willie Brown told us this week Woodson has exceeded his expectations both when he was young the first time around and upon his return this season as a respected veteran. 
"When he first got here on his first day as a rookie I said you got a starting corner for the next 10 years," Brown said. "His return has been great. Great for me, great for the young guys and it would be great to have him back." 
As the building process continues with the team next season, Woodson definitely has a place. At 37, Woodson may not be around when the Raiders are ready to contend for Super Bowls again, but his combination of effective play, leadership, teaching and as he told us this week, his first hand ability to convey the history of the Raiders to younger players is invaluable.
"They haven't won around here. They don't understand what it's like in this building when you're expected to win, win playoff games, win championships," Woodson said. "They don't truly get it. It would be great to help restore that."
As far as transitioning from the cocky kid from Michigan as the fourth overall pick in 1998 to the sage veteran, Woodson says he enjoys that part of his role now as well.
"Sixteen years has been a long time," Woodson said. "As youngsters, those guys watched a lot of that. They've seen what I've done. They think, I was watching that guy on TV and now I'm playing with him. It's fun to see the reaction from the guys throughout the team and I love it. I'm glad I'm still around to enjoy it."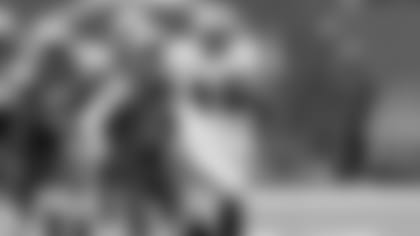 MARCEL REECE GETS THE BALL: 
The quarterback is the most talked about position in the NFL In regards to the Raiders, why Marcel Reece doesn't touch the ball more is easily topic number two on the board. Last week against the Jets, Reece was fed the ball out of necessity. Running backs Darren McFadden and Rashad Jennings were sidelined with injuries so Oakland's most versatile weapon stepped up.
The vocal majority were proven right. It may be technically correct to call Reece a fullback because that is the position where he is listed, but we need to come up with something which combines fullback, tight end and receiver with a blocker. I'll go with superback. 
Reece rolled up 123 yards on the ground, including a 63-yard touchdown burst where the Raiders superback ripped through the Jets up the middle and didn't finish until he reached paydirt, out running the entire gang green defense.  He added 38 yards in receptions as well. What cemented his performance as special is the Jets entered the game giving up NFL lows of just 77 yards on the ground at 2.9 yards per carry on the year. 
This week on 95.7 The Game, Reece said it wasn't the amount of yards which made him proud. 
"My team had trust in me that there wasn't a need to bring someone else in", Reece said. "I appreciate the team's trust in me to let me handle the load." 
Because Reece was a wide receiver in college at Washington, the 63-yard touchdown gallop was a unique experience for him. 
"I never played running back before the NFL," Reece said. "Catching the ball I had a 99-yard play, but running the ball is different. You get it and go, so that was my longest run from scrimmage." 
Reece has played in 59 career games. In three of those games, he has carried the ball 15 or more times. He averages 100 yards on the ground per game and 5.7 yards per carry, (53-300-TD). 
The people have spoken, the people are right. Superback needs the ball.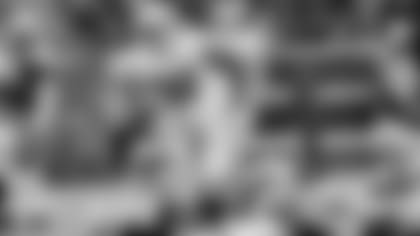 THE EMERGENCE OF ROD STREATER: 
Another offensive player who broke out against the Jets was wide receiver Rod Streater. The second-year undrafted free agent from Temple posted single-game career highs in receptions with seven and yards with 130, including a 48-yard touchdown to pull Oakland closer in the third quarter Sunday.  
The first thing you notice about Streater on tape is his ability to go up and high point the football. He's listed at 6'3" and 200 pounds, so he's a bigger receiver and he uses that size to go up and get the ball. He told me this week on my radio show he takes great pride in getting the ball no matter who it is against or wherever the ball is. 
"Whenever the ball is in the air it has to be me and nobody else," Streater said.  "I Always take pride in coming down with the ball. I tell quarterbacks to put it in the air and I'll go get it." 
Streater has responded to the Raiders change in quarterback from Terrelle Pryor as the starter to Matt McGloin. 
Raiders Hall of Famer Fred Biletnikoff joined us on the show this week and singled out Streater as a big reason he feels good about the future of the Silver and Black receiving corps.
"Overall he's developing into a hell of a player," Biletnikoff said. "The outside routes, over the middle, he gets better. The mistakes, the drops are just a lack of concentration. I see somebody that's developing into a good, solid player."
A Super Bowl champion Hall of Famer with 76 career touchdown receptions, who was a Raiders receivers coach for 18 years and has an annual award named after him which honors the nation's top college football wide receiver might know a thing or two about spotting future star wide receivers. His endorsement bodes well for the future of Rod Streater.
FOUR DOWNS: THE KEYS TO A RAIDERS VICTORY OVER THE KANSAS CITY CHIEFS
1.  Since we just talked about Rod Streater, here is why his continued success is a big key. Since week 11, Streater has nine receptions on passes traveling 15 or more yards downfield, second most in the NFL. The Chiefs have allowed 10 touchdown passes over that span of 15 or more yards, tied for most in the league. It sounds like a perfect match for the Raiders to take advantage of Streater's strength and a Kansas City weakness. Andre Holmes has 10 catches for 199 yards in his last two games and is a downfield threat as well. In game 1 vs the Chiefs, Denarius Moore had a 39-yard catch for a touchdown in Kansas City.
2.  Contain Jamaal Charles. He's the Chiefs do everything back and he's hot. Charles had 150 yards last week on the ground and has five touchdowns in his last three games overall. His 10 touchdowns on the ground are tied for the lead in the AFC. He leads the Chiefs in both rushing (1,162 yards), and receiving (57 catches for 460 yards). In the Chiefs Week 6 win over the Raiders, Charles had 128 total yards from scrimmage and two touchdowns. Charles is a one-man show for the Chiefs offense.
3.  Chiefs live off turnovers. Kansas City leads the NFL in plus-minus turnover ratio at +15, but it's what they do with those turnovers that matter. The Chiefs overall ratio of points off turnovers is best in the league. They have cashed in 99 points off turnovers and have only given up 24 points off giveaways for an NFL best +75 net. The Raiders are a -9 net points off turnovers, tied for 20th in the NFL. In game 1 between the two teams earlier this season three Raiders interceptions turned into 17 Chiefs points in a 17-point loss. Oakland must win the turnover battle to win the game. It won't be easy. Kansas City has thrown the fewest interceptions in the NFL with seven and have turned the ball over a league low 13 times on the season.
4.  Keep the QB upright. Terrelle Pryor was sacked nine times when the two teams met earlier this season. In Kansas City's 10 wins this season, they have sacked the quarterback a combined 42 times. In their three losses they have sacked the quarterback just once. When the quarterback stays up, he does damage. In Chiefs wins they hold the opposing quarterback to 206 yards per game with 10 touchdowns and 13 interceptions. In three losses, the opposing quarterback averages 371 yards passing with 9 touchdowns and 2 interceptions.  
After a record number of points (859) and touchdowns (104) were scored last weekend, NFL teams are averaging a combined 47.06 points per game this season. If this number holds through the season it would be a new NFL record. The current record was set during the 1948 NFL season at 46.48 points per game.