LB Sam Williams visits with the young guests of the Holiday Heroes event. Photo by Tony Gonzales.
Recently, Oakland Raiders LB Sam Williams attended the 2010 Holiday Heroes event hosted by the Wender Weis Foundation for Children at AT&T Park in San Francisco. According to the Holiday Heroes website, the event benefitted local Bay Area charities including Junior Giants Baseball, the Always Dream Foundation, Ronald McDonald House, Rafael House and the San Francisco Child Abuse Prevention Center.
Holiday Heroes is an annual event with the goal of raising funds and awareness for at-risk, disadvantaged youth in the Bay Area. Local professional athletes and team mascots visited with the nearly 200 underprivileged children and their families. "We're just trying to make a small difference in the community so we raise money for a number of organizations in the Bay Area," said Wender Weis President Amy Wender-Hoch. "We work with at risk children so our primary beneficiary is the Junior Giants baseball program in connection with the Giants Community Fund."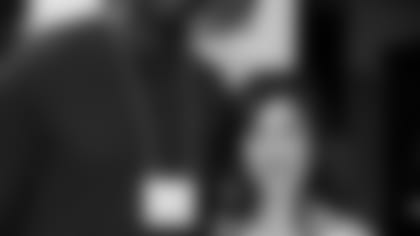 LB Sam Williams poses with former figure skating gold medalist Kristi Yamaguchi. Photo by Tony Gonzales.
Williams attended the event with current and former professional athletes including San Francisco Giants outfielder Andres Torres and pitcher Sergio Romo, San Francisco 49ers WR Josh Morgan and T Barry Sims, and Olympic Gold Medalist figure skater Kristi Yamaguchi. "It's a great cause and we want to not only help the kids, but be good examples for them as well," said Williams.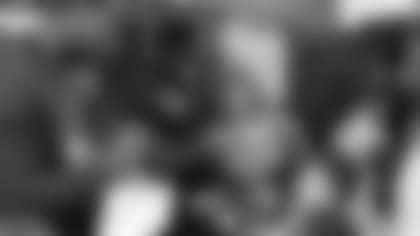 LB Sam Williams signs autographs for the guests. Photo by Tony Gonzales.
Holiday Heroes provided the children the opportunity to meet the professional athletes while taking a VIP look at AT&T Park. Guests were able to explore the Giants locker room, take a few swings in the batting cages, and visit the dugout before enjoying the festivities offered at the club level.
While partaking in the various Holiday Heroes activities, Williams promised an Oakland Raiders fan, Manny Fernandez, and his son Aldo, tickets to the final home game of the 2010 season. "Sam made some people happy here," said Fernandez. "First of all, just meeting someone from the Raiders is amazing. Second, to be able to turn Aldo into a Raider fan was an amazing thing and now we get to go see the Colts versus the Raiders. These guys had the experience of meeting Sam and that was so amazing. What a Christmas present!"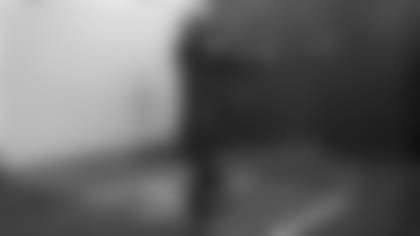 LB Sam Williams takes a few swings in the SF Giants batting cages. Photo by Tony Gonzales.
Williams took advantage of his Holiday Heroes experience, enjoying the batting cages, signing autographs, posing for photos, and providing an amazing gift for a Raiders fan. With the help of celebrity guests such as Williams, in addition to the silent auction and other donations, Holiday Heroes raised money for local charities and provided a fun-filled evening for the children and their families.