For a total of 100 days, we'll take a look at the men who have played for the Raiders jersey number by jersey number. This series will highlight some of the greatest players in NFL history. In some cases, the player and jersey number are synonymous. In other cases, the jersey number represents sustained greatness at a particular position. Some players are superstitious about their jersey number. Whatever the case may be, jersey numbers are an important part of the fabric of professional football.
In some circles, the number 13 is considered lucky, in others it's considered bad luck. Superstition has always played a part in sports – jersey numbers, pregame rituals, etc. No. 13 has its place in sports history with men such as Wilt Chamberlain, Don Maynard, Jake Scott, Dan Marino and Kurt Warner donning the jersey. Six Raiders have worn it.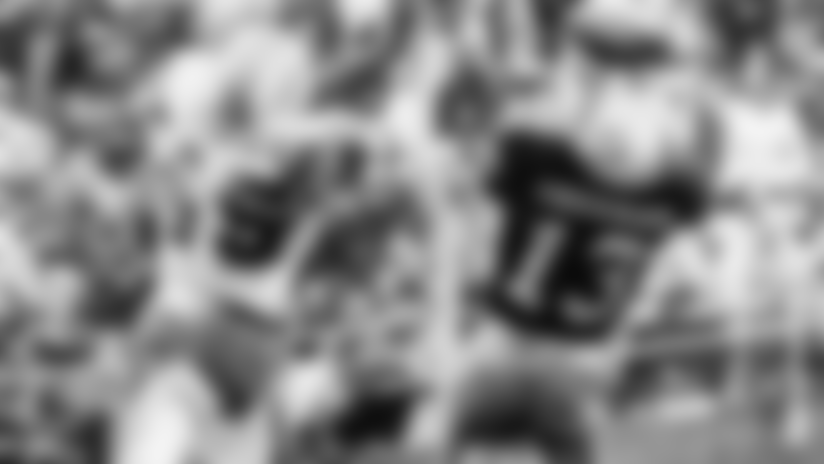 Rod Sherman – WR – 1969-71
Sherman played one year for the Raiders in jersey No. 23 – 1967. He wore 13 when he re-joined the Raiders in 1969. He played in 53 games with 7 starts as a Raider. He caught 35 passes for 533 yards and 1 TD. He also returned 19 punts for 113 yards and 26 kickoffs for 618 yards.
Larry Lawrence – QB – 1974-75
Lawrence appeared in 7 games with 2 starts for the Raiders and completed 9 of 26 pass attempts for 79 yards and 2 INTs. Prior to Matt McGloin in 2013, he is the last Raiders quarterback to get credit for a win in his first start as a rookie.
Jay Schroeder – QB – 1988-91
Schroeder wore No. 13 from 1988-91 before switching to No. 10 for the 1992 season. In his 5 seasons with the Raiders, he saw action in 64 games with 57 starts, and he completed 698 of 1,394 pass attempts for 10,276 yards, 66 TDs and 62 INTs. He is the 8th leading passer in Raiders history.
William Buchanon – WR – 2006
Buchanon saw action in 1 game and caught 1 pass for 9 yards during his only season in the NFL.
Figurs played in the 2010 regular season opener. He caught 1 pass for 10 yards and returned 5 kickoffs for 105 yards.
J.T. O'Sullivan – QB – 2010
Signed in December of 2010 after Bruce Gradkowski was placed on injured reserve, O'Sullivan did not see any action for the Raiders.