For a total of 100 days, we'll take a look at the men who have played for the Raiders jersey number by jersey number. This series will highlight some of the greatest players in NFL history. In some cases, the player and jersey number are synonymous. In other cases, the jersey number represents sustained greatness at a particular position. Some players are superstitious about their jersey number. Whatever the case may be, jersey numbers are an important part of the fabric of professional football.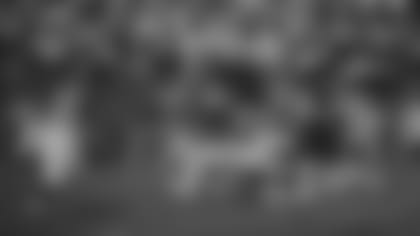 Roger Hagberg, the first Raider to wear No. 30, fights for yardage against the New York Jets.
Only six players have donned jersey No. 30 in Raiders history. From tough running backs to hard-hitting defensive backs, they've all worn the jersey proudly.
| | |
| --- | --- |
| | |
| | RB Mark van Eeghen wore No. 30 from 1974-1981. |
| | |
Roger Hagberg – RB – 1965-69
In five seasons, the first player to wear No. 30 in team history played in 68 games with 4 starts and gained 766 yards on 194 carries with 4 TDs. Hagberg also caught 58 passes for 645 yards and 4 TDs. He also returned 7 kickoffs for 96 yards and 1 punt for 3 yards.
Mark van Eeghen – RB 1974-81
The Raiders drafted the Colgate product in the 3rd round of the 1974 NFL Draft. He played in 112 games with 87 starts and gained 5,907 yards on 1,475 attempts with 35 TDs. He also caught 162 passes for 1,467 yards and 3 TDs. He was a key fixture on several playoff teams and was a major contributor to the Raiders Super Bowl wins after the 1976 and 1980 seasons. He carried the ball 18 times for 73 yards in Super Bowl XI, and gained 80 yards on 19 carries in Super Bowl XV. He finished his career with two years with the Patriots. He is the 2nd leading rusher in Raiders history.
Stacey Toran – DB – 1984-88
After the Raiders drafted him in the 6th round of the 1984 NFL Draft, Toran played in 72 games with 41 starts and recorded 9 sacks and 6 INTs for 152 yards and 2 TDs. He died in a car accident at age 27 during training camp prior to the 1989 season.
Anthony Newman – DB – 1998-99
Newman joined the Raiders after seven years with the Saints and three with the Rams. He played in 27 games with 24 starts and grabbed 4 INTs for 33 yards and recovered 1 fumble.
Stuart Schweigert – FS – 2004-07
Schweigert was selected by the Raiders in the 3rd round of the 2004 NFL Draft out of Purdue. He appeared in 63 games with 42 starts and picked off 4 passes for 45 yards, forced 2 fumbles and recovered 4.
Jerome Boyd – DB – 2009, 2011
Boyd, who played college football at Oregon, appeared in 14 games with 1 start in 2 stints with the Raiders.