For a total of 100 days, we'll take a look at the men who have played for the Raiders jersey number by jersey number. This series will highlight some of the greatest players in NFL history. In some cases, the player and jersey number are synonymous. In other cases, the jersey number represents sustained greatness at a particular position. Some players are superstitious about their jersey number. Whatever the case may be, jersey numbers are an important part of the fabric of professional football.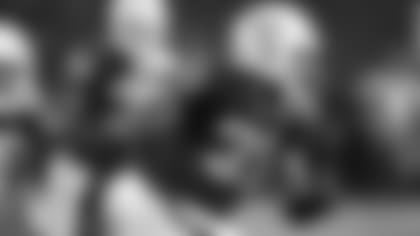 No. 31 is currently worn by defensive back Neiko Thorpe.
Jersey No. 31 has been worn by some interesting and charismatic players in Raiders history, including a couple of top special teams contributors. It was the first number worn by a feared member of the Soul Patrol.
After a year with the New York Giants of the NFL in 1958, Lott played in 14 games for the Raiders in 1960. He gained 520 yards on 99 carries with 5 TDs. He caught 49 passes for 524 yards and 1 score. He went on to play three seasons with the Boston Patriots.
| | |
| --- | --- |
| | |
| | S Jack Tatum wore No. 31 from 1971-1973 before switching to No. 32. |
| | |
The Raiders selected Tatum in the 1st round of the 1971 NFL Draft out of Ohio State. He played for the Raiders from 1971-79 and wore No. 31 until 1973 before switching to No. 32. In No. 31, Tatum played in 41 games with 41 starts and grabbed 9 interceptions. His 104-yard fumble return for a TD in 1972 is the longest in Raiders history. More on Tatum with jersey No. 32…
Carl Garrett – RB – 1976-77
Garrett played the last two seasons of a nine-year career with the Raiders. He played in 26 games with 1 start and gained 395 yards on 101 carries with 2 TDs. He caught 17 passes for 169 yards and 2 TDs. Garrett returned 39 kickoffs for 808 yards. He was a member of the Raiders Super Bowl XI championship team.
Derrick Jensen – RB/TE – 1979-86
The Raiders selected Jensen in the 3rd round of the 1978 NFL Draft. He played in 106 games with 22 starts and gained 780 yards on 224 carries with 5 TDs. He caught 44 passes for 384 yards and 3 TDs. Jensen returned 5 kickoffs for 71 yards as well. He was a member of two Super Bowl championship teams. He blocked and recovered a punt for a touchdown in Super Bowl XVIII in one of the iconic moments in Raiders franchise history.
After a season with Buffalo in 1987, Porter played in 16 games with the Raiders in 1989. He gained 54 yards on 13 carries. He spent the 1990 season with Denver.
After five seasons with the Cincinnati Bengals, Dixon played in 9 games with the Raiders in 1993.
After played for Cleveland, Cincinnati and Tampa Bay from 1991-93, King played in 16 games with 2 starts for the Raiders in 1995 and logged a forced fumble.
Levitt, a 4th round pick of the Raiders in the 1997 NFL Draft, played in 10 games with 2 starts and caught 2 passes for 24 yards and gained 3 yards on 2 carries. He returned 1 kickoff for 12 yards.
Phillip Buchanon – CB – 2002-04
Buchanon was selected in the 1st round of the 2002 NFL Draft. He played in 36 games with 26 starts and recorded 11 interceptions for 326 yards and 4 touchdowns. He forced 2 fumbles as well. He returned 72 punts for 790 yards and 3 TDs and 2 kickoffs for 25 yards. He was traded to Houston and went on to play for Tampa Bay, Detroit and Washington. Buchanon hasn't played in the NFL since 2011.
Eugene played in 60 games with 19 starts and recorded 1 interception and 4 fumble recoveries. He recovered a blocked punt for a touchdown in 2010. He dislocated his hip during a 2011 preseason game and hasn't played since. 
Coye Francies – DB – 2012
After playing two years for Cleveland and one for Seattle, Francies played in 15 games for the Raiders in 2012 and returned 20 kickoffs for 475 yards.
Thorpe appeared in 14 games for the Raiders in 2014 and recorded 8 tackles (7 solo) and 1 pass defensed.