For a total of 100 days, we'll take a look at the men who have played for the Raiders jersey number by jersey number. This series will highlight some of the greatest players in NFL history. In some cases, the player and jersey number are synonymous. In other cases, the jersey number represents sustained greatness at a particular position. Some players are superstitious about their jersey number. Whatever the case may be, jersey numbers are an important part of the fabric of professional football.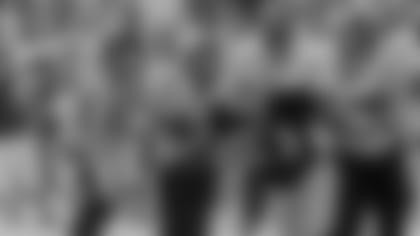 DE Lance Johnstone recorded 31 sacks as a member of the Raiders. AP Photo.
Ten players have worn No. 51 in Raiders history, including a few high-motor guys who really knew how to get to the quarterback.
Joe Carroll – LB – 1972-73
The Raiders selected Carroll in the 11th round of the 1972 NFL Draft out of Pittsburgh. He played in 22 games and recovered one fumble.
Rodrigo Barnes – LB – 1976
After spending time with Dallas, New England and Miami, Barnes played in five games for the Raiders during the 1976 season.
Bob Nelson – LB – 1980-85
Nelson joined the Raiders after two years with Buffalo and one with San Francisco. He played in 46 games with 43 starts for the Raiders and grabbed one interception and recovered one fumble. He was a member of two Raiders Super Bowl championship teams.
Bill Lewis – C/G – 1986-89
The Raiders selected Lewis in the 7th round of the 1986 NFL Draft out of Nebraska. He played in 26 games with 20 starts. He went on to play for the Cardinals and the Patriots.
Keith Browner – LB – 1987
Browner played in one game for the Raiders during the 1987 season. He also played for Tampa Bay, San Francisco and San Diego during his five-year career.
Aaron Wallace – LB/DE – 1990-95
The Raiders selected Wallace in the 2nd round of the 1990 NFL Draft out of Texas A&M. He wore No. 51 from 1990-95, and No. 59 from 1997-98 after sitting out 1996. In all, Wallace played in 102 games with 35 starts and recorded 21 sacks, one forced fumble and six fumble recoveries.
Lance Johnstone – DE – 1996-00, 2006
The Raiders selected Johnstone in the 2nd round of the 1996 NFL Draft out of Temple. He played for the Raiders from 1996-00, the Vikings from 2001-05, and returned to Oakland for one more season. In all, Johnstone played in 87 games with 57 starts and recorded 31 sacks, 11 forced fumbles, four fumble recoveries and three touchdowns.
Tim Johnson – LB – 2002-05
Johnson played in 50 games with four starts for the Raiders. He recorded one interception in the regular season in 2004. He blocked a punt that was recovered for a touchdown in Super Bowl XXXVII after the 2002 season.
Chris Morris – C/G – 2007-09
The Raiders selected Morris in the 7th round of the 2006 NFL Draft out of Michigan State. He wore No. 61 in 2006, and then switched to No. 51. In all, he played in 47 games with 11 starts.
Aaron Curry – LB – 2011-12
Acquired in a trade with the Seahawks, Curry played in 13 games with nine starts and recovered two fumbles, returning one for a touchdown. He added 32 solo tackles and 14 assists.