For a total of 100 days, we'll take a look at the men who have played for the Raiders jersey number by jersey number. This series will highlight some of the greatest players in NFL history. In some cases, the player and jersey number are synonymous. In other cases, the jersey number represents sustained greatness at a particular position. Some players are superstitious about their jersey number. Whatever the case may be, jersey numbers are an important part of the fabric of professional football.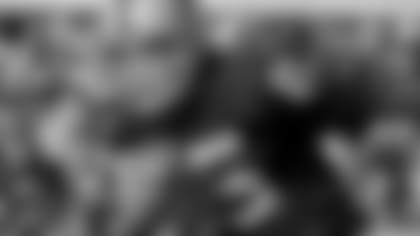 *WR Bob Chandler played for the Raiders from 1980-82. *Raiders.com.
Fourteen players have worn jersey No. 85 in Raiders history, including a few speedy wide receivers and a dominant defensive tackle.
Carmen Cavalli – DE – 1960
Cavalli played in 14 games for the Raiders during their inaugural season in 1960.
Carleton Oats – DT – 1965-72
The Raiders selected Oats in the 21st round of the 1964 AFL Draft out of Florida A&M. He played in 103 games with 48 starts and recorded three fumble recoveries including one returned for a touchdown. He was a member of the Raiders AFL championship team that played in Super Bowl II. He went on to play one season for Green Bay.
Pitts joined the Raiders after six years in Kansas City and three in Cleveland. He played in 13 games and caught three passes for 23 yards.
Bob Chandler – WR – 1980-82
Chandler joined the Raiders after nine years in Buffalo. He played in 29 games with 23 starts and caught 75 passes for 1,244 yards and 14 scores. He was a key member of the Raiders Super Bowl XV championship squad.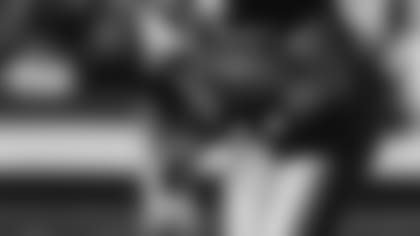 Dokie Williams – WR – 1983-87
The Raiders selected Williams (pictured) in the 5th round of the 1983 NFL Draft out of UCLA. He played in 74 games with 39 starts and caught 148 passes for 2,866 yards and 25 TDs. He also returned 44 kickoffs for 949 yards. He was member of the Raiders Super Bowl XVIII championship team.
Sam Graddy – WR – 1990-92
Graddy joined the Raiders after two years in Denver. He played in 35 games with one start. He caught 17 passes for 447 yards and three touchdowns and returned 27 kickoffs for 458 yards.
Marcus Hinton – TE – 1996
An undrafted free agent out of Alcorn State, Hinton played in two games for the Raiders in 1996.
Terry Mickens – WR – 1998-99
Mickens joined the Raiders after four years in Green Bay. He played in 32 games with five starts and caught 44 passes for 607 yards and one TD.
Marcus Williams – TE – 2002
An undrafted free agent out of Washington State, the Berkeley High School product and Oakland-native played in 14 games for the Raiders in 2002.
Doug Gabriel – WR – 2003-05
The Raiders selected Gabriel in the 5th round of the 2003 NFL Draft. He played for the Raiders from 2003-05. He returned to the Raiders in 2006 after he was waived by the Patriots and wore No. 80. In all, he played in 45 games with seven starts for the Raiders and caught 76 passes for 1,206 yards and five TDs. He also returned 86 kickoffs for 1,850 yards and one touchdown.
John Madsen – TE – 2006-08
An undrafted free agent out of Utah, Madsen played in 35 games with four starts and caught 19 passes for 248 yards and two TDs.
Darrius Heyward-Bey – WR – 2010-12
Heyward-Bey was selected in the 1st round of the 2009 NFL Draft and wore No. 12 during his rookie season. After catching 9 passes for 124 yards in 11 games during his rookie season, he switched to No. 85. He played for the Raiders until 2012, spent 2013 with the Indianapolis Colts, and recently signed with the Pittsburgh Steelers. For the Raiders, he played in a total of 56 games with 53 starts and caught 140 passes for 2,071 yards and 11 TDs.
Jeron Mastrud – TE – 2013
Mastrud joined the Raiders after three years with Miami. He played in 16 games with 12 starts and caught six passes for 88 yards. He is currently an unrestricted free agent.
Kenbrell Thompkins - WR - 2014-present
Thompkins joined the Silver and Black after spending 2013 with the New England Patriots. He played in 14 games with seven starts, and caught 21 passes for 262 yards in 2014.