For a total of 100 days, we'll take a look at the men who have played for the Raiders jersey number by jersey number. This series will highlight some of the greatest players in NFL history. In some cases, the player and jersey number are synonymous. In other cases, the jersey number represents sustained greatness at a particular position. Some players are superstitious about their jersey number. Whatever the case may be, jersey numbers are an important part of the fabric of professional football.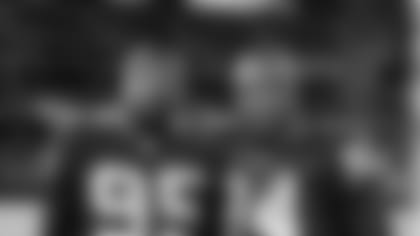 Twelve players have worn No. 95 in Raiders history, including several defensive ends and linebackers.
Bob Buczkowski – DE – 1987
The Raiders selected Buczkowski in the 1st round of the 1986 NFL Draft out of Pittsburgh. He played in two games and recorded one sack in 1987. He went on to play for the Cardinals and Browns.
Cormier played in two games with one start and registered one sack.
Charles joined the Raiders after four years with Miami and three with San Diego. He played in 10 games. He went on to play one season with the Rams.
Austin Robbins – DT – 1994-95, 2000
The Raiders selected Robbins in the 4th round of the 1994 NFL Draft out of North Carolina. He played in 21 games and recorded two sacks in two stints with the Raiders wrapped around four years with the Saints. He also played for the Packers in 2000.
DeLawrence Grant – DE/LB - 2001
The Raiders selected Grant in the 3rd round of the 2001 NFL Draft out of Oregon State. He wore three jersey numbers for the Raiders – 59, 95 and 99. In all, he played in 49 games with 27 starts and recorded seven sacks and one fumble recovery to go with 45 solo tackles.
Adams joined the Raiders after six years with Seattle and two with Baltimore. He played in 15 games with 14 starts and recorded two sacks. He went on to play for Buffalo, Cincinnati and Denver.
Lorenzo Bromell – DE – 2003
Bromell joined the Raiders after four years in Miami. He played in six games with four starts and recorded two sacks. He went on to play for the Giants in 2004.
Jasper joined the Raiders after two years with the Eagles and six with the Falcons. He played in 15 games with one starts and recorded two sacks.
Marquis Cooper – LB – 2008
Cooper joined the Raiders after playing for Tampa Bay, Minnesota, Pittsburgh, Seattle and Jacksonville. He played in eight games, mostly on special teams. Cooper was lost at sea in a tragic boating accident in 2009.
Mason Brodine – DE – 2011
An undrafted free agent out of Nebraska-Kearney, Brodine played in two games for the Raiders. He has played for the Rams since 2012.
Kaelin Burnett – 2012-2013
An undrafted free agent out of Nevada-Reno, Burnett has played in 32 games for the Raiders and recorded a forced fumble n 2013. He has the rare opportunity to play on the same NFL team with his older brother, Kevin.
Benson Mayowa - 2014 - present
Mayowa joined the Raiders in 2014, appearing in all 16 games, totaling nine tackles and 1.0 sack.