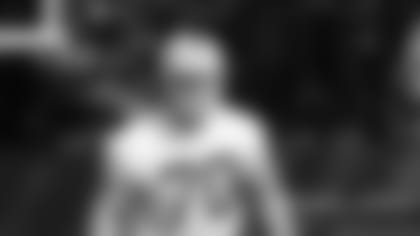 Raiders 3rd round draft pick Tony Bergstrom.
Photo by Tony Gonzales
The Oakland Raiders selected offensive lineman Tony Bergstrom out of the University of Utah with their first pick of the 2012 NFL Draft in the 3rd round (95th overall). Bergstrom, who was named first-team All-Pac-12, was excited to be drafted by a franchise with so much rich history. "I was just as excited as could be, from the history and where the program is going, it's awesome," said Bergstrom.
The rookie was eager to get started once he learned he would be working with offensive coordinator Greg Knapp and offensive line coach Frank Pollack. "I love the offense," said Bergstrom. "They've brought in Coach Knapp and Coach Pollack and I was stoked about hearing that. I love the way this program is going and I love the offense. I couldn't be more happy with where I am."
The transition from college to the NFL is challenging, but Bergstrom is using all his time during the off-season program to get as prepared as possible. "The biggest thing is every little thing matters," explained Bergstrom about the NFL. "Every bit of technique…in college you could make up for lack of technique with a little extra effort, a little more athleticism. At this level, on the field, there's really no way to make up for any lack of technique. Everything has to be perfect. Then the playbook, everything comes at you a lot faster, so you need to know everything really well and be able to execute it under pressure."
Bergstrom has also noticed a big difference in the off-field work as well. "The difference from college is in college you're in class all day and then you go to football and football is kind of the thing you do at the end of your day," said Bergstrom. "[In the NFL] this is your day. You're in meetings, you're in practice, you're in lift, you're in meetings, you're in more meetings, so there's definitely a lot of meeting time so you can install a lot more."
He has also noticed the quick turnaround from learning in the classroom to executing on the field. "The other big difference that's kind of interesting that I've found different from college is in college, if you were doing no huddle like we did today, they give you all the calls and they tell you, 'go home and memorize this,' Bergstrom described. "Today, they give it to you in meetings and then 40 minutes later you're out running them and you're expected to know the whole call sheet. So it's something you have to pick up quick."
Despite the new demands of pro football, Bergstrom is adjusting well and enjoying his experience. "It's going really well," said Bergstrom. "It's just a matter of getting the playbook down, trying not to screw up and most of the time just watching the vets, trying to copy everything they do."
One of the reasons he's been so successful during the off-season is the coaches' focus on fundamentals. "It's huge for the rookies," said Bergstrom. "The veterans all have it. You feel bad as a rookie because you're kind of slowing them down for stuff they've seen and heard, but the coaches are really good. They coach to the lowest common denominator in the room, which is me at this point, so I appreciate it and it's important for me. Again, it's a big thing and I'm just trying to pick it all up."
Bergstrom knows the hard work will all be worth it when he steps out on the Coliseum field in uniform for the first time. "I don't know if I could imagine it yet, especially going out in that Silver and Black," said Bergstrom. "At this point, I've just had a small taste being able to put on a helmet. It's going to be awesome to put on the full uniform and run out in the Coliseum in front of our hometown. I can't wait."