New Raiders linebackers coach Bob Sanders had an opportunity to speak with the local beat writers who cover the team.
Q: In general, how are you settling in?
Sanders: It's been exciting. I've just gotten here, really trying to get as much evaluated as I could. It's been fun. Just kind of still in that evaluating process, learning the scheme, but it's been good so far.
Q: How does this scheme compare to others you've worked with?
Sanders: There's a lot of similarities, but I've learned a lot, as well, in the short time I've been here. Meeting with JT (Jason Tarver), Coach (Dennis Allen) and the other guys. There's a lot of similarities, just like a lot of defenses, but there are some new things that I've learned. It's been exciting for me to have an opportunity to learn the scheme. It's been fun.
Q: What attracted you to Oakland?
Sanders: Just the opportunity, the opportunity to be part of something that's going to be big I think. Really impressed with this staff, and people that are here; I was excited about that. Had the opportunity to work with Reggie (McKenzie) before in Green Bay, and was excited about that as well. So, the people, and the opportunity for something that's going to be good, something that's going to be big, exciting.
Q: In Green Bay, your teams had a lot of sacks, a lot of interceptions. Are you aggressive in your philosophy, force the issue?
Sanders: I think most defenses are that way. Play fast and try to make as many plays as you can. That's what our guys do here. Most good defenses are kind of leaning that way and trying to get the players to play fast and do those kinds of things. Hopefully I can be a part of it.
Q: How much harder is being a defensive coach with some many varied offenses, mobile quarterbacks, and other things?
Sanders: There's a lot of variety. Each and every week, there's something different based on the people you have to go against. That's why the scheme has to solid and tried and true. Your guys need to play fast. Hopefully, each week's not a total change in philosophy or anything. You try to make your defense as sound as you possibly can. Each and every week's a challenge in the NFL, something different each and every week. That's what makes it fun if you're a competitor.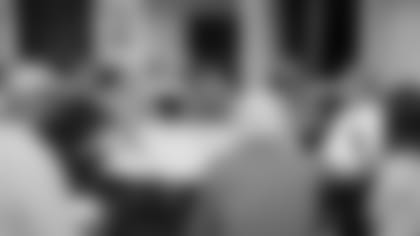 Q: This system seems to put a lot of pressure on the linebackers, in terms of what they do. How difficult is playing linebacker in this system?
Sanders: The exciting part is you get to play both. You get to play the run and be involved in the coverage aspect of it. That's the exciting part of being a linebacker, really, in the NFL, because you get to be a solid run defender, and you're also involved in the pass coverage. That's part of the job, and that's what makes linebacker fun and exciting to play.
Q: Any thoughts or opinions on Miles Burris, the one guy you know you're going to have back?  Have you had an opportunity to look at his cut-ups from last year?
Sanders: Still in the evaluating process, but so far, he's done a nice job. Still in the evaluating process, but he's been fun to watch. I'm looking forward to having an opportunity with him.
Q: What's your preference, 3-4 or 4-3? Multiple? Are you rooted in one or the other?
Sanders: No. I've been doing this for a long time so I have a lot of different experiences. I'm excited to be a part of this here in Oakland, of what these guys are trying to do. I just want to fit in and help as much as I can, and be a part of it. Like I said, I've had a lot of different experiences. There are a lot of ways to skin a cat and they're all good, so you've just got to be able to execute.
Q: Is there a player you've coached that you view as an example of how this position should be played?
Sanders: I've been fortunate to have been able to coach a lot of good players throughout my career. I've been blessed. It's hard to compare players. Certainly you want your guys to play at the highest level they can play and to try to be as good as they can be. Because that's what coaching is, trying to get your guys to make as many plays as they can. Certainly, I've had the opportunity to coach some really, really good players and have learned a lot from them, and hopefully have been able to help them some, too.