Madden/Mariucci Bocce Tourney Photos
Last week, Hall of Famer John Madden and former NFL coach Steve Mariucci brought together representatives of all of the Bay Area's pro teams to play a different kind of game - Bocce.
Bocce has evolved from its earliest known origins in Egypt to the current way it is played. The best thing about Bocce is that it can be played by people of all ages. The simplest way of explaining the game is that you try to roll the larger balls close to the smaller one called the "palladino," and earn points for proximity.
This annual Bocce Ball tournament, started by Mariucci in 1999, has helped raise over $3 million over the past 10 years for a number of charities. This year, a significant amount of money was raised by participants and sponsors, as well as through a silent and live auction for the Juvenile Diabetes Research Foundation International, the Easter Seals Bay Area, the Boys and Girls Clubs of the Peninsula and the Northern California and Nevada Special Olympics.
**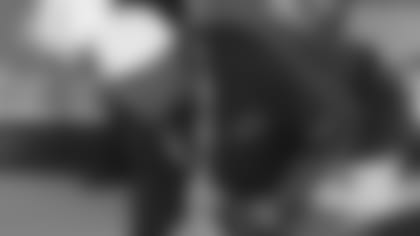 Raiders Legend Cliff Branch tries his hand at Bocce during the tournament. - *Tony Gonzales*
This year's event had a personal meaning to Raiders Head Coach Tom Cable who was one of the coaches representing the Raiders. "This is good. It is a positive thing. They are doing a lot for the charities and my father had diabetes so this is something good that has some meaning to me," said Cable.
Sports figures, past and present, also attended. Guests, Bocce players and sponsors all had the opportunity to see both Super Bowl winning head coaches for the Raiders in Tom Flores and John Madden. Madden, who is one of the organizers, was pleased to see the outcome of the day's activities. "It is a great event. Instead of golf tournaments, this is easier and anyone can play, it is a good fundraiser and that's what it is. The whole thing is for charity, it is a fun thing to do. It takes you like 10 minutes to understand it and then you can play, Madden explained. "You may not play that well [at first] but an older person can play just like a younger person and it is just easy to do then you add that is fun to do and it's for charity then the thing works."
Do not expect Coach Madden to become any better at bocce ball now that he is retired since he will still be keeping an eye on football once the season begins. "I will not get any better at this. This the same offseason for me, retirement won't kick in until the season starts because that is when I'm going to miss the game," added Madden. "I will watch all the games; I will go to all the Raider games and watch them when they are away."
Also in attendance was most of the Raiders rookie class and Raider legends like Morris Bradshaw, Cliff Branch and Jack Tatum. For Tatum this not the first time he attended a Bocce Ball event, "I came to this event a couple of years ago just by accident but it's great to be invited as a former player. John is a good friend so anything I can do to help him with this cause I'm here," said Tatum.
This year the tournament changed names to incorporate John Madden's participation as well as the teams of the Bay Area. "It is a good thing because players like to get together and this is a good time to get together in a friendly basis," added Tatum.
This year's tournament has a different format from years past. There were 32 teams with the top eight competing in the playoff rounds. "Bocce This" claimed the tournament title.