Q: How have the first two days gone?
Carson Palmer: The first two days were good. Today was not quite what we expected; Coach had to get on us a little bit. Yesterday was a good first practice and today was kind of what you expect with a second day. [Today was] a little bit sluggish, we had a couple guys pull up with some cramping and some minor things, but like Coach says, there's no light at the end of the tunnel right now, it's a grind. We have a double day tomorrow and we just have to keep working.
Q: Carson, why are you so excited this year to get things going with this team, with this organization, this new era?
Carson Palmer: For a ton of reasons; like you said it's a new regime, top to bottom, there's been a ton of changes. The new offense is so exciting to be a quarterback in with the guys we have around myself, just with the way last year ended with the bitter taste in our mouths. Just a ton of reasons, there's not just one or two reasons we're excited. We have a lot to prove, we have a lot of guys that are hungry, a lot of guys that want to make their mark in this league and excited about the opportunities they have in front of them.
Q: Personally do you feel reborn, rejuvenated?
Carson Palmer: I do, everything is new top to bottom. We all have to go out and improve on what we did last year and re-prove ourselves again and I'm just excited about the opportunity.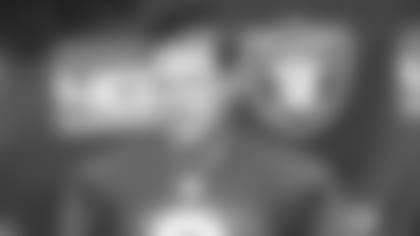 Q: You didn't get to play with Darren [McFadden] at all last year and you've had a couple of months of practice and the off-season stuff. What have you learned about him?
Carson Palmer: We've only had two practices together, other than OTAs. I never had the chance to work with him at all last year but everybody knows he's fast and explosive and all those things, but the thing that's impressed me the most is the leader he is. There are a lot of running backs are kind of quiet and just sit back and get the ball and go, but Darren is the first guy in every line. He's working hard, he's encouraging guys, he's a tremendous leader and that's something I didn't know about him. You don't know what to expect when you come into a new situation. I've been pleasantly surprised with the leader he is and the veteran he is. He's an extremely hard worker, one of the hardest workers on the team, and you need your best players and so-called superstars to be the hardest workers.
Q: How much do defenses have to respect his speed and ability? What does that do for the passing game? Is it opening things up?
Carson Palmer: You hope they load up the box to try and stop it that way and you get one on one opportunities on the outside, but you don't know. That's the exciting thing about football is you don't know how people are going to game plan for you and you don't know how they are going to prepare for you. The thing that typically happens is you try to get eight guys in the box to stuff the run first because we are going to be a run first football team.
Q: Carson obviously coming into the middle of the season last year was an adjustment period for you with the offense and getting to know the guys. Talk about the strides you've taken to get on the same page with the guys and are you seeing that they're improving in practice?
Carson Palmer: Yes, but we have a really long way to go. There's been things we really connected well on; there've been a couple of different routes we have repped so many times that I'm starting to feel comfortable. I'm not completely comfortable until I do a certain route with a certain guy 50, 60, 70 times. I have a long way to go, there are some things we have very few reps on. I had a chance to throw a ball I hadn't thrown to DHB that I didn't get to him and it's just one of the many plays we have to continuously work and that's why we're here. That's what training camp is about.
Q: When you look back at what you had to do, how difficult was it in retrospect now that you've had a chance to really see what you were able to accomplish?
Carson Palmer: I've gone back and watched myself, I've critiqued myself, but I really haven't thought about just how crazy everything was because everything was crazy. I don't need to convince myself that there was a lot of turmoil and a lot of unexpected things that happened to myself last year and this organization. I really don't take a whole lot of time to reflect on that. I've really just been so focused on the future and so focused on the new offense; studying, getting in shape, getting ready for training camp, and getting as far ahead of the curve as I could with a new playbook and a new offense in front of us.
Q: How is Marcel's [Reece] role different in this offense than what you were doing a last year?
Carson Palmer: I don't think it's a whole lot different. He's such a unique player. He's not really a fullback, he's not a tight end, he's not a receiver. We're going to split him out and have him run routes, we're going to have him run screens, he might even run the ball like he did sometimes last year. There's obviously different terminology and different routes, but for the most part he's going to be doing a lot of the same things he's done in the past which is using him as a weapon in the receiving game. He's going to have to block if he's going to play fullback once in a while but that's not what he specializes in. He specializes in giving him opportunities to get the ball in his hands and letting him do his thing.
Q: You have talked about how excited you are to get back and do some things you have done in the past, but haven't done in recently, the bootlegs, and the things that go with this offense. In the off-season training, did you work more on footwork than you did in past years in anticipation for that? How do you feel that's coming? Do you feel that you're making good progress that way?
Carson Palmer: Yeah, I did that a ton. Four days a week, I would do my conditioning running plays. Obviously it's different when you have McFadden behind you than when you have Taiwan Jones behind you, and the mesh points with your foot points are off. I worked on that a lot, but until you get in a game situation and you have a tailback behind you and a receiver running the route, there's no way to replicate that other than running it in practice. I've worked tremendously hard on it. I spend a lot of time on it but I have a long way to go just because I need the reps with the guys.
Q: Palmer, how are you feeling about Napa and your first training camp with the Raiders?
Carson Palmer: Love it. I heard that this is the best training camp in the NFL and I had heard great things, and it is drastically exceeding my expectations. It has been top notch from everything. You stay in a nice hotel, you have a comfortable bed, you're not in a dorm room, the practice fields are awesome, the food is awesome, the weight room is awesome. Everything has been great and it has really allowed us to focus on football. From a player's standpoint, you can't ask for more. Everything has been taken care of.
Q: And how about the fans being here?
Carson Palmer: Today was only our second day here. It was the first day for the fans and it was great to get a small portion of the Raider Nation out here and see who we're playing for.
Q: Do you feel like your athletic ability gets a bad rap, people questioning if you can do this offense, do you hear those things?
Carson Palmer: Yeah, I look at it as a positive. Because if someone hears you can't run, they take bad angles and you get around corners. I have played with receivers that loved to be thought of as slow guys because before you know it they run by you. To be honest, you can't worry about that, I haven't worried about that, I just have got to continue to work with the offense. The defenders' eyes get lost so much in this offense and the misdirection stuff that we do that you don't need to run 4.4 to get around corners in this because if you just execute with the right technique and execute in the right place and your feet in the right place and your hands in the right place, hiding the ball and all those small things, then the offense takes care of not having a quarterback that runs a 4.3.
Q: How has Matt Leinart actually helped you in this transition because he came over from Houston knowing the offense and how weird is that knowing he was behind you at USC?
Carson Palmer: It has been great, and no disrespect to my quarterbacks coach, Coach Flip [DeFilippo] and Coach Knapp, but it is just different when you hear it from a player for whatever reason. Your coach can tell you the same thing over and over again, and every once in awhile Matt will just chime in and say, 'hey I hit this on this play against this team.' It is just nice to get a coaching point from a player sometimes, not all the time, but sometimes because he has got experience in it. He has done it and if he hasn't done it he has seen it be done by another quarterback in [Matt] Schaub or T.J Yates whoever it was. It has been really nice to get the same coaching points but it is a little more believable when you hear it from a player sometimes.
Q: Is that strange for you considering the roles are reversed from USC when he was behind you?
Carson Palmer: No, I mean, we have been playing. We are both from the same area, grew up in the same area, known each other for a long time. So he is my corner and I am in his corner, and he wants me to do well, and I want him to do well when he gets his shot. We have a really good room, especially with Terrelle [Pryor] in there too, and another young guy that is chomping at the bit for his shot. There is a lot of competition but it is a good friendly competition because we are helping each other out along the way.
Q: The perception of your season last year almost ranges from look at all the interceptions and the Raiders finished out of the playoffs, all the way to experienced quarterbacks here like [Rich] Gannon saying look, if you knew what it is like to get off the couch and play and have some of the games he had and play as well as he did, you would be stunned. That is such a wide range of it, where do you think that fits in? Do you look at last year at all? Besides the fact that you didn't get in the playoffs, do you look at last year and have some pride in that you were able to do what you did in that situation?
Carson Palmer: Yeah, it was such a blur. The first thing I thought was I'm not in shape, I haven't been trained. There is a big difference between training and working out. And I would go and work out, but I was told I wasn't going to be traded so my mind and body had gone to a different mode. And just worried I am not in shape, you can't just get off the couch and play this game. I was working out three times a day, tired and sore. Everything was just happening so fast that I didn't really sit back and say, 'oh, those stats are good, or those stats are bad.' I just had to go onto the next game or onto the next section of the playbook or go onto the next workout to get ready. It just happened in such a blur that I don't look at it and try to get any positive feeling from it or any negative feeling from it. It happened, unfortunately it didn't work out to get to the playoffs like we wanted to, but the best thing is I have got another shot, we have another shot.
Q: Talking about the shape thing, did you drop a few pounds? Did you gain weight? How is it coming into this year?
Carson Palmer: It's not like I sat on the couch and put on thirty pounds and had a beer belly. There is a difference between being in shape and being in football shape, and the only way to be in football shape is to play football. When you don't play football for seven months it just takes a while for not only your mind to adjust to the speed of the game, but your body to adjust. That was one of the toughest things for me was just trying to get caught up with game shape.