Greg Curo and his group cheer as the Raiders select Darrius Heyward-Bey in the 2009 NFL Draft. Photo courtesy of Greg Curo

Fans from all over the country attend the NFL Draft each year at Radio City Music Hall in New York, to witness their team's picks first hand, including Greg Curo, a Bay Area Raiders fan. Curo has traveled to New York City for the last seven years with family and friends to proudly wear the Silver and Black.
"As a father, as a Correctional Officer at San Quentin, and as a passionate fan, I have made it a small chapter in our family and friends' lives to experience the NFL and the Oakland Raiders by taking part in experiencing the Hall of Fame, the Pro Bowl, the Super Bowl in San Diego, and the NFL Draft in New York's Radio City Music Hall the last seven years, including this year," said Curo.
A dedicated season ticket holder, Curo has been taking his son to games in the front row of the South End Zone, also known as the Black Hole, since 1995. "My son has been going to games since he was five-years old," said Curo. "We sit in Row 1 South End Zone under the goal post and make it an effort to hang our huge Jack Tatum the Assassin vinyl sign off the wall with Mr. Tatum's blessing before he passed away."
Curo's love for the Raiders began long before he became a season ticket holder. He was only seven-years old when he discovered a Fred Biletnikoff football card. "I was actually sitting in the gutter, breaking open football cards, and throwing away the football cards and just eating the gum," said Curo. "I came across one card that actually had Fred Biletnikoff on it and at that point, that was like 1977 or something, that's when I became a Raider fan."
That one football card has turned into trips across the country to support the Silver and Black. "We want to experience the NFL Draft in New York and take part in expressing our support for the 1st round Raiders draft pick [in years past] by sporting the Silver and Black jerseys and our Raider flag and usually standing near the stage," Curo said.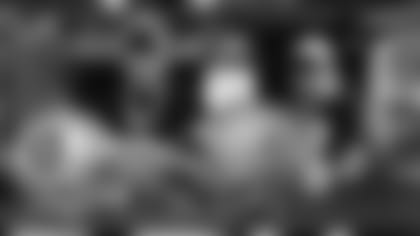 Curo poses for a photo at the Raiders table at Radio City Music Hall. Photo courtesy of Greg Curo
The energy and excitement surrounding the draft is one of the many reasons Curo and his group of family and friends return each year. Curo travels with his son Grant Curo, a former U.S. Marine, and some of his friends, including a fire captain and a correctional officer. The group lines up the evening before the draft waiting for their wristbands to get in, along with thousands of NFL fans.
"It's basically every fan from all over wearing their own jersey," said Curo. "It's full of energy, there are a lot of people involved, the media is there and you meet a lot of nice and interesting people. You walk into this beautiful place with chandeliers. It is well worth the wait, especially when you're seated in there and you're waiting for your draft pick and you've got a top five or top 10 pick and the energy level is building all the way."
Prior to a Raiders draft selection, Curo and friends make their way towards the team tables. "As soon as the draft pick is chosen, we're holding a Raider flag and we're down there," explained Curo. "The cameras do zoom in on us. We're there to let everyone know, hey, we're supporting the Raiders.
Despite not having a first round draft pick this year, Curo, his son, and a few of his friends, will make the trip to New York City to show their support for the Raiders at the 2012 NFL Draft. They'll be the ones yelling, "RAAAIIIDDDEEERRSSS…RRRDAAIIDDDEEERRSSS...." in Radio City Music Hall.