**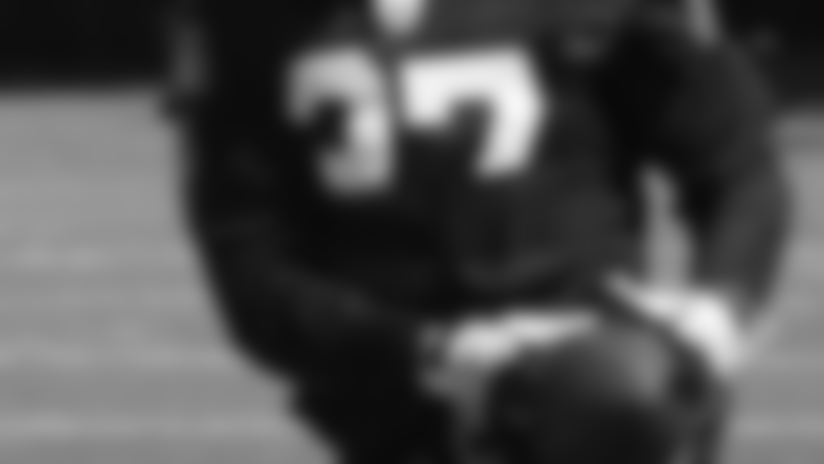 CB Chris Johnson works on catching the ball during a training camp practice drill. - *Tony Gonzales*
The Raiders completed Day 2 of training camp practices on Friday, which was also the second consecutive day of two-a-days.  Much like the day before, the Raiders focused on teaching, as they left the pads in the locker room to focus on mental portions of the game.
"Day two of the teaching plan is going exactly the way we want it," Head Coach Tom Cable said after practice while addressing the media.  "We're very pleased with where we are headed."
Cornerback Chris Johnson is excited about getting to know some of the new aspects of the defense that new defensive coordinator John Marshall is bringing to the team.  "He has brought different schemes and stuff that, with the different pressures that we have this year, I think it's going to help the corners out a little bit more," Johnson said after the morning practice.  "Everything that we are putting in right now, I think is going to help us during the year."
Johnson, who is entering his third year with the Silver and Black, got extensive work toward the end of the 2008 season, starting seven of the team's last eight games.  While he is confident he will be the one to hold down the starting spot opposite Nnamdi Asomugha this season, he knows he still has to work hard every day.  "I just take it one day at a time, go out there and practice every day and compete and that's all I can do."
One player who has not stepped on the practice field yet during training camp is wide receiver Javon Walker.  Walker has been on the Physically Unable to Perform list since camp began, but is anxious to get the approval from the training staff to get on the field with his teammates.  "I'm just waiting to be let [loose] so I can be out there practicing with everybody," Walker said.
Although he is the most experienced wide receiver on the team, Walker knows that he's in for some serious competition when he is able to return to the gridiron.  "When I get back out [to the practice field], I'm just excited about working with some young guys who are going to push me more than I'm going to push them," Walker explained.
Walker's experience lends itself to a mentoring role with the young group, a duty he is ready to take on.  "If I see something that I know they're doing, then I'll talk to them and when I get out there, I hope they see stuff that they'll talk to me," Walker commented.  "Knowing that a lot of [the young guys] haven't really gotten to the fire of an NFL game, I'll tell them stuff that will work."
The Raiders get back on the field at the Napa Valley Training Facility Saturday morning and afternoon for their fifth and sixth practices of the young training camp.