NFL Players will receive $127.84 million in "Performance-Based Pay" for their performance during the 2016 season, the NFL announced today. The Performance-Based Pay program is a collectively-bargained benefit that compensates players based upon their playing time and salary levels.
In addition to the Performance-Based Pay pool​​​, the NFL Players Association has elected to dedicate $32 million in benefits (i.e., $1 million per club) to fund a Veteran Performance-Based Compensation Pool (the "Veteran Pool") for players with more than one Accrued Season. In total, $159.84 million will be disbursed to players under the combined pools.
Atlanta Falcons cornerback BRIAN POOLE earned the highest amount in the Performance-Based Pay program. Oakland Raiders guard GABE JACKSON earned the most in the Veteran Pool. Under the combined pools, Atlanta safety RICARDO ALLEN earned the highest amount of all NFL players. See the tables below for the top 25 bonuses in each category.
Players have been paid over $1.2 billion cumulatively since the inception of the Performance-Based Pay program, which was implemented as part of the NFL's 2002 Collective Bargaining Agreement with the NFL Players Association, and continues as part of the parties' current agreement.
The Veteran Pool is a component of the Rookie Redistribution Fund, which is a player benefit that was created under the 2011 Collective Bargaining Agreement. The NFL Players Association elected to fund the Veteran Pool for the first time this past year.
HOW PERFORMANCE-BASED PAY WORKS:
Under the Performance-Based Pay program, a fund is created and used as a supplemental form of player compensation based on a comparison of playing time to salary. Players become eligible to receive a bonus distribution in any regular season in which they play at least one official down.
Performance-Based Pay is computed by using a player index ("Index"). To produce the Index, a player's regular-season playtime (total plays on offense, defense and special teams) is divided by his adjusted regular-season compensation (full season salary, prorated portion of signing bonus, earned incentives). Each player's Index is then compared to those of the other players on his team to determine the amount of his Performance-Based Pay.
The Veteran Pool is computed in a similar manner, with two significant modifications: 1) Players with zero Accrued Seasons are not eligible to receive distributions, however, such players remain eligible to receive distributions under the Performance-Based Pay program; and 2) to calculate the eligible player's Index, if the player's full season base salary is less than $1 million, an additional amount will be imputed so that the player's base salary equals $1 million. This imputation of salary is solely for the purpose of calculating distributions from the pool, and does not affect the actual salary paid to the player.
TOP 20 PERFORMANCE-BASED PAY DISTRIBUTIONS FOR 2016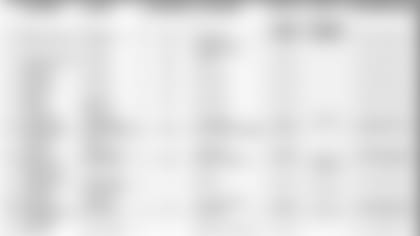 TOP 20 BONUSES IN VETERAN PERFORMANCE-BASED COMPENSATION