RB Darren McFadden stiff arms the defender in Denver during the 2011 season. Photo by Tony Gonzales

The Oakland Raiders travel to Denver to face the Broncos in their first divisional road game of the 2012 season. The teams have a long-standing history, originally meeting as members of the American Football League in 1960. With an overall record of 59-42-2, the Silver and Black have won the previous four meetings at Sports Authority Field at Mile High.
After the team's first win of the season at home versus the Pittsburgh Steelers in Week 3, the Raiders want to start stacking wins and head into the bye week with a 2-2 record. "[The win is] a stepping-stone to getting where we want to be, but it's one win in a 16-game season," said Head Coach Dennis Allen. "Our deal is we don't want to get too high or too low. We're going to go back to work and we're going to get ready for the Denver Broncos."
The Raiders will head into Denver to face an offense led by veteran quarterback Peyton Manning. "He's Peyton Manning; he's a Hall of Fame quarterback," said Coach Allen. "There's no way that we're going to in any way say that he's not the quarterback that he's been. I've watched the tape. He's still an outstanding quarterback. He's operating that offense and I don't really see much of a drop off from where he's been before. I think he's still an outstanding quarterback."
The defense realizes they will be facing one of the most successful quarterbacks in NFL history. "Peyton is arguably one of the best quarterbacks to play this game," said SS Tyvon Branch. "He's going to go out there and he's going to do what he does well. He's going to run the no-huddle, do certain things, [and] try to figure out what we're doing before we do it."
Rookie LB Miles Burris will face Manning for the first time. "Obviously, he's one of the greats," said Burris. "We have our hands full. They have a lot of threats on offense in the running and passing game and obviously Peyton Manning can sling it. We just have to go out and compete the best we can throughout this week in practice and then go put it out on the field."
The Raiders know they will have to execute early in order to slow down Manning and the Denver offense. "We've got to find a way to start executing earlier," said Branch. "We can't put ourselves behind the 8-ball and have to fight back. We want to get in a position where we're ahead and we hold the lead instead of trying to recover."
Manning has passing threats in tight ends Joel Dreessen and Jacob Tamme as well as young receivers Demaryius Thomas and Eric Decker. "They've got a good group of guys and they have a good quarterback throwing them the ball," continued Branch. "It's going to be a challenge. Every week is a challenge in the NFL, especially this week."
The Broncos offense also has weapons in the running game. "They have a lot of good backs there, including one of my buddies from San Diego State, Ronnie Hillman," said Burris. "A lot of powerful guys and quick guys that can do a lot in the run game and we're going to have our hands full and we have to prepare for it."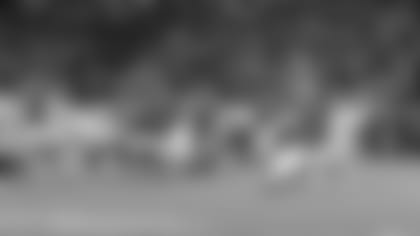 K Sebastian Janikowski kicks a 63-yard field goal in 2011, tying an NFL record.Photo by Tony Gonzales
A majority of Denver's carries end up in the hands of RB Willis McGahee. "McGahee runs hard," said defensive coordinator Jason Tarver. "The other backs run hard. They have a nice mix and they're building their mix and in different personnel groups. [Manning] can change the tempo at any time. They're getting better and they figure out between series how far they want to go, if they want to put more tight ends on the field and run it and do play-action shots and deeper passes or whether they want to spread out and get into what he used to look like in Indy. They do both and they do both well and they're still learning how to do it."
While the defense has to contend with Manning, the Raiders offense has to compete with the defense run last year by Coach Allen. Defensive linemen Von Miller and Elvis Dumervil and the veteran secondary with Champ Bailey and Tracy Porter will be a challenge for the offense. "They were very solid last year," said QB Carson Palmer. "Stingy in the run game. They're still doing that. They still have Champ Bailey out there, and Tracy Porter has been a great addition. Just a very good defense. There's not a weakness. They have two phenomenal pass rushers. The thing you can't do against these guys is fall behind early. As soon as they get a lead those pass rushers put their hand on the ground and just come off the ball and pin their ears back. Very similar to last year, they were a very solid defense last year. They've played very well this year."
Offensive tackle Willie Smith will start in his second game for the Raiders and will have all he can handle with Miller and Dumervil. "Those are some great rushers," said Smith. "Von Miller, he's a great speed, power, quickness, has a lot of finesse. He's a great player. And Dumervil, he's another great player. He has the whole package too. Been working hard this week trying to prepare for these guys. Try to go out every day and work on something different so when Sunday gets here we'll see what happens."
Offensive coordinator Greg Knapp knows the Broncos pass rush will be a challenge for the offensive line. "Either side you look at it, with both of those pass rushers, they're elite pass rushers," said Coach Knapp. "Both [Willie Smith] and Jared will have a real challenge because those two guys aren't the tallest guys rushing off the edge, but they're some of the quickest, and some of the best leverage rushers I've seen. It's going to be very important to see that their technique is sound so they can stay in front of those guys in pass-protection."
Meanwhile, veteran WR Derek Hagan will have to match up with Bailey and Porter. "I'm a veteran too but with a veteran like Champ it just comes down to being patient and working on things that I need to work on to make sure I'm doing the right things that I need to do like make sure I'm running the right routes, getting the right depth, working my release and getting open because he's seen it all," explained Hagan. "That defense, he's seen so many routes. He's been in the league 13-14 years. For me, it's just all about my technique and as long as my technique is fine I just think I'll be fine."
Rookie WR Rod Streater has been studying film to be ready for Denver's veteran corners. "Watch a lot of film, learn the technique," said Streater. "They've obviously got a lot of experience in the league, got to just watch film and learn techniques and everything."
As the offense and defense prepare for the Broncos, they also have to be ready to play in the hostile environment of a division opponent. "There's really not much you can do," said Hagan. "Obviously, the only thing you can do is prepare in practice. That's where it starts at. We've been playing this game a long time and we've been in hostile environments before. We can't worry about the crowd noise. Obviously, we have signals and we all just have to go in and communicate with one another and make sure we don't have any mishaps."
"You've just got to go out there and play football," added Branch "It doesn't matter where you play at. Like the coaches said, 'You can play in the parking lot.' We've just got to go out there and play football."