RB Darren McFadden gets a carry against the Buccaneers in 2008. Photo by Tony Gonzales
The Oakland Raiders host the Tampa Bay Buccaneers at O.co Coliseum Sunday and look to string together three straight wins. After a division win at Kansas City in Week 8, the Raiders will face a team from the NFC, who is coming off a Thursday night victory over the Minnesota Vikings.
The Raiders first played the Buccaneers in 1976 and have only faced off seven times. The Silver and Black lead the all-time regular season series 6-1. The two teams also met in Super Bowl XXXVII with the Raiders falling to the Buccaneers 48-21.
The Buccaneers come in to Oakland with a 3-4 record, on a few extra days of rest, and after a convincing 35-17 victory over a then-5-2 Vikings team in Minnesota. "They're a good football team," said Head Coach Dennis Allen. "I think they're young; they're athletic on defense. They put a lot of pressure on teams. They take the ball away, they play extremely hard, and they play very physical. Defensively, they're an athletic group. Offensively, they're a team with a lot of weapons. They can strike at any point in time."
Tampa Bay has two big wide receivers in Vincent Jackson and Mike Williams and a dynamic rookie running back in Doug Martin. "They've got two, well really three, tall receivers that can go up and make a play on a ball down the field," said Coach Allen. "They'll throw it into coverage sometimes and give their guys an opportunity to go up and make the play. The quarterback is playing really well. [Doug] Martin, the runner, there's a reason why he was their first-round draft choice. I think this is a talented football team."
DB Michael Huff, who is becoming more comfortable with his transition from safety to cornerback, is aware of the challenges posed by the Buccaneers receiving corps. "They're huge challenges because they're explosive receivers that catch a lot of big plays down the field," said Huff. "That's really the name of the game is getting big plays, getting over the top, so I think the key is play coverage on the back end and let our pass rush get after them. We have a great D-line, so let the D-line get after them and hold up on [our] end."
The Buccaneers offense is led by QB Josh Freeman, who is in his fourth season. "He's doing a good job of analyzing coverages and putting the ball in the right spot right away," said defensive coordinator Jason Tarver. "He has a very accurate deep ball and those guys go up and get it. That's the best thing that he's doing right now is running plays that Josh has a good command of. You can see them working to fix it if it doesn't work the first time, even within a game, they're doing a good job of that, players and coaches."
Freeman has thrown three touchdown passes in each of the Buccaneers last three games. "I think they've figured out what they can do really well offensively," said Coach Allen. "They're putting their players in those positions. I think their ability to throw the ball down field vertically, and their receivers' ability to go up and make a play at the highest point, is what they do extremely well. That will be something that we have to make sure that we can defend."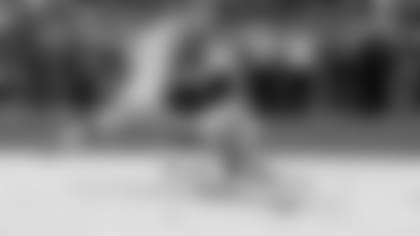 K Sebastian Janikowski kicks out of the hold of P Shane Lechler in 2008. Photo by Tony Gonzales
Martin, Tampa's first round pick in the 2012 NFL Draft, has accumulated over 100 all-purpose yards in each of the last three games. "He's a guy that really can do a lot of different things," said Coach Allen. "I think he's got great vision. I think he's extremely quick and he also runs with great power. He's got a lot of different things he can do as far as the running game is concerned. Then obviously he's a threat anytime he gets out of the backfield, so there's a reason why he was drafted in the first round. He's living up to that billing."
The Raiders defense wants to have the same success against Martin that they had last week stopping Chiefs RB Jamaal Charles. "We've got to do the same thing we did last week, execute the plays that are called; same thing every week," said LB Philip Wheeler. "Anytime you have a good game it's because you did what you practiced to do and executed the plays well, but there's nothing different we've got to do."
The defense knows they will be facing an offense that has come together over the last few weeks. "They're an explosive offense," said SS Matt Giordano, who recorded his first interception of the 2012 campaign. "They have a good back, they have explosive wide receivers and they've got a great quarterback so we're just going to have to make sure we're playing good football."
On the other side of the ball, the Raiders offense will face a top-10 ranked rushing defense, but a 31st ranked passing defense. "They've had some injuries on the back end with their cornerback situation and so that's one of the things we'd like to attack because that's one of the things we've done a good job of is throwing the ball," said offensive coordinator Greg Knapp. "We'll keep the mindset of what we've been doing as of late and try to keep a balanced look so we use some clock and it'll pay off in the fourth quarter for us."
WR Denarius Moore, who has three-straight games with a touchdown catch, is aware of the Buccaneers vulnerability in passing situations. "For the most part they're a pretty good defense, but they like to give up the deep balls down the road," said Moore. "We've just got to stick to our game plan and take it play by play."
The Raiders will see 16-year-veteran Ronde Barber at safety. "He's a guy that's going to be extremely hard to fool," said Coach Allen. "I'm sure his ability to help the younger players to understand not only what's going on during the game, but just as far as preparation in the week of practice. Any time you can have a few of those veteran players, especially the way Ronde has played, because he's made a lot of plays based on his instincts and football smarts, I think that helps you."
"From what I'm looking at, and what I've heard, he's a good nickel back and he's a good defensive player," added Moore on Barber. "He's really savvy, he's a vet, and he's been in the game for 16 years, so we're going to have to game plan against him."
Although Barber is 37-years old, Palmer has not seen any drop off in his abilities. Barber is also not the only threat on the Buccaneers defense. "I've played against him a handful of times over the years and nickel, dime, safety, wherever he is…I looked at his age today and he's 37 years old, but he absolutely flashes on film," said Palmer. "There's good football players across the board on defense. Up front there's good football players. There's a really good young linebacker that's a rookie. There's a fifth or sixth or seventh pick of the draft that's starting at safety, but he absolutely flashes on film. He makes plays. He's great in coverage. He's made a couple unbelievable interceptions off of tipped balls. He'll come up and tackle Adrian Peterson and stuff him. He's everywhere. He makes plays. He's playing as good of football as I've seen him play."
Whatever the Raiders face on defense, they want to stick to their style of offense. "We just have to do what we do: play Raider football, Raider offense, execute, get the completions when they're there, run the ball when we have it, and just play our style of offense and be explosive," said FB Marcel Reece.
The Raiders are looking forward to returning home and playing in front of Raider Nation again. "Anytime you get to play in front of the best fans in the world it's big," said Huff. "We've got a two-game winning streak; we'll get our third game in front of our fans. I love playing at home."
The Silver and Black have the opportunity to come out of this game with a .500 record. "It'd be big for us, but again, this is one of 16 games, so we can't put too much on it," said Coach Allen. "Obviously, we want to win the game. We're doing everything we can to prepare to win the game and we'll see how things factor out on Sunday."