Howie Long seemed like an unlikely star for the Oakland Raiders when his selection in the second round of the 1981 Draft shocked the NFL. But, the Boston-native ended up playing for 13 years, earning his way to eight Pro Bowls, a Gold Jacket in the Pro Football Hall of Fame, and a spot on the 1st team All-1980s Team.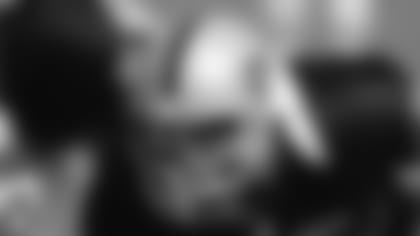 Long sets at the line of scrimmage.
Long recently shared his winding and unexpected journey to the NFL Draft and his first experiences in the NFL with Clark Judge on Yahoo! Sports Radio.
The Pro Football Hall of Famer grew up in Charlestown, the oldest neighborhood in Boston. During the busing riots, Long's grandmother called up his uncle Mike and asked if her grandson could move in with him. Mike was the first of the family to graduate high school and to get a job outside of the neighborhood.
At the time Long moved to Milford, Mass., he hadn't played a single organized sport. "I had just played in the street under the El train and that's where my love of hockey, baseball and football…that's where the foundation and love for sports and the Celtics, the Bruins and the Red Sox, [began]," Long told Judge on the radio show.
Long attended Milford High School where the football coach noticed him walking the halls and asked him to join the team. "After someone told me how to put the equipment on, I started out and I was terrible," Long explained. "I didn't know what I was doing. I could run, I could jump, I could do all those things…"
He turned out to be a quick learner, as the future Raider received college scholarships to Boston College and Villanova. It was his grandmother who convinced him to attend the smaller school in Pennsylvania. "Her incredible vision getting me out of Charlestown and out to Milford and saying, 'look, you need to go to Villanova and get out of Boston,' it turns out it was the best move I ever made," he said. "I met my wife there. I had a tremendous time over my four years at Villanova and ended up being a shock draft pick in the second round by the Raiders."
Villanova's football games weren't broadcast on TV and the small-school atmosphere was not conducive to publicity when it came to draft stock, but Long's chance came when he was invited to the Blue-Gray All-Star game in Alabama.
"Going down to that game and having the opportunity to play against players with helmets you only saw on TV prior to that from a size standpoint, I think at that point four years into it I was mature enough to answer the bell," said Long. "Oddly enough, the coach of the North team was a guy by the name of Jimmy Johnson out of Oklahoma State at that point. Won the MVP and got a Bowling Trophy."
Long was still barely on the radar for teams. Unlike the draft process now where a player has a handful of individual workouts and participates in a pro day, Long worked out 32 times whenever and wherever he was asked. "I worked out on the front lawn of my dorm on a Sunday," Long said. "Some guy knocked on my door, I think he was from the Colts, knocked on my door, he had his girlfriend in the car, he was just checking my name off the list – he ran me in a 40-yard dash in the front lawn of my dorm in sneakers. So I ran in snow, in rain, indoors, outdoors. I ran for any and all comers. That was kind of my lot in life at that point. I wasn't in a big school; I couldn't dictate terms."
In fact, the Raiders barely paid him any mind when it came to the individual workout prior to the draft. "Earl Leggett, who ended up being my defensive line coach, he spent three minutes with me," said Long. "He had me come off the ball, plant my outside foot, come inside, and he left. I wrote [the Raiders] off the list."
But sure enough, on NFL Draft day, Long's name was called by the Oakland Raiders in the 2nd round (48th overall). Long recalled the shock from the ESPN analysts. "I remember ESPN saying they wasted a draft pick," Long reminisced. "'They could have gotten this guy in the sixth round; we don't even have film on him.' It was an inauspicious start."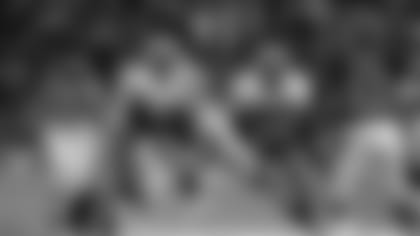 Long rushes Bills QB Jim Kelly.
The eight-time Pro Bowler didn't even have an agent when he was drafted. He ended up hiring some guy recommended to him by a teammate from the Blue-Gray game.
All of the attention was new for Howie, particularly when he arrived in Oakland in his Coupe de Ville. "I had never been west of West Virginia. It was a brave new world," he said. "I have to tell you, going from Villanova to that Oakland locker room... There's a priest on every floor at Villanova; there's not a priest anywhere near that locker room, particularly at that time."
Howie Long became one of the best defensive linemen in the history of the NFL. You wouldn't have dreamt it if you traveled his path. Al Davis and the Raiders saw something in Long the rest of the NFL didn't to make him worthy of a 2nd round draft selection.
After a stellar career and a permanent place in the Hall of Fame, Long proved that it doesn't matter how you got there, but rather, how you take advantage of opportunities.