The Raiders selected wide receiver Malcolm Barnwell out of Virginia Union in the 7th round of the 1980 NFL Draft. He played in 57 games with 42 starts and caught 112 passes for 1,941 yards and four touchdowns for the Silver and Black. He was a key member of the 1983 Raiders team that defeated the Washington Redskins 38-9 in Super Bowl XVIII.
It was a strange thing, one of the Raiders scouts came to my college campus at Virginia Union. He timed me and I ran a great time for him. I played in the Black College All-Star Game in New Orleans, and that's where I first met Willie Brown. I had a pretty decent game and of course, we had to run times again. That's when Willie Brown told me I may become a Raider. On the second day of the draft, wide receivers coach Lew Erber called me and told me that I had been selected in the 7th round by the Oakland Raiders. We had pay phones in our dormitory and security kept the phones clear for potential draft pick calls. The phone rang and the attendant said, "Malcolm, it's for you." That's how I became a Raider.
The greatest thing about it all – Cliff Branch was more like my personality, he was fast, he had a lot of laughter, a lot of energy. We got Bob Chandler from Buffalo, he had great hands. So I was always concentrating on catching the ball in timing situations. Morris Bradshaw was the kind of guy you could just talk to all the time. You ask him questions, he was going to give you a straight answer. It was educational, I had the best of worlds, I had a guy that could teach me how to run routes with speed, I had a guy that great hands and I had I guy I could talk to and answer any questions.
In 1983, we had a great team. In 1982, we lost the AFC Divisional Playoff to the New York Jets. We felt that we were a great team. We set high standards. We wanted to win that Super Bowl and we knew if we had gotten there, we would've. In 1983, we had some ups and downs, some games we won by close margins, some we won by blowouts, some we lost that we felt like we could have won. That year, we thought we could win every game.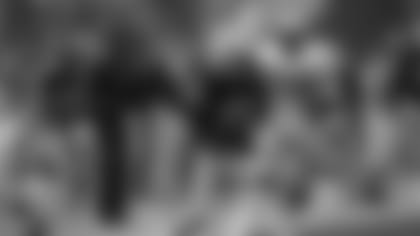 Earlier that year we had lost to the Redskins in Washington. We came from behind but they beat us late and it was a thrilling game. When we faced them in the Super Bowl, we had that anger that, 'hey, we can win this game and we should've won the game in the regular season.' We felt like we were the superior team against anybody that entire year from opening day to the final whistle when we won the Super Bowl. It was just a great year for us.
When I came in there were a lot of veteran guys and you just sit back, learn from them and watch them play. In 1980, in my rookie year, we won the Super Bowl. Although we started off slow and we went as the Wild Card, it was a good learning process. When we started to bring in younger players and the older players started to leave, we already had that Raider feeling. There's no game you think you can lose. You could be down two touchdowns with 1:00 left and you still felt like you were going to win that game. We got that from the older players and of course Al Davis and his famous saying, "Just win baby!" That's just the way it was. We were doing a lot of winning. During the Al Davis time, that's really the way he brought you along, he started mixing you in with the veteran players. When Bob Chandler went down with an injury, they put me in the slot in '82 and I never gave it up. I just stayed the No. 2 receiver behind Cliff Branch.
I still talk about this today. I tell people all the time, every day I played against the two best cornerbacks that ever played the game, especially on one team. We had an outstanding free safety in Vann McElroy and Mike Davis was a great strong safety. We used to practice No. 1s against No. 1s, in practice and they were going to give you little bumps and bruises, they were very physical, they could run too. When you beat them in seven-on-seven or even the team drills, you felt like you won a game. Once you got in a game, you felt so confident, because you practiced against the best every day. That made us better receivers. When you beat them, they congratulated you because they knew you were working hard. It was a great pleasure and experience to be working against the best secondary in football at that time.
Winning the Super Bowl was something. I think the first football game I remember seeing as a child on television was the Ice Bowl. I told my mom I wanted to do that and I played Pop Warner. I came from Virginia Union, a small black school, but I had never played in front of many thousands of people until I was with the Raiders. The Raiders fans are the best. By the time we got to Tampa, Al [Davis] had made it like home, we had all these "Welcome Raiders" signs. It's a game you want to play in every year, if that's possible. Especially winning it.
When you look at the talent that was around you, you put yourself on a high pedestal, because if you can play with those kinds of greats, then you had to have a little something yourself. They were going to make sure you play Raider football and make sure you play Raider football to win.
Just to think that I actually played with these guys … I enjoy my team pictures. My kids, since they're grown up, they really have an exciting time looking at them.
All historical content is provided by, Tequila Corralejo.