This season, Greg Jenkins feels like a wide receiver, which is no small feat for the second-year player from Alabama State.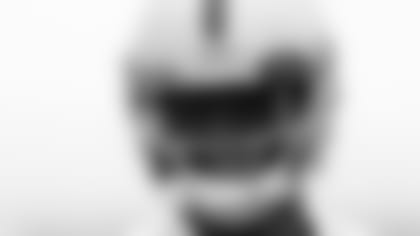 Photo by Tony Gonzales
Jenkins, who spent his collegiate career playing quarterback for the Hornets, wasn't drafted in 2013 and decided that his best shot at making an NFL roster would be at receiver instead of under center.
Following his switch to wideout, the Dade City, Fla., native earned a tryout at the Raiders rookie camp. Although excited about the opportunity, Jenkins didn't feel comfortable at his new position yet and the different skillset he had to learn."I had to learn how to block, where to line up, literally from square one," said Jenkins. "I had to learn everything."
Although he was raw, the Raiders' coaches were impressed with Jenkins, and at the conclusion of mini-camp he was offered a contract to play for the Silver and Black.
Jenkins first professional season was a learning experience. While Jenkins found some success on the special teams unit in 2013 - recovering a fumble against the Dallas Cowboys and returning it for a score - he is now much more comfortable in his second year as a wide receiver.
"It's a lot easier in year two, because last year I was pretty much running around like a chicken with my head cut off," he said. "Now, I understand the wide receiver position, but at the same time I'm still learning. I'm still learning more stuff every day."
In addition to finding comfort simply by playing more snaps on the hands' team, Jenkins is benefitting from having veteran James Jones as a teammate in 2014.
"We needed a veteran like James to be in that room, because everybody is young," he said."We needed a veteran like James to help us on the small stuff, things he uses, the small stuff that he uses that he had success with in Green Bay. He's a champion so he knows how to win, so I'm just learning from him."
The Raiders were active this offseason, bringing in new additions to both the offensive and defensive side of the football, which has lifted the spirits of the entire team heading into the 2014 season.
"There's a lot of optimism," says Jenkins. "Every day we're just coming out and working and trying to get better. You can't get content if you have a good day, or if you have a bad day you just have to bounce back. We want to win right now."
Jenkins is one of several undrafted free agents looking to make a continued impact with the Raiders. WR Rod Streater and FB Marcel Reece are two other notable undrafted players who have disregarded how they ended up on an NFL roster and made each moment count. Jenkins is hoping he can do the same.