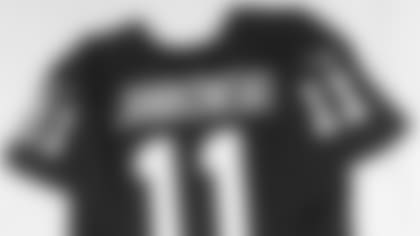 Kicker Sebastian Janikowski's game-worn jersey from the first game of his 17th season.

The longest tenured Raiders player has now played in more seasons than anyone else in franchise history. Kicker Sebastian Janikowski has now suited up in Silver Black for 17 seasons, surpassing Hall of Fame wide receiver Tim Brown's 16.
Janikowski is the franchise's all-time leading scorer with 1,682 points, he has played in more games than any other Raider (253 and counting), he is tied for the NFL record for the second-longest field goal (63 yards on Sept. 12, 2011, at Denver), he has made 10 of the longest field goals in team history and attempted five of the longest, he is tied for the most field goals of 50 yards or more in NFL history with 52, and has led the team in scoring every year of his career.
The native of Poland became only the second placekicker selected in the first round of the NFL Draft (Russell Erxleben, New Orleans Saints, 1979, 11th overall) when the Raiders made him the 17th overall selection in 2000. He has scored 100 points or more in nine of his 16 seasons. Janikowski earned a Pro Bowl nod after the 2011 campaign.
The start of the 2016 NFL season marks the 17th season that kicker Sebastian Janikowski has been an Oakland Raider, which makes him the longest tenured player in the history of the organization. Here are the others.