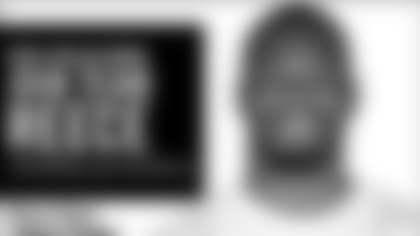 ](http://www.unitedway.org/team-nfl/players/marcel-reece/)First I'm a little upset that this is the last blog the fans get to read.
The only thing on my mind is the Dallas Cowboys right now. We want go out there and start hitting on somebody else and make plays as a football team. Touchdowns. That's what I always want to do. I want us to make plays. What I want to do, what I think the rest of the playmakers and leaders on this team want to do is go out and give not only our team and our coaches the confidence in us but the Raider Nation. We want give them a chance to see us go out there and put up points, make stops, create turnovers and go out there and play with a lot of energy and give them something exciting. 
It's going to be special. It's always special, especially that first time. Even though it's a preseason game, the Raider Nation is going to be in full effect. The Black Hole is going to be nice and full. It's going to be loud. I can't wait to go and jump in it. That's my goal…to make sure I get a jump in and make sure they feel me. It's going to be electric for me dirt and all. We're just ready to go out there and have some fun because we want to be the best. 
Thank you for just spending the time reading anything I have to say. I want to read what you have to say. Let's make it interactive I want to read any comments or questions about us. You are what make us go. 
Editor's note: Not to worry Raider Nation – Marcel will be actively involved in all of our online efforts.
---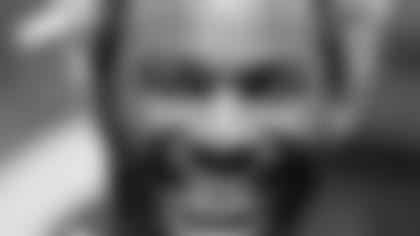 The Raiders play their first preseason game a week from today. FB Marcel Reece is excited to get back on the field against an opponent.
There's always anticipation, we get to go hit on somebody else now. There's always anticipation. I want to go out there and make a play. I always feel like I have something to prove every year, there's always a chip on my shoulder, somebody always doubting you. I want to go out there against Dallas and make a couple of plays.
Side note, Taiwan and Tyvon need to stop wrestling with each other in their room late at night.
Seriously, I think we just need to execute together. We need to play a little faster, play a little sharper, get to the ball a little faster on offense. It's all coming together; I think every day we're getting better at different things. It's all going to come together when we get out there against someone else.
I feel like the offense is gelling well. The young receivers are playing well, the quarterbacks are really throwing the ball well right now, and I think the O-line is doing the best right now. Our O-line is really digging in, really running off the ball and creating another line of scrimmage for us.
A day in the life at training camp is just waking up early, getting a work out in, going to practice, going to meetings, going to lunch, going to practice, getting in the ice tub, and if we have a few hours off maybe get a quick massage or something like that. That's about it. I talk to my wife at night. I don't get to talk to my brothers. I don't get to talk to my mom…every now and then. It's just about football. You take four or five weeks out of the year and you focus strictly on football, no outside distractions, and you make football become second nature to you and get ready for the season.
DMac and I know we go as far as this Raider Nation takes us. The reason why we're still here is because of the Raider Nation. We love them. We give them credit for what they do for us. We love to interact with them as much as possible and do what we can that doesn't take away from our jobs playing football at a high level. We hope they appreciate it just as much as we appreciate them.
---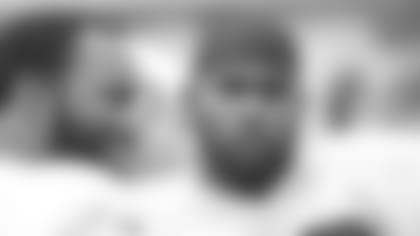 FB Marcel Reece and RB Darren McFadden are training camp roommates. Photo by Tony Gonzales.
Raiders Pro Bowl FB Marcel Reece will check in from time to time through Training Camp 2013, presented by California National Guard. Here's his second blog.
Week 1, Training Camp No. 6. It feels good. You would think as you get older, all these days, all these camps come up on you. We feel good. As you get older, you learn how to practice in camp, you learn how to practice harder and you know everything. It feels good and we're looking good right now. 
You get a few jokes here and there, a few good laughs, a few good pranks. DMac and I have a few pranks coming up real soon on somebody. We're letting everybody get settled in and get real comfortable. We've got something coming for them. 
DMac, that's my roommate. We ride strong together. We're plotting on somebody. 
We talk about the day, we talk about practice, we talk about things that maybe we saw that we could change in what we did on the field. After that we watch a few crazy TV shows. If it's Darren's choice, we're watching some country hunting TV show. If it's my choice we might be watching something on the Food Network. If we both agree on something, it's probably Naked and Afraid, some crazy show like that. We watch one TV show and it's lights out. We're getting old now. 
To take care of my body it's a lot of ice tub, a lot of massage, getting off your feet, laying down. Maybe if I do step out, maybe catch a movie, the wife's not in town. That's about it. Nothing too serious, no running the streets, just trying to be a pro, and know what my goal is. My goal is to be on this field and longevity and winning a championship with my teammates.
I still haven't seen the new Kevin Hart stand-up, Let Me Explain, I heard that it was real good. I heard Wolverine was really good. I'm an action movie guy. I haven't been to the movies much.
Until next time Raider Nation…
---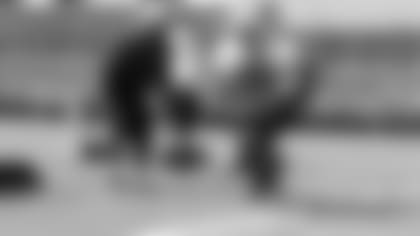 Running backs coach Kelly Skipper works with FB Marcel Reece during a drill. Photo by Tony Gonzales.
By Marcel Reece
Raiders Fullback
It was good to finally get in here, just to see each other and get back on the field. Today was the first day we put these pads back on, that's when the real fun starts. Get to hit each other around a little bit and see what guys look like with the pads on. We've got a lot of new faces. Everybody looks good right now. We feel good about it.
I feel like we are the best running back group out of the 32 teams in the NFL. We always strive to be the best on the field at practice on any given day, just try to flourish as a group and as individuals. It's always good to see DMAC [RB Darren McFadden] get out there and do his thing.
Versatility - that's one thing we've always prided ourselves on, especially with Coach Skip [running backs coach Kelly Skipper] out there coaching us, he was a versatile back when he was the young gun at Frenso State. We just go out there and make plays in any way possible, catching the ball, running the ball, protecting our quarterback, blocking downfield for receivers. We just want to make plays.
Skip's in a high school hall of fame, he should be in the college hall of fame. They used to say 'look at the little guy go' when Skip got the ball, Skip used to get out there and do it.
To be honest with you, I think Skip is the best position coach to possibly have. He's ridiculously smart, he can coach any position on the field. He teaches a lot about not just about running back, or running the ball or blocking, but teaches us about the game and allows us to be students of the game.
That's one thing I feel that we've been blessed with to have at our advantage to have a position coach like Skip. Darren and I have been with him for five years now. Even when I first came in, Skip taught me how to read fronts coming from receiver, know what this meant, know what that meant. Besides Al Davis, I feel he's one of the key things of me flourishing and developing, not only as a fullback, but as a football player.