Q: How much of a factor was Amari Cooper's college production in selecting him with this pick?
Coach Del Rio:"Well, I think it was a big part of the process, going through and looking at all the tape. Obviously the scouts have been on this player for a long time. He's had a very productive college career and coaches loved him, scouts loved him. It's good when you get a guy that there's a lot of respect for his body of work."
Q: How much activity did you get on the phones at No. 4 when there were a couple of top prospects still on the board?
McKenzie: "While we were on the clock, none. Leading up to it, a little bit."
Q: Were you guys always anticipating taking a receiver at No. 4? Or did things change maybe hearing things about Leonard Williams having some injury issues?**
McKenzie:"'Coop' was on our board high from the start. It didn't matter about the position; it was about the player. We thought we had a chance to get a really good player and we were excited he was there."
Q: Bill Musgrave has talked about how he wants to run the ball so much. Does getting a guy like Amari, who could potentially be a game-breaker, does that change how you guys might want to approach things offensively?
Coach Del Rio:"No, I think I wouldn't mistake Bill's comments for the fact that we want to be explosive on offense. We're going to throw the ball. We have a good quarterback. We're just not only going to throw it and sling it around the lot. You have to have some speed and some playmaking ability on the outside. That certainly was a goal coming into this weekend, and that was a real fine football player that we added to the organization today."
Q: How important was it to get a receiver in this draft for Derek Carr?
McKenzie:"Very. It's very nice when it goes hand in hand. You get a chance to get a great player and he fits one of the needs, so it's great when that falls in place."
Q: What are some of the adjectives you could use with Amari Cooper as far as route running? How would you describe that, and how well does the offense that he played in at Alabama translate to the offense here?**
McKenzie:"I'll talk about some of his skills and I'll let Jack talk about how he's going to use him in the offense. His skill set, he can run a route. It seems like he can do that with his eyes closed. He's exceptionally quick, he's fast and he understands the game. You can tell the guy's been playing football and playing that position all his life. You can tell that. He's an extremely hard worker and you don't hear any negatives about this guy, so it's no wonder he's as good as he is because the intangibles outside of his skill set are extremely high."
Q: Can you talk about him in terms of character? Did you ever meet with him in the pre-draft process? How did you find out what kind of person you were getting?
McKenzie:"For one, our scouts got so much research on him leading up to the combine and we met with him at the combine. Yes, we did."
Q: Cooper has been compared to great receivers like Reggie Wayne. Do you feel like that's a good comparison? Is there anyone he reminds you guys of?
Coach Del Rio:"I would just say that when you talk about this young man coming in at this level, as a draft prospect that has not played in the NFL yet, it's unusual when words like 'polished' are thrown out, but that's what you see. He has been lined up all across the board – outside, both sides, inside the slot, moving around, even lined up in the backfield some. So he's been exposed to a lot, been utilized a lot of different ways. He's run the entire route tree. They compete at Alabama, just competing in that conference in the time that he's had. The repetitions that he's had playing the position, running the route tree and doing all the things that he's done to develop himself, makes him a guy that has that label of being polished. That's why, he's earned it. It's rare when you find guys that come into the league and they have that kind of polish on them coming out. Typically, guys – they can't get off press [coverage] – they have something they haven't done. He has pretty much done all those things. He knows how to get off press. He knows how to attack defenses, find the soft spots and run the full complement of the route tree. So that sets him apart in terms of the rest of this class."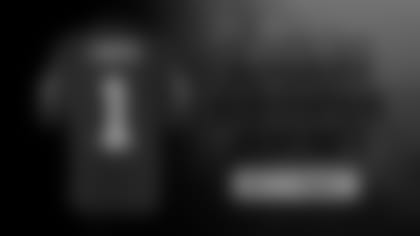 ](http://www.raiderimage.com/category-draft.html)Q: How long ago did you decide this was the guy you were going to take? Was it as far back as the combine? There's been a report that you didn't bring him in here. Was that a decoy move?
McKenzie:"No, no decoy. We bring guys in whether it's a medical issue or whether it's a mental issue or whether it's, you know, just trying to get more information. We had all the information we needed to see. We looked at all the film that we needed to see and just spending a little time with him, we got to know the person. We talked to everybody who has been around him. We've got coaches on our staff who have been around him at Alabama. So we knew the kid, so there was no need to do anything decoys on that one. But we liked him as soon as we saw him on tape."
Q: So when did you decide he would be your pick if he was available at No. 4?
McKenzie:"After this process. We got the coaches involved after the combine, so that was a process. But in the personnel department, this guy was one of the top guys. So we said, hey, when you go through this process of the combine and the pro days and all the interviews, once that factors out, we knew he was going to be a top guy."
Q: Is there any concern that he is kind of maxed out, that he is about as good as he can get? **
McKenzie:"No. I mean, you've got a guy that's the size he is and as fast as he is. It's a young kid. We hope we can get him even better." (laughing)
Coach Del Rio:"We have more to do. It's still a young man coming into the league. I'm just saying in relation to receivers that typically enter the league, there's typically a lot more work to get them up to speed with what it looks like, what it feels like to get off an NFL corner, to get off the press at the line, to run a route, to understand how to sink his hips and some of the nuances of creating separation that you're going to need to have at this level. So I think he just kind of comes in a little ahead of the curve in that regard compared to others at that position."
Q: How much concern was there that Cooper would be picked before your selection?
McKenzie: "It's always tense. When you're not first, there are always some tense moments if your guy is not going to be there."
Q: Have either of you heard from Derek Carr yet and got his reaction to getting a target like Cooper?
McKenzie: "No, not since we've made the pick."
Coach Del Rio: "Wait a minute. My phone is going off." (laughter)
McKenzie: "Just like all the players, they lobby for their guys, but Derek, he is one of those players that is happy [with] whoever we bring in. As long as he thinks they can help us, he's excited. I'm sure he's excited that he has another target."
Q: Coaches typically don't like to pencil in rookies as starters, but as polished as Cooper is, do you fully expect him to make contributions right from the start?
Coach Del Rio: "I think the way we like to do things is to come in and earn your role and compete. But the expectation level should be high for a young man that comes in that is selected that high in the draft. But he'll need to prove it on the field and earn it. That's how, really, it is with everybody. There certainly is a high expectation that goes along with somebody selected that high."
Q: When you look at Amari Cooper and the conference he played in, the SEC, how much did that prepare him for the next level and attribute to polish that you talk about and that explosiveness?
Coach Del Rio: "I think that's all part of his development and where he is. One thing about him – you'll see that when he's here – you'll notice, I think, that he's very serious about football. He's very much businesslike in his approach. [He is] a fairly quiet, soft-spoken young man; mature. Football is important to him. He knows what it looks like to work and to prepare the way you need to prepare to pay well. Those things are all things that coaches, personnel people, we all appreciate those qualities."
Q: Reggie, did anything surprise in the three picks ahead of you?
McKenzie: "It really didn't. It really didn't. The talk of the possible trades, I was kind of looking forward to seeing if there would be a trade before we pick, but other than that, no."
Q: Can you take us into the war room at that moment, knowing that you had Leonard Williams, Cooper and Kevin White on the board? I'm sure you were all smiling from ear to ear with your options? Was it a tough choice, or was Cooper the guy?
McKenzie:"At this time, today, we kind of know who we like. So when Cooper was there, we were excited. We had an idea of kind of how it would go, but when Cooper was there, it wasn't a whole lot of debate, if that's what you're thinking."
Q: Maybe some cheering then?
Q: Is there anybody that this guy compares to in the league today? You mentioned a lot of his qualities. Is it something you've learned over the years, which qualities do translate to the pros?
Coach Del Rio:"I'm reluctant to throw out names like that. I think I'd like him to come in here and create a name for himself. I think when you're talking about guys that run good routes and catch the ball, that have speed and are able to separate and those types of things, there are a number of guys that do come to mind, but I don't really want to heap that on him. I don't think that's beneficial for him. I think the most important thing for him is to come in here and get ready to go to work, become a great teammate."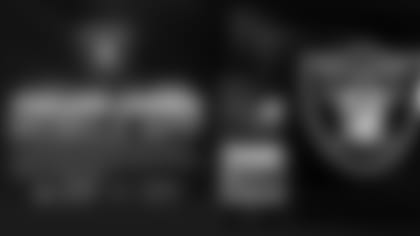 ](http://www.raiders.com/fans/mobile-app.html)