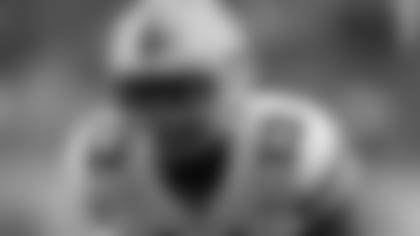 Noted ESPN NFL Draft expert Mel Kiper, Jr., released his second iteration of his 2016 Mock Draft late last week. After initially projecting the Oakland Raiders to take Michigan State tackle Jack Conklin with the No. 14 overall selection in April's Draft, Kiper now has the Raiders taking Ohio State cornerback Eli Apple. Kiper discussed his latest mock on a call with national media Monday morning.
Looking at the latest version of our Mock Draft Tracker, the cornerback most linked to the Raiders in the first round is Clemson's Mackensie Alexander. However, according to Kiper, Alexander's size and lack of interception production are questions that need to be answered.
"Mackensie Alexander, I think the main thing is how tall is he, he's an underclassman, you don't have accurate measureables. Is he 5'9", 5'10", what is he height-wise? He's a heckuva corner, he had protection from the pass rush," Kiper said. "He had [Vic] Beasley two years ago, this year he had [Kevin] Dodd and he had [Shaq] Lawson. That protected him, quarterbacks stayed away from him as well. He doesn't have an interception in his career.  The ball skills he needs to show in workouts, combine are going to be important."
As far as Apple is concerned, Kiper believes his size and ability make him a good fit for the Raiders at No. 14 in the first round provided the Philadelphia Eagles find Conklin too tempting to pass up one pick earlier.
"I think when you look at Oakland, I thought it would definitely be Conklin again, the more I thought about Philadelphia, one pick ahead, could they pass Conklin up? I didn't think they could," Kiper said. "So once I gave Conklin to Philly, I tried to find a corner that was viable. By viable I mean, it didn't necessarily look like he was a guaranteed mid-one, and a lot of people might not have him there, it may raise a few eyebrows now but come late April it won't. Apple is a big corner, he's a great athlete, he did real well against some top receivers. He's only a third-year sophomore. I think that's the kind of pick Oakland has traditionally made over the years. You look at where they could go now, they have several directions, it would be a force if Conklin is gone I think to take an offensive lineman that high. I think they're satisfied with [Latavius] Murray at running back, so I don't think [Ohio State running back Ezekiel] Elliott will be in the discussion, then it got down to cornerback/safety, not a safety to think about. It got down to really Apple, Mackensie Alexander, but with his height and his lack of intercepting a pass in two years pushed him down a bit. I don't think Apple would be an out of the question pick, because I think after all is said and done, we get to late April, April 28, he's going to be way up there on a lot of boards."   
With about nine weeks to go until the 2016 NFL Draft, and the NFL Scouting Combine and Pro Days yet to come, there are sure to be plenty more shake-ups to Kiper's mock draft and many others.
"In terms of [University of Alabama linebacker Reggie] Ragland, he's a thumper, in the 70s, 80s and 90s, he would've been a Top 10 pick guaranteed, but coverage ability is going to be something, he was 259 [pounds] at the Senior Bowl, you'd like to see that weight down a little bit, how effective he will be in coverage in the NFL, we know he can get after the quarterback, you can move him around a little bit, he's got some versatility there, but how he plays moving backwards, not forward, is the concern with Reggie Ragland."
"In terms of linebackers, the pass rushers, that's why Noah Spence from Ohio State then Eastern Kentucky, had 8 sacks when he was at Ohio State and 11 and a half at Eastern Kentucky this past year, had a great Senior Bowl game and Senior Bowl week, that's why Noah Spence is way up there, linebackers who can get after the quarterback. Those combo guys, he's the number one guy. [Notre Dame linebacker] Jaylon Smith would've been the number one player in this draft, got hurt against Ohio State, he's probably going to have to red shirt, he's still a first round pick. Then you have the fast guys that can run around and make plays. Then you have the Deone Bucannon types, a guy who could be a safety that ends up being more of a linebacker in the NFL, you have the Derrick Brooks type in Deion Jones [LSU], Darron Lee from Ohio State falls into that mix. Fast versatile guys, the weight's not as important, it certainly is for Ragland, because at 259 you wonder about coverage ability in the NFL. Myles Jack has great, great potential and has a chance to be a Top 10 pick despite the injury early in the year, because he can cover, if you can run and cover, and if you can run and cover and you're athletic, and you can mirror in coverage as [UCLA linebacker] Myles Jack can, you got great value. The linebacker position overall this year I think it's pretty good. Victor Ochi, a kid out of Stony Brook, has a chance to be maybe a third round pick because he can rush the passer. He did it in high school, he did it at Stony Brook, and he did it in the all-star game."