Oakland Raiders first round draft pick, safety Karl Joseph, spoke to reporters via conference call from Haiti after learning of his selection by the Silver and Black.
Q: How much contact did you have with the Raiders headed into the draft? Did you expect it?
Joseph:"It was kind of a surprise, man. I spoke to them. I had a real good interview with them at the combine. Since then, I really hadn't heard much. I know Mr. [General Manager Reggie] McKenzie was at my Pro Day. Also, I know Bruce. Bruce Irvin had been in contact with me this week, telling me that they've been asking about me, but I never really thought much about it. It was a surprise, man. I couldn't be any happier right now."
Joseph:"Yes, sir. I'm in Haiti."
Q: Do you have family there?
Joseph:"Yeah, I was born here. Both of my parents were born here, so I still have a lot of my mom's family over here as well. I decided I wanted to come out here and do something special with my family, kind of enjoy it. Stay away from all the distractions, kind of come out here and enjoy with the family. "
Q: What was the reaction like when you got the phone call?
Joseph:"They were happy. I can't really explain it. I almost cried. It almost came out [of] me, but I kind of stayed strong a little bit. Everybody in the room was happy. I couldn't explain it."
Q: Where did you think you were going to go in the draft?
Joseph:"I felt like it could've been anywhere. My agent told me it could have been from that 14th [pick] to almost early second round. I know there were a lot of teams like Atlanta and Tennessee and [the] Colts and Houston, those guys, Buffalo, they had a real high interest, Pittsburgh, so I knew it could've been in that."
Q: Coming back from a knee injury, when will you be ready to go?
Joseph:"Right now, I plan on being ready by training camp. The knee is feeling good, so I just have to keep strengthening it and getting ready. Man, I can't wait to get back, get in Oakland and go to work. Just get my leg better to 100 percent."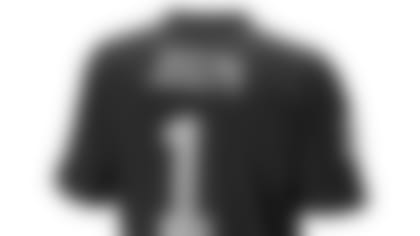 ](http://www.raiderimage.com/category-draft.html)Q: How do you describe yourself as a player?**
Joseph:"I'm a dog. I'm sure all the coaching staff will tell you that. I play with that intensity. I play with a chip on my shoulder. I'm very confident in myself. I play with a deep passion and love for the game. I don't think there's anybody else in the draft that plays with more passion than me."
Q: Everybody talks about your hitting ability but Jack Del Rio wanted to make it clear that you can play the deep safety and break on the ball. Is that a part of your game that you think people don't realize you have?
Joseph:"I think some people just get the hitting ability, but I think I can do it all. I think I'm definitely the most versatile safety in this draft and it showed. I'm so happy that the coaching staff with the Raiders took a chance on me. I told them once I picked up that phone, I promised they won't regret this pick. I'm going to show them why they picked me at this number one pick."
Q: Was there any draw to going to the actual draft site and going to the red carpet and things like that? Why did you choose to stay with family? What was weighing on your mind when it came to what you were doing on draft day?**
Joseph:"Yeah, it was talked about. Everybody dreams about walking across the stage. But me, I wanted to do something that meant a lot more – being with my family. Being that I was born in Haiti and not too many people have actually done that. It's never really been done before so I wanted to come out here with my family and shed some light on the country, some positives about where I'm from and give the people something to be happy about, give my family something to be proud and happy about. So I wanted to come out here and just hang out and relax with my family."
Q: How many people do you have there?
Joseph:"I have a lot of my mom's family who's still over there. I have some aunts, uncles and cousins who still live out here. It was fun to be able to come out here and enjoy it and make them be part of it as well."
Q: How aware are you of the Raiders' tradition going back to the 1970s when Jack Tatum was a safety and they were known for intimidating and hitting?
Joseph:"Honestly, not much. But I can promise you I'm going to get to know a lot more about it from this day on. I'm going to look into it. They had a great one that just retired [Charles Woodson]. He was one of my favorites as well."
Q: What's it going to be like to be the guy coming in to try to fill that hole?
Joseph:"It's going to be a big shoe to fill, but I'm not looking to do that. He's obviously a future Hall of Famer, a great one and one of the greatest to ever play. All I can do is just come in and try to do my job and be the best Karl I can be."
Q: How hard was it to watch from the sidelines during most of that season and were you worried at all that it would knock your draft status down?
Joseph:"Honestly, yeah it was. When that happened, as a competitor, it hurt not being able to compete, especially at the combine seeing guys doing certain stuff. When it first happened, I was definitely worried about it. My family and my mom are very religious and I am as well. I believe everything happens for a reason and God has a plan and he's showing it right now that even though with the injury, a lot of people still thought very highly of me, and I'm just so happy that the Raiders staff is giving me an opportunity."
Q: Where are you at with the recovery process with that knee injury? What have you been able to do physically?
Joseph:"I've been running, been doing some light cutting and light change of direction, so right now it's been a very tough month with all the traveling, not being able to really focus very hard on my rehab, so right now it's just going to have to get right back and put all my focus and time into rehab right now and make sure I'm ready by training camp."
Q: And you've been pretty comfortable doing all the stuff you've been doing?
Joseph:"Yes, sir, I have. Like I said, this month [has] just been a hard stretch with all the traveling I've been doing with visiting different teams, so I haven't been able to get comfortable in rehab every day, but the knee is still feeling real good and real strong. I've been doing as much as I can when I can. I just really can't wait to get into the facility and just grind and grind. That's one thing about me is I'm a very great worker and I have very great work ethic, so I know once I get into the facility and start training and getting in a routine, I will have no problem with it."
Q: How much longer do you plan to spend in Haiti? Do you know when you're going to be coming out to Oakland?
Joseph:"I probably will be out here for a few more days. I told them I could come out to Oakland whenever they needed me to and they wanted me to stay out here for a couple of days and enjoy it with my family, so I'm going to enjoy a couple days with my family and fly back to the states and come in whenever they need me, probably right before mini-camp."
Q: Have you been out here to the West Coast before?
Joseph:"Never in my life. Never been out there."
Q: What's the farthest West you've been?
Joseph: "Probably Arizona."