Opening Statement: **"Back out here today after a day off, probably about what I kind of expected a little bit. I didn't think it was as crisp of practice as what we've had up to this point. We've got to be able to come back after a day off and be able to regain our focus, but we worked on a lot of different situations, put the guys through a lot of kind of unique situations in a game. I thought overall with the exception of probably not as crisp as I would have liked, I was still pretty pleased with what we were able to get accomplished."
Q: Tony Bergstrom was taking some reps at center. Have you guys experimented with that before and what's the thinking behind that?
Coach Allen:"Well, he's done some snapping, he just hasn't done it in team situations. So, it's something that we want to begin to take a look at a little bit and see how he develops. Obviously, in all these positions, when you're a backup player, your versatility in being able to play multiple positions gives you more value on the football team. I think that's something we want to continue to look at. A couple of bumps in the road that we had today, we had a ball on the ground, ball went over the quarterback's head one time, but first day doing it in a live team situation you kind of expect it a little bit."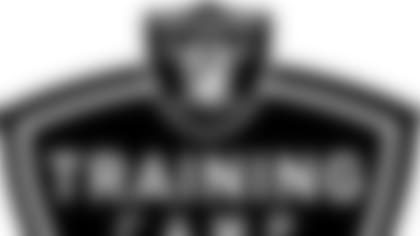 ](http://www.raiders.com/news/training-camp.html)Q: Do you expect him to get some time there in games in the preseason?
Coach Allen:"We're going to see how this thing develops. Today was day No. 1 and we've got a little bit of time before we hit a preseason game, so I'm not ready to make that determination yet, but I think if he develops like we think he can then I would certainly think that would be a possibility."
Q: Was this something that was your idea or did he approach you about it?
Coach Allen:"That was something that the coaching staff … We've visited about it and we actually talked about this back in the spring and began working him with snap and mostly in the quarterback-center exchange period and that type of stuff, not in team situations, but we felt like at this point in camp it was time to start looking at some of those things."
Q: Austin Howard left practice and Gabe Jackson was playing the right side …
Coach Allen: "Austin's back tightened up on him today. I don't have anything further other than that. His back tightened up on him and he wasn't able to go."
Q: Gabe has been playing primarily left side. Is that another instance of the more you can do?
Coach Allen:"Absolutely. What you try to be able to do is when you have an injury, you try to keep as much continuity as you can keep. You know, rather than try to take Khalif [Barnes] over and moving him in, now you're switching two guys, you want to be able to just plug a guy in. That's something that it's good for him to work, it's good for him to work on both sides. I thought that was good experience for him today."
Q: What do you make of all the talk of the team moving to different cities and is it something you concern yourself with at this point?
Coach Allen:"No, that's above my pay grade. That's something that [Owner] Mark Davis is in charge of and I don't really focus too much on that. We're just focused on trying to get better as a football team."
Q: Marcel Reece made a leap and catch downfield with Tyvon Branch contesting him pretty heavily. Is that the type of play you're talking about as far as downfield Reece losing a couple of pounds and making those plays?
Coach Allen:"Yeah, whether that's the reason why he was able to make that play or not, I don't know, but it certainly doesn't hurt. I just think him losing that weight is going to give him a chance to be a little more explosive." ](http://www.pntra.com/t/R0BKRkpMSEBKTERGSEBISEtERw)Q: What are you seeing so far out of Maurice Jones-Drew and Darren McFadden?
Coach Allen:"I think it's a great competition. Both those guys I have the utmost confidence in being able to be a very good back for us this season and I'm having fun watching the competition because both of them are doing a lot of good things."
Q: How has Menelik Watson looked since he put pads on?
Coach Allen:"He's done a really good job. I've been very impressed with what he's been able to do over there on the right side. I think it helps him on a day-in and day-out basis that he's going against guys like Justin Tuck and LaMarr Woodley and Khalil Mack. That's going to do nothing but really get both sides of the ball better. So, he's done a good job, he's picking up what we're asking him to do offensively, his fundamentals and technique have improved and he's just got to keep continuing to work."
Q: Is there a balance you find with Tuck, because you go to the NASCAR package but to also keep him fresh, get him off the field?
Coach Allen:"With all our veteran players we've got to find some time to take a couple of reps off of them and it's good for our young guys to get more experience. So, as we go throughout camp I'm sure there are going to be times that we'll limit some of the reps of some of these veteran players."
Q: Do you have another guy that can play that spot that Tuck plays in that NASCAR package?
Coach Allen:"Yeah, we've got a couple of guys that can play that spot. Tuck can play in there, Antonio Smith obviously plays in there. Khalil Mack is another guy that's playing in that situation. I think our depth on our football team gives us an opportunity to move these guys around a little bit and put them in different spots."
Q: In the last two-minute drive, Derek Carr ran the ball around and in for a touchdown. Was that mobility something that you had seen about him that you liked a lot?
Coach Allen:"Yeah, absolutely. I think from that standpoint, him and [Matt] Schaub here are kind of two different quarterbacks in that realm. Derek adds a mobility dimension that allows him to create when things don't happen exactly the way we want it to. So, that was good to see. What was good to see about it was he was decisive. He made the decision, he was decisive, he put the ball away, took off and ran. He understood that if he needed to he could get out of bounds, but if it was clean he could go score the touchdown. That's another one of those situations that's going to be good for teaching for all our guys."
Q: Did anyone else not finish practice today besides Austin?
Coach Allen:"Antonio Smith. His groin was bothering him today, so we pulled him out of practice. We'll see how that goes, probably day to day."
Q: It seemed like the defense was stepping up a little bit more than they had before. Was that what your experience was today?
Coach Allen: "Yeah, I mean I think there was a little bit of give and take within the whole practice. I thought the defense was a little bit stronger, specifically early on. Then I thought the offense made a few plays down there in the tight red zone and in the two-minute drill. I thought there was some give and take, but I do like the direction our defense is headed. I believe they're beginning to come together and gel a little bit as a unit. They're getting a better understanding of what we're asking them to do. The bulk of what we're going to put in on both sides of the ball is in, we've got a few situational type things that we've got to still install, but the bulk of our base offense, our base defense, what we're going to do in the kicking game is in."
Q: With [LaMarr] Woodley playing end, how do you think he's done making that switch and are there any hiccups he has to go through moving to that spot?
Coach Allen:"Well, yeah, it's an adjustment, but I don't know if it's as big of an adjustment as maybe everybody wants to make it out to be. This guy's a pro, he understands football. There's only so many alignments that you can have, whether you're playing defensive end or you're playing an outside linebacker, you're still going to be asked to do the same type of things. A little bit of dropping into coverage, setting the edge in the run game, being able to rush the passer. He's showed up more as we put the pads on, which I kind of expected out of him. He's a very physical player. His strengths show up when you start playing real football."
Q: In those 11-on-11 situations with the quarterbacks, does what you ask out of the two guys change?
Coach Allen:"Not a whole lot changes, and that's one of the things about Derek – he's extremely intelligent. He's probably a little bit different than some rookie quarterbacks that come into the league. We're able to kind of give him a little bit more and we're going to continue to give him as much as he can handle. I think all of our quarterbacks I feel comfortable being able to put the offense in their hands a little bit and let them have some freedom at the line of scrimmage."
Q: How is the competition going between Sio Moore and Miles Burris? Coach Allen:"I think both of them have handled the situation very well. I think it's a very good competition. Both of them are going to continue to rotate in and out with the first group and by the time we start playing games I think it'll define itself, but I think both of those guys have handled it well and I think that competition is good for both of them because both of them are young players and they've got to come out to practice every day focused in and ready to do their job because there's another guy right behind them that's anxious to take that spot, so I think that's going to make both of those players better football players.